I want to adopt a pit bull puppy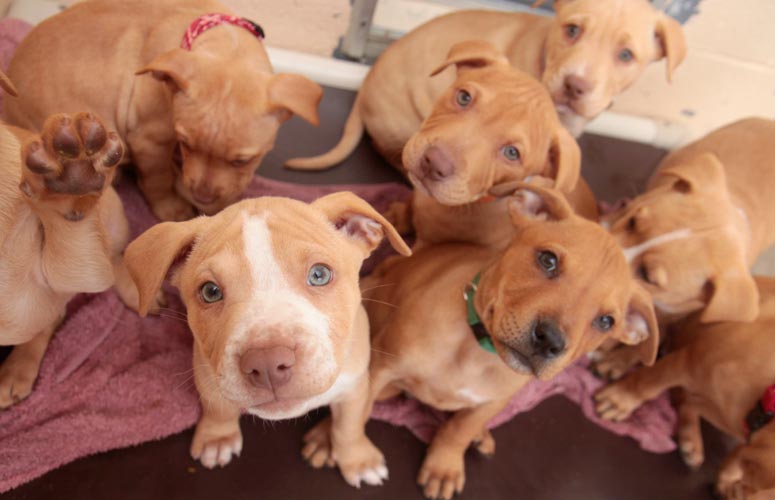 Are you Googling 'I want to adopt a pitbull puppy'? This article details how to find, train, socialize and care for a pit bull pup.
By Denise LeBeau
Pit bull terriers are some of the most popular dogs in America, and for good reason. Given the same care and training as any other puppy or dog, they make fantastic pets. The flip side of their popularity is that animal shelters and rescue groups are teeming with young, short-haired, muscular dogs, labeled (rightly or wrongly) "pit bulls." They're not hard to find. In fact, in many areas they're the dogs most often killed in shelters, simply because there are so many of them.
Here's some advice from Best Friends Animal Society about adopting America's favorite dog — the pit bull terrier.
Where to find pit bull puppies
The best places to adopt pit bull terrier puppies are your local city or county shelters, or you can check online to find a foster-based rescue group near you.
"Potential adopters should spend some time with the dog they are interested in adopting," says Mike Harmon, manager at the Best Friends Pet Adoption and Spay/Neuter Center in Mission Hills, California. "Work with the shelter's staff to find the best match for your lifestyle. Also, be patient because it can take time for everyone in the home to adjust to a new family member."
Training and socializing a baby pit bull pup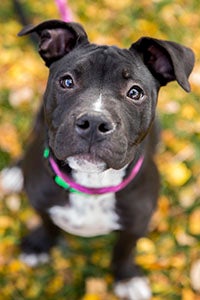 Sherry Woodard, Best Friends animal behavior consultant, says: "When it comes to any puppy, think about what the dog is being encouraged to do now and ask yourself if this will be wanted behavior when the puppy is bigger and stronger." So while it may be adorable when a tiny puppy jumps up on people for attention, climbs up onto the couch and gnaws on people's hands, that behavior isn't so cute when the puppy is adult size, with adult teeth.
Sherry has more advice for adopters: "Have puppies meet as many nice people and other animals as possible to learn and keep great social skills. Protect them from bad experiences. Fear causes many dogs to become defensive, and defensive behavior is seen as aggression."
"Plan to take basic training classes with your new dog," says Mike. "A class builds the skills for the dog and creates lasting bonds with his or her new family."
Become a fan of pit bulls by helping them
Best Friends' pit bull terrier initiatives advocate for these dogs, and you can too. Learn more about how to help pit bull terriers in your community.
Get more tips on finding the right dog for you, and training your new pet, in the Best Friends resource library.
Read a comprehensive article on the pitbull breed and get an overview of facts and myths.
Photos by Sarah Ause-Kichas