Injured kitten is all snuggles after getting expert help
Image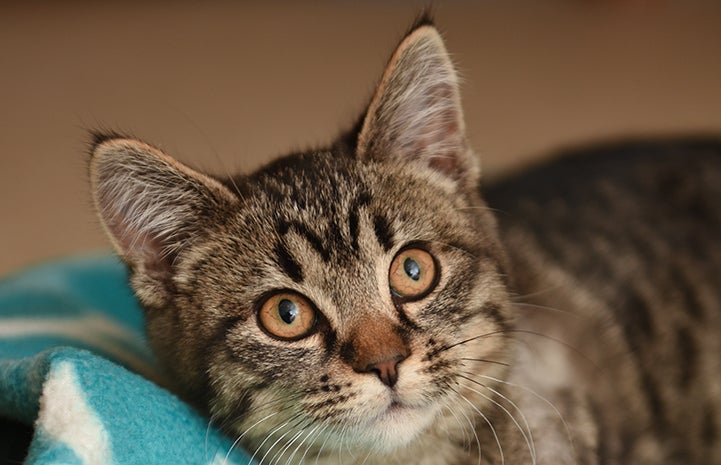 Injured kitten arrives at clinic requiring emergency care, including fluids for dehydration and medication for pain, and eventually surgery.
By Christelle L. Del Prete
Anyone who meets Cedar can tell you that she's the sweetest little thing. Pick her up, and she'll immediately hug you with her left front leg, snuggle into your neck, close her eyes and start purring. She charms everyone she meets, because she is so happy to be close to people and seems so thankful to be safe and loved.
A baby kitten rescue
When Cedar first arrived at the Best Friends Animal Clinic in early November, she could barely lift her head to greet anyone. The baby kitten was less than two months old and was fading fast. The Best Friends veterinary staff jumped right in to give her some much-needed emergency care, including fluids for dehydration and medication for pain.
Though no one knew exactly how she'd been hurt, Cedar had been living on her own outside. There was no mother cat around when she was found, and no one seemed to be looking for her.
Luckily, a couple of good Samaritans in her neighborhood had noticed that the stray kitten was struggling, wounded and alone. They worried that she wouldn't make it if she didn't get treatment, so they called around to get her help.
Learn more about Cat World at Best Friends

Wounded kitten recovers at the clinic
Soon, Cedar was on her way to the Sanctuary. For three weeks, she stayed at the clinic, recovering from her injuries. Once she was feeling better, the veterinary staff worked on building up her strength and mobility. An excellent patient, Cedar would stand calmly while the vet techs changed her bandages. But her right front leg had been badly damaged, and despite physical therapy, she wasn't regaining much use of it. If anything, it just kept getting in the poor kitten's way.
Cedar had surgery to remove her right front leg, and it was an adjustment for sure. But right after the surgery her recovery began in earnest. Not only could she get around great on three legs, but she was also turning into the happy active kitten that had been hiding inside her all along. Finally, her sweet, playful personality emerged.
The joy of saving kittens
It wasn't long before Cedar was well enough to move in with two other cats around her age, and to finally experience the joys of being a kitten and playing to her heart's content. But sweet, laid-back Cedar is never too busy to snuggle up in someone's arms.
She's come a long way from the days when she was desperate for help, and she sure seems grateful to be in a warm, safe place. One look at Cedar's contented face is a reminder of the joy that goes along with saving kittens.
You can bring joy to pets in need
Photos by Molly Wald and courtesy of Joni Parker