Injured stray kitten caught in barbed wire
Image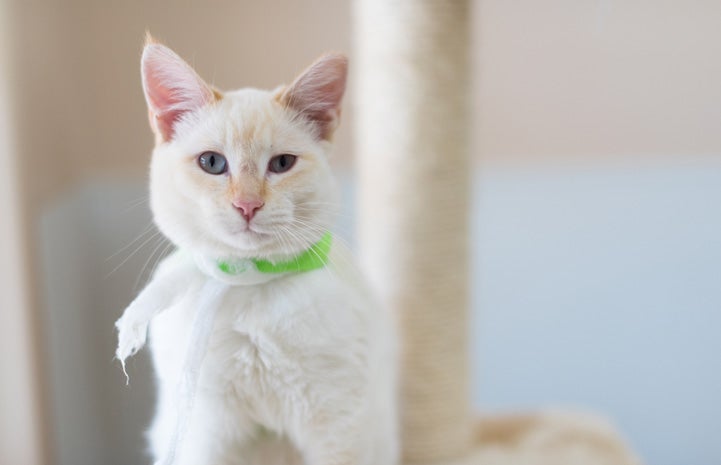 Stray Siamese kitten caught in barbed wire and is badly injured as he was trying to get free. He receives medical care and antibiotics.
By Christelle L. Del Prete
His name is Donatello, but you can call him Mr. Personality. If you aren't immediately drawn to the six-month-old Siamese kitten with the light blue eyes, just give him a minute, and he'll draw you in with his sunny disposition.
Aside from a small bandage and some scarring on his back, it's hard to imagine how sick this vibrant kitten was when he first came to Best Friends. Donatello greets Cat World visitors and volunteers with a happy meow. He'll even place his paw on the glass window of his room to invite people inside.
Because he's happiest when people scoop him up and hold him, he'll curl right up in their arms and start rubbing his face against theirs and purring loudly. His life today is a far cry from the day they found him, not so long ago.
Stray Siamese kitten tangled in barbed wire
Donatello had been trying to survive as a stray, but he was badly injured when he got tangled up in some barbed wire. He had a cut that ran from one of his ears all the way down his back, plus a very deep wound between his shoulder blades, which most likely happened when he was struggling to break free from the sharp wire.
Luckily, Donatello managed to free himself and was rescued by someone who saw that he needed help. But, by the time he was rushed to the Best Friends Animal Clinic, his wound was infected and he had a very high fever. The little kitten needed immediate critical care.
Medical care and antibiotics for kitten
At the Sanctuary, Donatello had his wounds cleaned and bandaged. He also received antibiotics to fight the infection and medication to ease his pain. Through it all, the little kitten was a trouper. He even turned his daily bandage-changing sessions into social hours, soaking up affection and entertaining the Best Friends veterinary team members as they helped him to get healthy again.
During his recovery, Donatello lived at the clinic, but he wasn't content to stay in one of the spacious rooms designed for regular long-term clinic patients. He demanded to be with people all day long, and would meow nonstop whenever he was left alone. So, for a few weeks, Donatello moved into the office of clinic financial administrator Della Wallace.
In Della's office, he'd jump up on a cat tree, look out into a hallway and charm people who were taking tours of the clinic. "He'd be all over the desk, too," Della says. Even though Donatello had a comfy bed right on the corner of her desk, she says, "He wanted to be right in front of you, rubbing your face," she says. Or, he'd bat a cat toy under the door and wait for someone to walk by and push it back to him.
A bright future for little kitten
Once he was feeling well enough to move to Cat World, the little kitten with the larger-than-life personality didn't miss a beat. Because he's so charming, he quickly won over his caregivers, and he's proving to be a fantastic playmate for his young roommates — especially when it comes to games of chase around a cat tree.
With his white fur streaked with orange, flame-point highlights, and all his happy, upbeat energy, Donatello is like a brilliant ray of sunlight. And, thanks to the lifesaving care he received at the Best Friends Animal Clinic, his future will be every bit as bright.
Update: Donatello's life is even more bright now. He was adopted.
Get involved to help animals
Photos by Kurt Budde