It's simple math: Helping cats skyrockets save rate at Georgia shelter
Image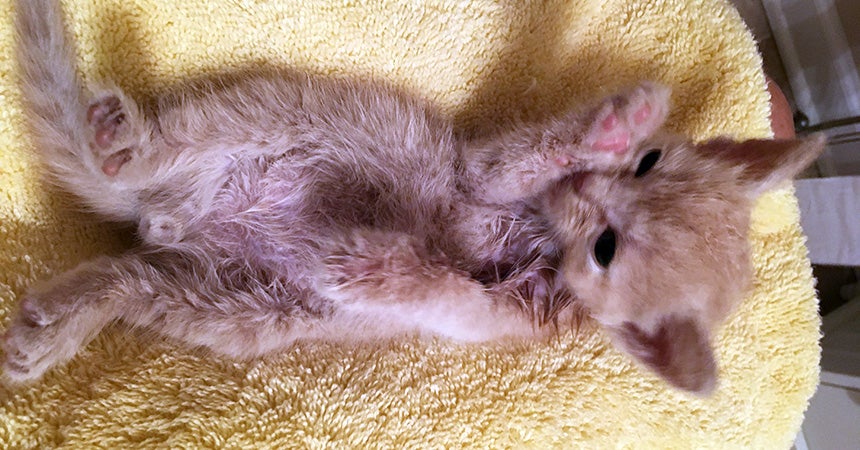 With the help of Best Friends, Hall County Animal Shelter in Georgia is saving more cats via TNR, spay/neuter, and other strategies.
By Kelly Morton
Life is different and so much better these days for dogs, cats and the people who care about them in Hall County, Georgia. Until recently when pets ended up at Hall County Animal Shelter (HCAS), their futures were uncertain. Last year, about 81% of dogs who went there were saved, and only about 45% of cats made it out alive. Today, the shelter is nearly no-kill thanks to good new programs and people willing to help.
Because it's one of the largest counties in the state, partnering with Hall County has for some time been a priority for Best Friends Animal Society, but leaders at the organization weren't always on board with the idea. That changed in the summer of 2018.
Crunching numbers to save shelter pets
After attending a statewide Best Friends-hosted meeting, Mike Ledford, director of the Hall County Animal Shelter, agreed to have a Best Friends shelter outreach team come there to conduct a shelter assessment. The shelter outreach team would evaluate everything from the organizational culture, customer service and shelter policies to animal care and behavior programs. Their goal would be to find ways for the shelter to save more lives. "Mike welcomed us into the shelter and seriously considered all of our recommendations," says Carrie Ducote, Best Friends' senior manager, Georgia.
Data collected during the assessment revealed that community cats were most in danger of losing their lives when they were brought to the shelter. Like many others, Hall County Animal Shelter staff were routinely picking up outdoor cats and euthanizing them with the hope of eliminating them altogether. However, after years of doing this, it became apparent that this trap-and-kill method was ineffective. And there were few spay/neuter options for outdoor, community cats cared for by people who didn't have resources for trap-neuter-return (TNR).
The other opportunity noticed by the Best Friends shelter outreach team was to reduce the number of pets entering the shelter through managed intake. This simply means setting appointments and more counseling for people who intend to surrender their pets. By making appointments, shelter staff can set aside valuable time to listen and talk to people about options other than turning their pet over to the shelter. Oftentimes, people just aren't aware of alternatives or the reality that if they do surrender their pet to the shelter, it's not guaranteed that the pet will make it out alive.
County animal shelter embraces change
After the assessment was completed and the recommendations delivered to decision-makers at the shelter, there was one more hurdle to clear: It was important to have the support of the county. So, Carrie met with each Hall County commissioner and explained the goals, plan and impact for each item. This culminated in a presentation to the commissioners at a public meeting in February and the unanimous approval of a proclamation to adopt Best Friends' recommendations. After that, the real work began.
Mike immediately began developing the plan to change the way people surrendered pets to the shelter. It can be a challenge at first to go from a model where people simply show up and drop off pets any time, for any reason. Under the managed intake model, the first step is for people to talk to someone at the shelter who might be able to help them so they don't have to give up their pet after all. Those who do ultimately go to the shelter would arrive at a scheduled time, so staff would be ready to receive them.
It's simple math: Save the cats
At the same time (and with help from Best Friends), the shelter prepared to launch a new community cat program (CCP). A good program where free-roaming cats ending up at the shelter are spayed or neutered, vaccinated and returned to where they were found, immediately stems the tide of cats entering the shelter and jump-starts lifesaving.
At the same time, targeted trap-neuter-return, where outdoor cats are humanely trapped, spayed or neutered, vaccinated and returned to where they were found, works over time to prevent litters of kittens. And with the help of the local community, those cats can be cared for in a familiar, outdoor environment that they call home. That was the new plan for cats in Hall County.
Additionally, through a grant from Best Friends, outdoor cats in Hall County could be fixed and vaccinated at no cost at the nearby Humane Society of Northeast Georgia. This means that animal control officers could start offering free spay/neuter to community cat caregivers' feline charges, in lieu of impounding and euthanizing the cats.
More about community cat programs
Cat-saving program takes off
Sherry Mililli, Hall County's new community cat program coordinator, says she began to see the benefit of the program right away — not only for cats, but for the people who care for them, too. "Many people want to do the responsible thing by spaying and neutering cats; however, they aren't physically capable of doing trap-neuter-return or cannot afford such services," she says. "With the CCP, I can do the TNR work for them."
Sherry helped one elderly couple struggling to afford feeding seven adult community cats and 19 kittens. "They had been adjusting the dosage of their own personal medications so they could afford to buy food for the cats," Sherry says.
After a month of Sherry's work through the program, all the adult cats have been spayed or neutered and all but two kittens have been socialized and adopted, or picked up by local rescue groups. Now the couple can afford to feed all the cats in need of their care, their numbers won't keep increasing with litters of kittens, and they don't have to sacrifice their own health to do it.
A no-kill believer
While every cat and person helped by the program matters, the overall impact at the shelter is monumental. Mike credits the community cat program with more than doubling the shelter's cat save rate from just 45% to as high as 97% in some months since it launched.
"If you told me a year ago that we would be looking at a save rate in 2019 near and sometimes above 90%, I would not have believed it," says Mike. "I am just really pleased at how well our partnership is impacting our shelter and its animals. Starting with the shelter assessment through today, I have been really impressed with the team at Best Friends and how it's invested in helping not only the animals in Hall County but also my team at the shelter. Their assessment and guidance through the change process has been great and has helped us to make these changes so much easier to implement."
"Hall County is a great example of how any county can achieve a high rate of live outcomes with dedicated leadership, community support and a shift in shelter policies," says Carrie. "It's through partnerships like this that the state of Georgia and the entire country can reach no kill by 2025."
Photos by Sherry Mililli, Carrie Ducote and Hall County Animal Services