Kennel cozy hour
What a difference a nap makes at the NKLA Pet Adoption Center.
By  Kelli Harmon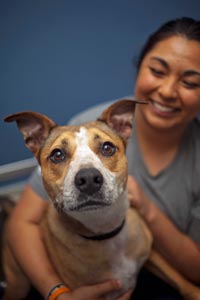 Ranger rested his tan and white muzzle on a volunteer's lap, completely still except for his eyes, which followed movements on the small screen in front of him. He was doing what millions of people do every evening — relaxing while watching a movie. In the kennel next door, another dog sat snuggled into a blanket, happily gnawing on a Kong toy stuffed with treats as a volunteer sat nearby reading a book. "Kennel cozy hour" gives Ranger and his friends a little taste of home life while they wait for homes of their own.
The NKLA Pet Adoption Center is one of two Best Friends-run adoption centers in Los Angeles. In addition to caring for Best Friends pets, staff members at the center help No-Kill Los Angeles (NKLA) Coalition partner groups by housing, caring for and finding homes for their pets as well. All dogs at the center get lots of walks and play time, but downtime with human companionship is just as important. That's why NKLA center staff members started kennel cozy hour — a simple concept with an important goal.
A cozy dog is a happy dog
Alyss Tsukayama, a caregiver at the NKLA center, explains, "It's important for dogs to feel comfortable and get interaction with people in their kennels, beyond being leashed up to go for a walk." Outdoor romps and play time with their buddies are healthy, but after all, most dogs are couch potatoes for at least a few hours a day, and they love nothing more than sharing that with someone.
So staff members began organizing kennel cozy hour by asking volunteers to hang out with a dog (or dogs) in their kennel — all at the same time. Alyss says, "I thought maybe 10 volunteers would sign up, but about 40 people responded."
As the first kennel cozy hour approached, all the dogs were taken out for bathroom breaks and Alyss set out blankets, books and magazines, bandanas scented with lavender oil — all things to make the hour truly cozy. Volunteers began to arrive and were directed to their assigned kennel. Then they sat down with a book or their tablet for watching movies or TV. After their initial excitement, the dogs began to settle in, some choosing to climb into their volunteer's lap, and some cozying up near them on their own bed. Alyss says, "It was amazing. After 15 minutes or so, one whole side of the center was quiet."
Ranger: Black-belt-level snuggler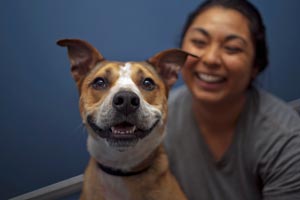 While all the dogs benefit from downtime, Ranger has made the most progress because of it. Alyss explains, "Ranger has been here for several months and he's a great dog, but he gets so excited, jumpy and a bit mouthy that he can turn people off." One might not guess that a super active dog like Ranger has an ultra-mellow side too, but Ranger does.
"Once he realizes you're not going to leave right away, he completely relaxes. He'll fall asleep on your lap," Alyss says. "He just wants to be with you." The extra cuddle time has helped balance Ranger. While he still loves to run and play, he's just as game to curl up with his head on your lap.
Kennel cozy hour means Ranger and the rest of the dogs at the NKLA center get to enjoy regular one-on-one quiet time that keeps them happy and healthy until an adopter walks in one day and chooses them. That's when they'll get the very best kind of cozy hour — the home version.
To bring hope and healing to more animals like these, become a Best Friends member.
Learn more about how Best Friends is working to make Los Angeles a no-kill city by 2017.
Photos by Lori Fusaro