The kitten guy
Image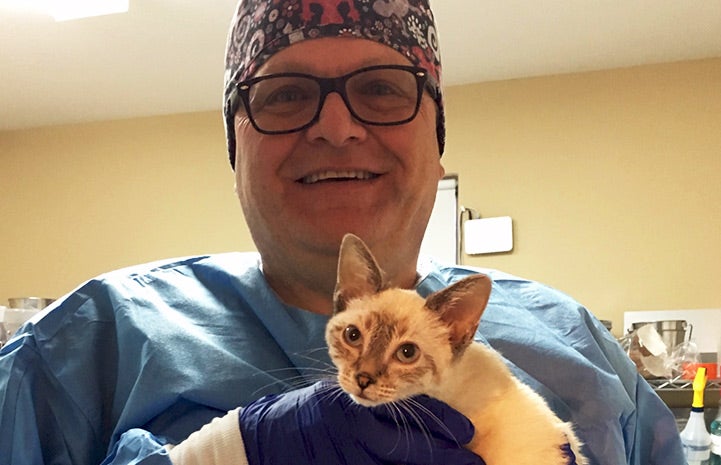 John Tella is a true kitten guy and kitten lover. He volunteers with kittens in Salt Lake City, Utah. Read an interview about his experience.
By Nicole Hamilton
As a pilot, John Tella spends a lot of time soaring above the clouds, but when he's on the ground, you can often find him volunteering with Best Friends in Utah. In fact, the time he's spent at the Best Friends Kitten Nursery and the spay/neuter clinic has inspired him so much that he's decided change careers. Today, he's studying to be a vet tech.
John has been involved with Best Friends for more than a decade. He was one of the very first volunteers at the spay/neuter clinic, and today lends a hand in both the clinic and the kitten nursery. He does everything from bottle feeding the youngest ones to spending time with older kittens to, as he puts it, "make sure they get the most love possible."
John also visits the Sanctuary in southern Utah about once a month, and is happy to give cats a ride between there and the Best Friends Pet Adoption Center in Salt Lake City.
Recently, John met a kitten at the nursery named Jackie, and just knew she needed to be the newest member of his family. After helping her get healthy at the nursery, John adopted her. Today, Jackie is happy in her new home, and John gets a daily reminder every time he sees her that by volunteering with Best Friends, he's helping to save lives.
We recently spoke with John about what motivates him to volunteer:
Why did you decide to volunteer with Best Friends and what motivates you to continue to help?
Many years ago I visited the Sanctuary in Kanab. I was inspired by the amazing work being done to help the animals, and I knew I wanted to be part of it. I continue to be motivated by the efforts of those involved in Saving Them All, and by the work of many animal rescue groups around the country and the world.
What inspires you most in your volunteer work?
I love the animals that come into the spay/neuter clinic and the kitten nursery. And, I admire the attitude and dedication of the other volunteers that I am lucky enough to work alongside.
What would you tell others who are thinking of volunteering?
Do it. As soon as you can. Every person's contribution is valuable, and when people reach out to help animals, they actually end up benefiting themselves.
Since becoming a Best Friends volunteer, what have you learned and do you see things differently now?
I've learned many new skills, but most importantly I've learned to appreciate the value of patience. Volunteering with Best Friends has reaffirmed my faith in the power of doing kind deeds. The important things in life are things like volunteering to help your fellow beings.
In terms of your volunteer work, what are you most proud of?
I look at the work as a collective effort. I'm very proud of the organization and all it has done to help save lives ― and of course, my small part in it, too.
Tell us about your favorite volunteer moment.
Walking Sweetheart the donkey at the Sanctuary.
What are you doing when you're not volunteering with animals?
Studying for my new career, and currently flying freight airplanes for a living. I also love to travel when I can.
Do you have pets?
Yes! We have three cats, all adopted. O.C. (Outdoor Cat) is a rescued neighborhood feral, George, our "tri-paw" Bengal, was adopted from the Humane Society, and Jackie Chan, who we first met her at Best Friends' Kitten Nursery, is our latest addition. (She was the one I just had to take home.)
Last year we built a catio onto our house so all the cats could get some safe outside time. The cats love watching the birds, and our neighbors love watching the action in the catio!
Do you have a superpower and, if so, what is it?
My ability to study detailed material while three cats sleep on top of me.
What does volunteering mean to you?
It reaffirms my faith in a kind world. It brings out the compassion in me.
Help Save Them All. Join Best Friends.
Photos courtesy of Erin Fell and John Tella