Kitten season (aka raining cats and kittens)
Just in time for kitten season, new kitten nursery opens at the Best Friends Pet Adoption and Spay/Neuter Center in Los Angeles.
By Best Friends staff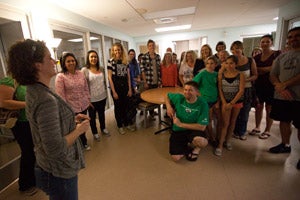 This weekend, a group of people gathered together to eat cake, give gifts, and play baby-themed games, all in preparation for a long-awaited birth. Or, to be more accurate, a few thousand births. Kitten season will be in full swing in Los Angeles by March, and won't end until October.
New kitten nursery in Los Angeles
While the tone was celebratory, the goal of the party was to unveil the Best Friends Pet Adoption and Spay/Neuter Center's new kitten nursery, where 1,800 underage kittens will be saved. To accomplish it, they need two things in spades: supplies and help. And what better way to garner that kind of support than with a party?
Destiny Haney, NKLA Coalition coordinator, says, "The purpose of the kitten shower was to launch the nursery program, gather supplies, and to get people involved with what we'll be doing." And the job ahead is a big one. Kittens under eight weeks old are the most at-risk population in Los Angeles shelters (and most others around the country). Destiny explains, "Last year, 7,000 out of 17,000 healthy, adoptable animals that died in Los Angeles shelters were underage kittens. It's a crazy number of one type of animal dying for no other reason than they're just not old enough; not because they're aggressive or ill or any other reason."
Part of the challenge is that kittens pour into the shelter all at once. From March through October, shelters become overwhelmed with kittens still weeks away from being old enough to be weaned, spayed or neutered and adopted. Add in the fact that some arrive without mothers and need to be bottle-fed every two hours, and the workload almost immediately outweighs what shelter staff can take on. But this year, that's where Best Friends will help in a big way.
Kitten nursery and new staff will save lives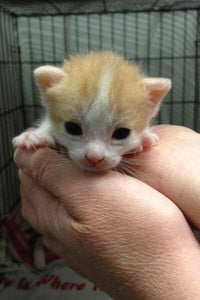 The day after the kitten shower, Nicole Swartzlander, Best Friends' new neonate coordinator, reported for duty. Destiny explains, "She'll be the main contact for Los Angeles Animal Services shelters when they have kittens in need." Time is of the essence when underage kittens arrive, especially if they're orphans. Now, instead of having to call multiple rescues, shelter staff can contact Nicole. She'll work from a list of NKLA Coalition members and Best Friends foster homes to see who has room. If they're full, kittens can come to the nursery at the Best Friends Pet Adoption and Spay/Neuter Center as space is available. Destiny explains, "Saving 1,800 kittens in one season really will take a village. We can't do it by ourselves at Best Friends, so we're relying on the coalition and our volunteer foster families to help us do this."
The nursery, housed at the Best Friends Pet Adoption and Spay/Neuter Center's existing internal medical clinic, has 40 cages for weaned kittens, litters of bottle babies, and moms and kittens. Volunteers are needed to help with all aspects of caring for the kittens, including bottle feeding every two hours from 6 a.m. through 2 a.m. Destiny says, "We wanted to make it a really pleasant place to come since we'll need so many volunteers, and the work will go on late at night. We've painted it in soothing colors; it has rugs, rocking chairs and nice lighting, cute furniture for storage - like a real nursery."
Kitten supplies galore
And the kitten shower was a great success. Destiny says, "I was really excited that we had so many people come and so many donations. People brought kitten formula, bottles, blankets, toys." She says they still need more of everything, including volunteers willing to do the dirty work of cuddling and caring for tiny kittens. Someone's got to do it!
To learn more about volunteering, visit the Best Friends-L.A. website.
Photos by Candi Crawford and Nick Carranza