Kittens with FeLV make getting adopted look easy
Kai and Lime, two young cats with FeLV, found themselves a home when they approached a couple looking to adopt.
By Sarah Thornton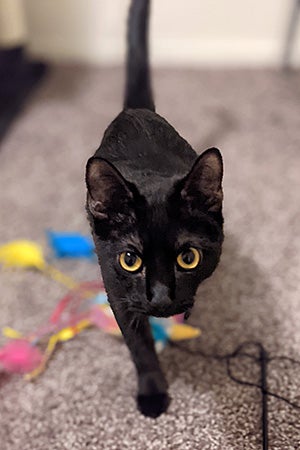 Cat brothers Kai and Lime have never let their circumstances determine what they can and can't do. Kai, born without back feet, will climb up a cat tree just as fast as Lime and has no trouble keeping up while they tumble, play and chase after each other. And when they became homeless after their family could no longer take care of them, they weren't going to stay that way for long ― not if they had a say in it.
When Caitlyn McGowan and her husband, Matt, came looking for a cat to adopt, the brothers made their decision for them. These new people were going to be their new people, and Kai and Lime weren't going to be homeless anymore.
Cats pick their people
At a young age, Kai and Lime were diagnosed with feline leukemia (FeLV), a virus that weakens cats' immune systems and makes them more susceptible to other illnesses and secondary infections. It's easily spread to other cats, so when the young cats arrived at Best Friends Animal Sanctuary, they settled into a special area for cats with FeLV.
[Kitten helps dispel myth that living with feline leukemia is a 'cat-astrophe']
When things got too busy, Lime (the shyer of the two) kept to his favorite hiding spots up on a shelf behind stacks of clean laundry, content to watch from above when things got too busy. Kai, on the other hand, was happy to be the center of attention. He rubbed against people's legs, purred into their hands and swatted around any toys offered to him. They made friends with their feline roommates, but still spent most of their time together as they waited for their future family.
Caitlyn and Matt, who recently moved into their own apartment in Utah, finally had the chance to bring a cat into the family. So, they went to the Best Friends website to see who might be looking for a home. With one particular cat in mind, they visited the Sanctuary to meet her in person, but they just didn't click like they'd hoped. Instead, they ended up visiting the area for cats with feline leukemia. And that's where they found Kai and Lime ― or more accurately, where Kai and Lime found them.
"Immediately Lime just ran up to my husband," Caitlyn says. That's right, timid Lime made the first move. Meanwhile, she happened to be making friends with his brother. "I was just sitting on the floor, petting Kai, and I didn't know they were brothers. We were not planning on adopting two cats."
Plans don't necessarily work out the way we think they will. Caitlyn knew that cats with FeLV were often overlooked by adopters, either because they already have cats at home without FeLV and don't want them to get sick, or because they are worried about the health and lifespan of a cat with the virus.
Neither of those things concerned her, though. She didn't have any other cats at home ― just dogs and ferrets, who couldn't contract the virus. And as far as keeping Kai and Lime healthy, Caitlyn is a veterinary technician, so she understood the sort of extra care they might need and what sort of precautions she could take to keep them comfortable and healthy. Plus, she could take them into work if she needed to.
[Couple with soft spot for overlooked pets adopts the perfect pair of cats with special needs]
Caitlyn felt like she could give them a home where they would be happy, healthy and very, very loved. Kai and Lime had clearly already made their decision, and in the past she had always let her pets pick her. And since there was no reason to say no, soon she and Matt were headed home with the pair of brothers.
Lovers of horror movies, the couple redubbed the new family members Jeepers (Kai) and Creepers (Lime), and the duo wasted no time settling into their new life. "The first night," Caitlyn says, "we let them have their space in the guest room. And the day after, I came home from work and I opened up the door and they both came running."
They circled around her ankles and happily head-butted her. Kai was as affectionate as ever, and Lime's shyness had disappeared entirely. In fact, Caitlyn says, when she tried to pet Kai, Lime would reach out a paw to beg for attention.
When Lime had an upper respiratory infection flare-up, the brothers' pick of people really paid off. Caitlyn was able to bring him into work and immediately get him on antibiotics. He was feeling feline-fine in no time.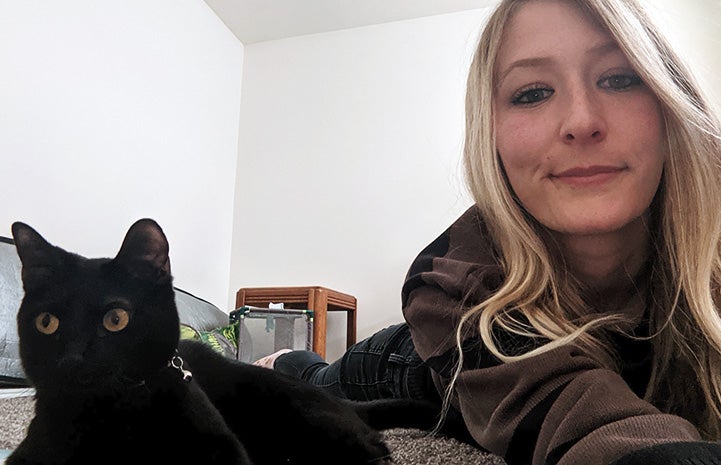 Making themselves at home
To keep the brothers as comfortable as possible, Caitlyn set up a room to serve as their own little home base while they got settled ― though, of course, they have the run of the house most of the time. They have an air purifier and a humidifier to help prevent upper respiratory issues. And they have plenty of great hiding and climbing places.
"Lime likes to go on the very tippy-top of the cat tree," Caitlyn says. "And I'll start petting him and he'll just flop over onto one panel and onto the next. And next thing you know he's on the floor. He just wants pets."
As for Kai, his favorite spot is the blanket fort Caitlyn built for him, but he has no problem at all climbing up after his brother on the cat tree right, climbing onto the bed while his people are watching TV or getting anywhere else he needs to go. He is on medicine for hypersensitivity in his back legs, but he enjoys the pill pocket treats he receives, and his lack of back feet doesn't slow him down for a second.
[Kitten lends a helping paw to her blind brother]
Caitlyn says they are both very food motivated, which not only makes it easier to give Kai his medicine, but it also opens up some extra fun for Lime through training.
"He picks up so quickly," says Caitlyn. "He learned 'sit' very quickly, and right now we're doing 'lie down,' so that's a little harder process. But we're working on it. I don't think I've ever met cats that were so food motivated. It's great."
They're also slowly being introduced to the rest of their new family ― Caitlyn's dogs and ferrets. "The dogs don't bother them," she says. "The cats will just be in the cat tree looking at them, but that's about it."
As for the ferrets: "I held up one of my ferrets just to have (Lime) sniff," says Caitlyn with a laugh. "I don't know if he didn't like the smell of the ferrets, but he did this gag and then hissed and ran away. So, that's for later on."
For now, the brothers are completely content to just play with each other and their human family. "They really are just amazing cats. I did not expect to take home FeLV cats, especially two of them," she says. "But I am so grateful for them. We just love them."
Likewise for their part, Kai and Lime seem pretty pleased with their choice of people ― a couple they picked as soon as they walked through the door.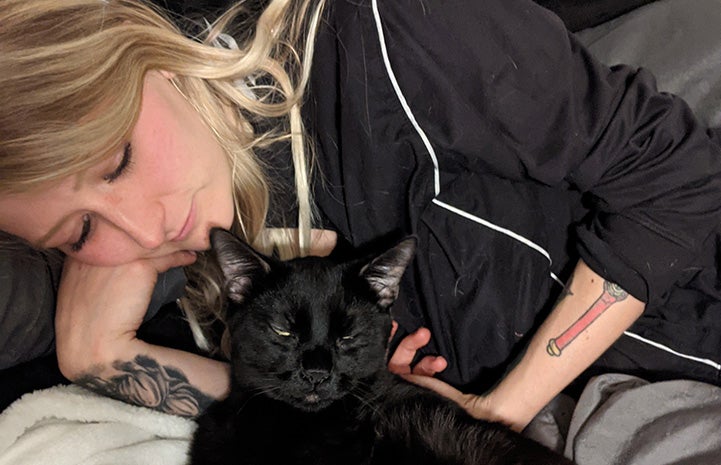 Have a pet pick you
Pets near you are waiting to pick their person. Why not see who picks you?
Read more:
Three little kittens, one big happy family
High-energy cat shows his soft, klutzy side and gets adopted
Fate and friendship lead to a new start for injured kittens
Photos courtesy of Caitlyn Johnson