Lab mix with collapsed trachea symptoms finds kindred spirit
Labrador mix with cancer and signs of tracheal collapse gets much-needed help at Sanctuary and then find a forever home with her kindred spirit.
By Christelle L. Del Prete
Not long ago Geneva was a medical mystery. In 2013, the black Labrador retriever and pit-bull-terrier mix was found at a gas station — abandoned and sick. Only about two years old at the time, poor Geneva already had more health issues than some dogs have in a lifetime.
Veterinarians at the Best Friends Animal Clinic were able to cure all but one of her medical problems. But it was that very issue — a chronic condition she'd likely been born with — that eventually led Geneva to a kindred spirit and a family of her own.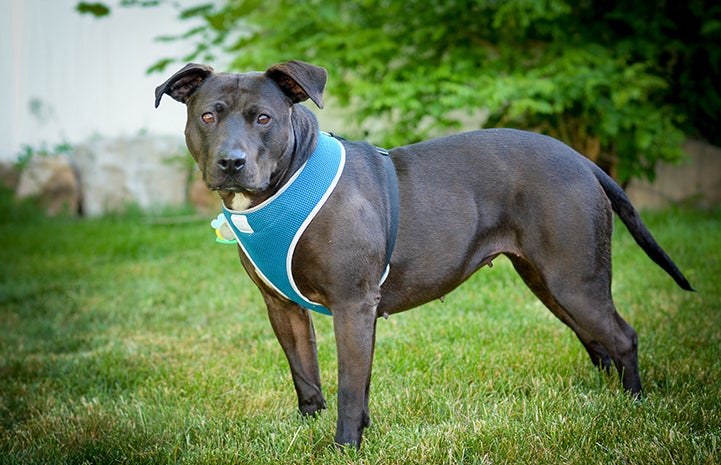 Chemotherapy for a dog with cancer
After she was found at the gas station, Geneva was cared for by a small Arizona rescue organization. But her horrible cough, swollen lymph nodes and lumps on her belly meant that she would need more medical help than the rescue group, a Best Friends No More Homeless Pets Network partner, could provide. So they got her to the Sanctuary, where she could get the help she so desperately needed.
The Best Friends veterinary team quickly got to work figuring out what was making Geneva so miserable and unwell. When tests revealed that she had a cancerous tumor that likely was the cause of most of her health problems, Geneva began chemotherapy treatments. Soon, Geneva was free from cancer and feeling much better.
Signs of collapsed tracheas in dogs
While her health had clearly improved, she still wasn't 100 percent well, because she was showing some of the symptoms of collapsed trachea in dogs. She would cough and gasp whenever the weather turned hot and humid, or whenever she got excited before a walk or car ride. Best Friends vets ran diagnostic tests and tried medications to treat her symptoms.
Nothing worked because aside from a slightly elongated soft palate (the layer of tissue between the oral and nasal cavities) and a sensitive trachea (windpipe), Geneva was perfectly normal and healthy. But she always had the loud, raspy breathing and cough that are characteristic of trachea problems in dogs.
Regular veterinary checkups (to ensure the problem wasn't getting worse) determined that Geneva's condition isn't life-threatening and doesn't even require any special treatment at this point. And because she seemed perfectly happy and free of stress, Geneva could finally live her life like a normal dog. That meant she could go to a good home — if one happened to come along.
Check out Dogtown at Best Friends
Finding a kindred spirit
While Geneva's caregivers at the Sanctuary never doubted that a forever home was in her future, no one could have guessed that she'd end up finding a truly kindred spirit. Many years ago Lisa Morrise adopted a dog from Best Friends, and recently she returned to the Sanctuary to look for another friend. Accompanying Lisa was her 23-year-old daughter Kirsten, who was born with a birth defect that causes her to have severe airway issues, as well as trouble swallowing.
Kirsten has had to endure numerous surgeries in her life, including a tracheotomy that left her trachea weak and scarred. When she found Gen (her new name) on the Best Friends website, she knew her family had to meet her and maybe even bring her home. Though they were still mourning the loss of their beautiful black German shepherd, who they'd had for 11 years, they were ready for a new best friend.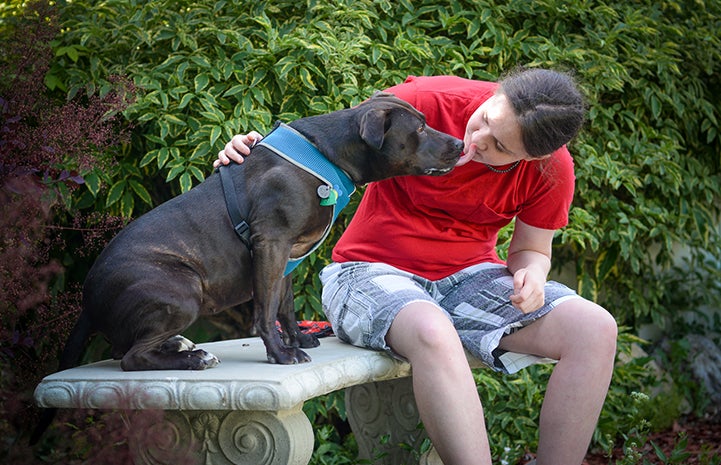 A match made in heaven
It turned out to be a match made in heaven for the Morrises and Gen. Her new family understood her condition perfectly. "Everything we were telling them (about Geneva), they already knew because of their daughter," says Dogtown caregiver Chris Jasinski.
Since going home a little over a month ago, Gen has settled in perfectly with her new family. She sleeps on a bed with her head elevated on her own pillow or someone's lap — the best position for her sensitive airway. She goes for walks a few times a day.
"We've learned the distance Gen can tolerate," says Lisa. "Like Kirsten, Gen has limited stamina due to her airway and needs a shorter distance and more rest stops. But Gen jumps for joy when the car keys and her harness come out." Gen's harness is a special one that doesn't place any pressure on her throat or her tender trachea.
A neighborhood celebrity
In a short time, Gen has become something of a neighborhood celebrity. "People have come over just to meet her. She is happy to show them her excellent tail-wagging and to offer her sloppy kisses. Everyone loves to hear her story and we are so fortunate she found her forever home with us," Lisa says.
While parts of Gen's history, along with the cause of her trachea issues, may remain a mystery, she'll always be perfectly adored and understood by her new family. And despite whatever challenges the future may hold for her and Kirsten, her kindred spirit, they will face them together.
Help more animals like Geneva go from homeless to home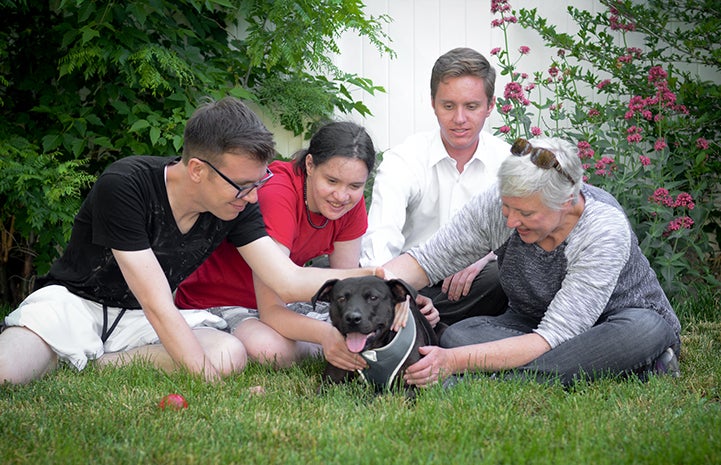 Photos by Sally Meyer