A late bloomer
Image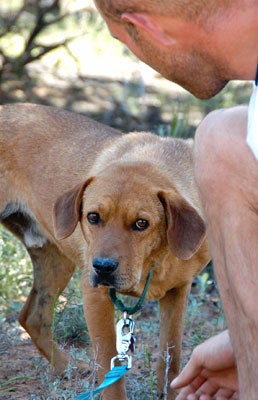 It was a long time coming, but Calvin is finally ready to leave his nest.
By Best Friends Animal Society
Some dogs need a little more time at Best Friends before they're ready for a good home. For Calvin, it's taken six years! But at last, even he's given in to the magic, and become a snuggle bug on the lookout for his very own family.
Calvin came to Best Friends many years ago as a completely feral pup. He wouldn't let anyone near him! A "mystery breed," he was glad to give up life as a stray, where he was always hungry and on the run. He was glad to have food and comfortable, shady shelter, but if you tried to reach out to him, he'd hide.
One of the dog caregivers, Matt Waters, decided that Calvin, now six years old, might finally be ready for a breakthrough. He took him home as a foster to see whether he could at last be coaxed out of his shell, and say "hello" to the people who love him.
And what do you know? Home life really suited Calvin! Next thing Matt knew, Calvin was sleeping on his bed at night, anxious to ride in the car, and always the most excited receptionist when Matt comes home. He's gentle, nice to the other dogs, still shy, but always smiley now. It may have taken six years, but at last, this guy may be ready to leave the nest.
Way to go, Calvin! Welcome to a bigger, warmer world.
By Elizabeth Doyle