Layla the Vicktory dog goes home
Vicktory dog Layla is currently in a foster to adopt home. She found the perfect situation with a certified dog trainer as her mom.
By Best Friends staff
When Tess decided to travel to Best Friends for the Vicktory dog reunion celebration this spring, she didn't plan on taking home one of the dogs. But just a few short months later, Vicktory dog Layla is at home with Tess, which makes this lucky pup the most recent of the dogs to go home. And that's certainly cause for celebration.
Certified dog trainer meets Layla the Vicktory dog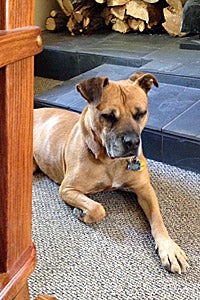 Layla, a sweet, sometimes-shy dog, could have found herself waiting for some time to find just the right home. She had to be the only pet in the household because she doesn't do well with other dogs or cats. Most people who have the experience to handle a dog like Layla already have at least one dog. But that's where Tess turned out to be the perfect fit. She explains, "I spent a year getting certified as a dog trainer at Animal Behavior College, but I just hadn't found a dog yet that put me over the edge to where I thought 'maybe this is my dog.'" Until she met Layla.
Tess was in the audience at the Vicktory dog event, where she heard the announcement that Layla had passed her Canine Good Citizen (CGC) test. That meant she was eligible to go into a home. Jacque Johnson, manager at Parrot Garden at Best Friends, has taken in four Vicktory dogs as her long-term office dogs. Jacque, who says she was a dog person before she was a bird person, gives the dogs a place away from other dogs to settle in, get comfortable, and be around people for eight hours a day. When they're ready, they start their CGC training. Layla's passing the test was a great accomplishment for all involved; before her training, she'd often get so scared she had to be carried from place to place.
A love match between a dog and her new person
Tess went up to meet Layla. "It was love at first sight," she says. "I couldn't stop thinking about her. We were driving home, and I just kept thinking that she was everything I love in a dog."
Tess put in an application to adopt Layla a few days later.
The timing was perfect because Tess was already scheduled for a five-week internship at the Sanctuary; it would be a great opportunity to get to know Layla. Tess went to the Parrot Garden, where Layla was staying, "every morning before starting the day and every afternoon when I finished my work." It was the alone time with Layla that confirmed she was the right dog for her. Tess says, "Once I got more time with her on our walks, it became clear that she was just what I was looking for. She's just so adorable and strong-willed, which I like. She just won me over." On May 13, Layla went home with Tess. Over five years after Layla was rescued from a fighting ring, she's finally found her place.
Foster to adopt: Layla settles in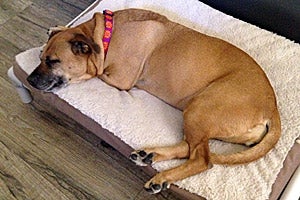 Tess says Layla settled right in. She explains, "What's been a surprise is that she's not the challenge I thought she would be. She's dog-reactive, and we're managing that, but she's so well-adjusted for what she's gone through. She has her fears, and yet she's perfectly fine with the vacuum, the washing machine - that's what blows me away, that she can observe and get over it and then be totally fine with things."
Layla is learning about the good life: walks in the desert, trips to the cabin, her own person to lean on and get butt scratches from. Tess has to wait through the court-required six-month foster period to officially adopt. She says, "I'll get to sign papers on November 13. I can't wait; I'm already counting down." But, she adds, "It already feels like Layla is my dog, and I think she feels like she's my dog too."
Keep up with Layla by visiting her Facebook page.
Catch up with the other Vicktory dogs who have gone home.
Photos courtesy of Tess