Leg problems? They're no longer a problem for this Chihuahua mix
A small dog receives treatment, surgery and physical therapy, for her luxating patellas.
By Christelle L. Del Prete
When Begonia came to the Sanctuary last November, the little Chihuahua mix was already walking on only three legs. Although she had all four of her legs, her left back leg was twisted and buckled under her. Sometimes she would plant it on the ground for a few seconds to help keep her balance, but it wasn't very useful for getting around.
Because her right back leg was stronger than the left, Begonia relied on it heavily to get where she wanted to go. But trouble was brewing. Begonia leaned on her good leg a little too much. And she was going to need some help to stay steady on her feet and get ready for a home of her own.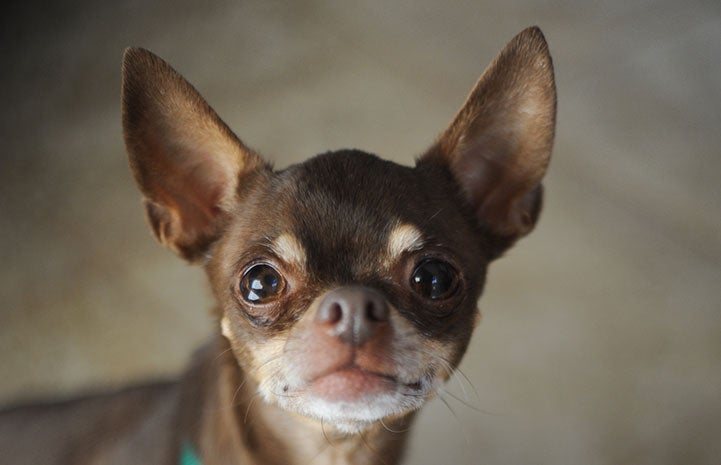 Small dog with luxating patellas
The tiny Chihuahua mix had stopped walking normally because she had luxating patellas, a serious congenital problem that affects her kneecaps. It was the reason her left back leg was in such bad shape, but it was only a matter of time before the right one caved — especially with all the extra pressure.
Most pets can live long and healthy lives on three legs with only minor lifestyle adjustments. Some pets, including Walter the wonder dog, can zoom around just fine on only two legs. But he's an amazing guy who is able to balance his weight on one front and one back leg. If Begonia's "good" back leg gave out, she'd be left with only two front legs and no way to successfully balance her weight.
Prescription: Canine knee surgery
Best Friends vets discussed her case with a surgeon in Phoenix who helps with special Sanctuary cases. Because Begonia's left leg (the buckled one) would be harder to correct with surgery, the specialist recommended canine knee surgery on the right leg. That would give the little dog the best chance at having three strong legs, which is what she needs for a good quality of life.   
Learn more about three-legged dogs and cats
Aside from her bum legs, four-year old Begonia was young, healthy and full of life. When the day of the surgery came, she sailed through it and quickly went back to the bright-eyed little dog that Best Friends caregivers and vets had come to love.
At that point, a long recovery and lots of daily physical therapy loomed ahead of her. But the surgery was a success, and things would only get better for Begonia from that point forward. "She improved dramatically with the surgery," says Dr. Patti Patterson, a vet at Best Friends. "I really think that was life-changing for her."  
Physical therapy for a dog
Begonia also got lots of help through physical therapy. Every day, Dogtown caregivers would stretch out Begonia's weak leg, guide her through exercises to strengthen the muscles around her knee and, finally, apply warm soothing compresses.
"She was really patient and would just lie there and let me work on her leg," said one of the caregivers who did therapy sessions with her after surgery. Begonia seemed to finally understand that people were helping her to get better. Besides getting two to four sessions of therapy each day, she even did some hydrotherapy.
Begonia was well on her way to walking on three strong legs again. And this time, she had some additional motivation: Begonia had a new home waiting for her. All she needed was a medical clearance. Two months after her surgery, she got it.
While Begonia won't be winning any races, her right back leg is in excellent shape, and she can get around great. That doesn't mean she's always good at keeping her feet on the ground. She's feeling so good these days that, sometimes, she prefers walking on air, her adopter says, "She literally jumps up and turns in the air when I get home and when she sees the leash. She is such a happy girl."
Help bring hope and healing to more animals like Begonia
Photos by Kurt Budde and Molly Wald