Lesson from a cat: Hearts are made for love
Untreatable heart condition put kitten's life at risk, but he defied the odds and lived six years.
By Linda Seitz
Editor's note: 
Not long after Ginger and her kitten, Obi, arrived at Best Friends in Los Angeles, they went home with foster Linda Seitz. A routine checkup eventually revealed that Obi had a severe heart murmur, but it really was worse than just a murmur — an untreatable congenital heart defect. The prognosis was poor: With luck, he'd live a year. Linda was always determined not to keep her foster cats, but when she heard Obi's diagnosis, she broke her rule and adopted them both. She planned to give Obi a great life for as long as he was around, which turned out being much longer than a year — nearly six. And what a beautiful six years. Here is Linda's story.
"Don't get too attached," the cardiologist said. Obi had a heart defect, and no medication or surgery would be able to cure him. His chances of living a full year were dismal. What's more, he could not be neutered or receive any vaccines because his heart was too fragile to risk the stress that would be put on his body.
Volunteering at Best Friends was almost like therapy for me. We had lost Sunflower, our beloved cat of 17 years just a few months prior after years of battling rare diseases and age-related conditions. I told myself I wouldn't be adopting again anytime soon, but there was something about Ginger and Obi lying side by side, arms entwined, watching my every move with big, round eyes. I decided to foster them and I told myself I wouldn't get too attached. But I fell in love.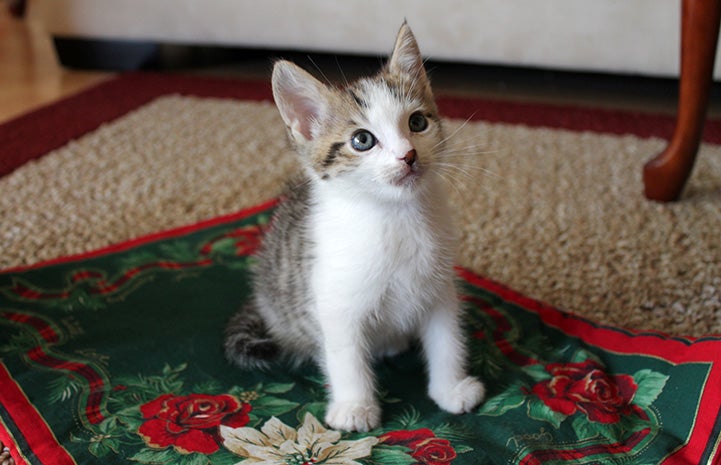 Fostering cats leads to adoption
Their first night home, they jumped on my bed and curled up together. They would sleep all day and play all night. In no time they, too, began to explore and love their new home. Obi loved to sit in an overturned box with a little door cutout. When a ball came rolling by, he would reach out a paw, grab it and pull it into his house. After tiring himself out, Ginger would grab him and clean him up despite his protests.
The news from the cardiologist was nearly heartbreaking. I loved Obi and never wanted to see him suffer. I had also told myself that I would not knowingly adopt another cat with a health condition. Having spent the past seven years caring each day for Sunflower, I didn't think I could take the stress and uncertainty. But by that time it was already too late. Upon hearing the news, I knew I had to give this guy the best year possible. 
I decided to adopt the two of them in September of 2015, and named Ginger for her ginger-colored fur and dark stripes, and Obi for the brave Jedi, Obi-Wan Kenobi. I prepared for heartbreak and knew I would have to make sacrifices to help him enjoy his year on Earth. He lived to be almost six years old.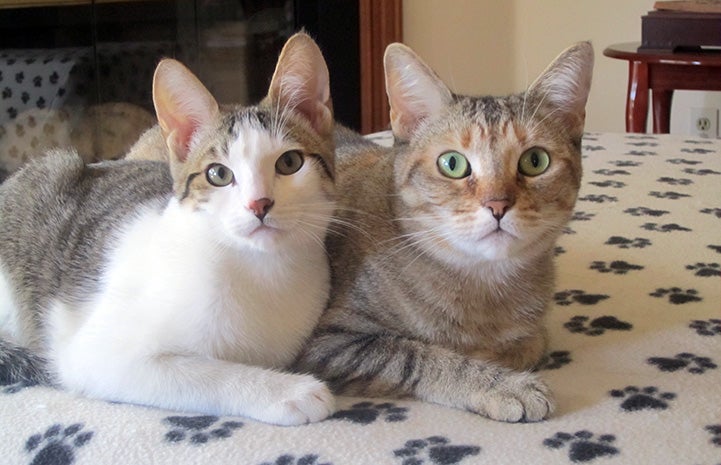 Life with Obi the cat
Obi was a snowshoe tabby with a two-tone, gray-striped back, white belly and legs, and a triangle of white just above his eyes. He never grew much larger than an adolescent cat, maintaining a slim, youthful face with big, green eyes that never missed anything. He had two long, pointed ears with little tufts of fur at the tips. Anyone who was lucky enough to see him usually commented on how handsome he was, but that didn't happen often. He was incredibly shy and would run and hide when a stranger came knocking. Only in his last year of life, during the COVID-19 pandemic when we spent more time than usual at home, did he even accept my son as his friend.
The story of Obi is really the story of his daily routine in our home, which became his kingdom. At each window, he would perch to look out on the strange outside lands that surrounded his home. He watched the hummingbirds feed from the kitchen window. He would bask in the sunshine on the window above my desk. And every night, he would repeatedly walk from the front room window to the backyard door, hoping to catch a glimpse of one of the other neighborhood cats. 
[5 acts of kindness from animal-loving heroes] 
He knew when it was time to eat and when it was time to sleep. When he heard the dryer buzzer, he was immediately ready for a nap in the warm clothes that would end up on the bed in a pile. When he went to the red rug, we knew it was petting or playing time. He knew everything that was going on and would come trotting down the hall with his tail up and nails clacking to let us know if something was out of place.
Every day, he would get a chance to walk around the backyard. It became the moment he looked forward to most every day — the chance to patrol his little kingdom. He knew every nook and cranny and checked for new smells and sensations as he made his daily rounds. He climbed up a tree to reach the top of the wall and survey his beloved world. He found grasshoppers, lizards and moths, and chased them through the rosemary bushes. But he may have been most happy when he rolled around on the grass to scratch his back and take in the sunshine with his eyes half-closed and a big grin on his face. He was truly in his happy place.

Lessons from a cat
Every day with Obi was a miracle. Every morning when he woke up, he did a long body stretch and rubbed against my face. "Good morning, happy day!" I'd say. I learned to live in the moment, just like he did. I told him that hearts are made for love, and that I love him so much. He told me he loved me by rubbing on my legs and back, letting me scratch his belly, staring into my eyes and sleeping behind my knees every night. He liked attention, but only on his terms.
[Adopter honors his late mom and her cats by adopting two of his own]  
Accompanying Obi on his journey was not possible without encountering challenges. Rest was so important for his fragile little heart, but he yearned to be out in the world exploring. He wanted to chase his neighborhood cat friends, climb trees and call into the night to let the world know he was here. But all of that was extra hard on his heart, especially for a cat who wasn't well enough for neuter surgery. I did my best every day to keep him calm when he was out of breath or overly excited. I sang him songs and played relaxing music and lullabies to help him sleep. "That's mama's boy!" I would say. 
At five years old, he began to slow down, but our love for each other kept him strong until his little heart just couldn't keep beating. Obi passed away in spring of this year, and though my heart is broken, I am so thankful for the five extra years I was able to spend with him.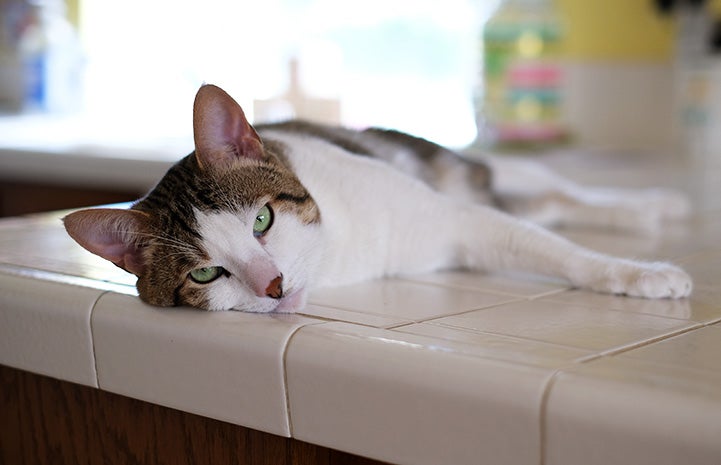 Life after Obi
He inspired me to live each moment every day, to love deeply, to have fun and to take time to relax and enjoy the little things in life. There are so many small yet incredible things to experience in a simple, day-to-day routine that we take for granted. For Obi, that was his life because it had to be, and he made every moment special. 
Tomorrow is not a guarantee. Every day we have with those we love is so precious and special. I am so thankful that Ginger and Obi picked me to be their forever mama. 
Ginger and I talk about Obi every day. On Mother's Day, I celebrated Ginger and thanked her for being Obi's four-legged mama. Obi has left an afterglow of smiles, bright days and happy memories. At Best Friends, we believe that together, we can Save Them All. Take a chance on pets with special needs. They may just change your life!
Our hearts are always touching, my mama's boy.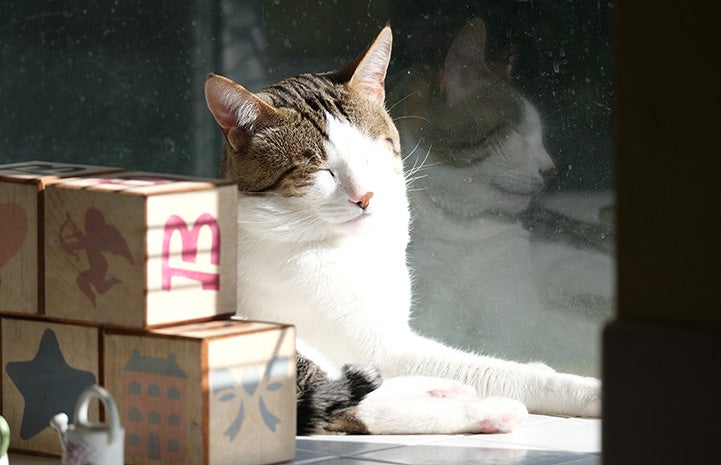 Open your heart to love
Welcome the love and friendship of a homeless dog or cat into your home for a few weeks or the rest of their lives. 
Read more
5 feel-good pet stories to make you smile
Big-cheeked survivor kitty lands a loving new home
Rescued cat comforts adopter during panic attacks 
Photo courtesy of Linda Seitz