Long Beach City College rabbits project
Image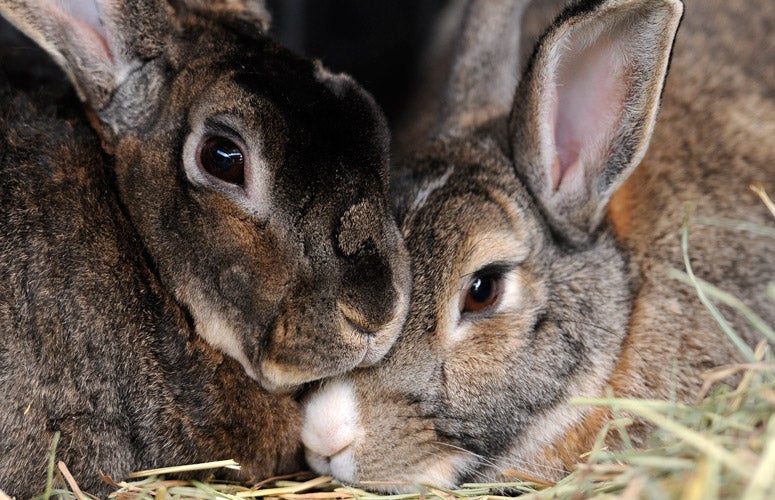 Rabbits abandoned on the Long Beach City College campus are trapped, spayed or neutered, and then rehomed.
By Christelle L. Del Prete
Nancy and Olivia the rabbits may have bonded at Best Friends Animal Sanctuary, but their friendship goes back about three years, to the time when they were just little kits living on a college campus. But they weren't taking classes or living in the dorms. They were part of a community of rabbits who had nowhere else to call home.
Trapping, fixing and rehoming rabbits abandoned at Long Beach City College
For some reason, people had abandoned a number of domestic rabbits on the Long Beach City College (LBCC) campus. And, before long, there were over 300 rabbits running around, including Nancy and Olivia. Although the college community came to accept, and even welcome, the growing bunny population, a busy city campus was hardly an ideal environment for rabbits. So Best Friends and LBCC teamed up and started the Rabbit Population Control Task Force in 2009. With the help of volunteers (many of whom were students at the college), most of the rabbits have been trapped, spayed, neutered and rehomed.
Two rabbits from the group come to the Sanctuary
Nancy and Olivia, who were both a bit shy, came to the Sanctuary. It's surprising that they haven't been scooped up yet; together, they make a very pretty pair. Olivia has an adorable brown coloring, with white outlining on her neck, mouth, nose and eyes. Her favorite trick is to stand up on her hind legs to check out new people from a safe distance. Her best friend, Nancy, is a rex/agouti mix, whose short gray fur is as soft as that of the velveteen rabbit. The two can often be found hanging out in their Dogloo together, sitting nose to nose and peeking out at visitors.
The girls may both still be a little bashful, but they've been spending time with volunteers and working on their socialization skills. As a result, they have warmed up quite a bit. Naturally curious, they cope well with new people and will let strangers approach if they do so slowly. And they'll both run right up to their dishes in the morning, eager for treats and greens. It's obvious to their caregivers that they will make wonderful pets for someone, and that they'll come around quickly in a home environment.
Rabbit project an amazing success
Meanwhile, the rabbit project at Nancy and Olivia's alma mater continues, headed by Donna Prindle, a physical education instructor at Long Beach City College. In a recent email to Heather Moore, manager of the Bunny House at Best Friends, Donna detailed the success of the program. She says that the joint effort between the LBCC community and Best Friends has been amazingly successful.
So far, 500 rabbits have been spayed and neutered, those who were sick and injured have received proper veterinary care, and approximately 350 bunnies have been placed in loving forever homes. After three years, the project is finally winding down, with only about 20 rabbits still needing to be adopted. They wait, along with Nancy and Olivia, for their perfect forever homes.
Get more information about Nancy and Olivia, or any of our other adoptable rabbits.
Photos by Molly Wald