Long search leads to puppy love at first sight
James and Samantha took dog adoption seriously and visited Best Friends in New York every weekend for months, until they met Porter.
By Ana Merkulova
There's probably no such thing as the perfect family, but James, Samantha and Porter come pretty darn close. Porter's parents spent three months patiently searching for their perfect dog at the Best Friends Lifesaving Center in New York, until one day when they came into the center and noticed Porter ― inconspicuously cute and sound asleep.
"When we walked in and saw him curled up on his bed, we knew," says Samantha, one-half of the dynamic duo, whose faces had become familiar to center staffers.
Between October and December of 2019 (before COVID-19 defined daily life), the couple would come in most weekends hoping to meet the right canine companion. Like lots of adopters, they were sure that they wanted to give a home to a dog in need. "We knew we wanted to adopt rather than shop," says James. But when it came to actually deciding on a dog that would be the best fit, that choice wasn't as easy.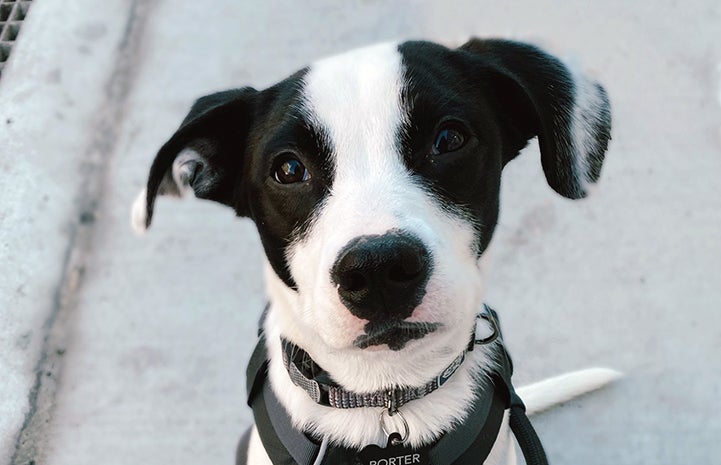 In search of the perfect pup
James and Samantha live in the city, so finding a pup that would be A-OK with apartment living was crucial. But they also didn't want to sit still. They wanted a dog who could keep up with them on runs along the East River and welcome a chance for weekend adventures in upstate New York. That's where they kept running into a bit of a dilemma.
"James was eyeing a few big dogs and Samantha just wanted to be sure it would be manageable," says Remson Omotayo, adoption specialist at center. Together, the three were a weekend fixture at the center — talking dogs, walking dogs (and talking dogs while walking dogs, too).
Over the next three months Remson, with his endless fountain of canine knowledge, became the couple's guide. "He was extremely patient with us as we reviewed things with our landlord," Samantha says. "As we both have a very active lifestyle, Remson knew we needed a dog that would be just as energetic."
Some big dogs have a ton of energy but don't always do well in tight quarters. Some small dogs do great in apartments, but aren't always keen on keeping up with a super active pace of life. James and Samantha wanted a dog who would be happy with them. That meant finding one who was not too big, not too small, but just right.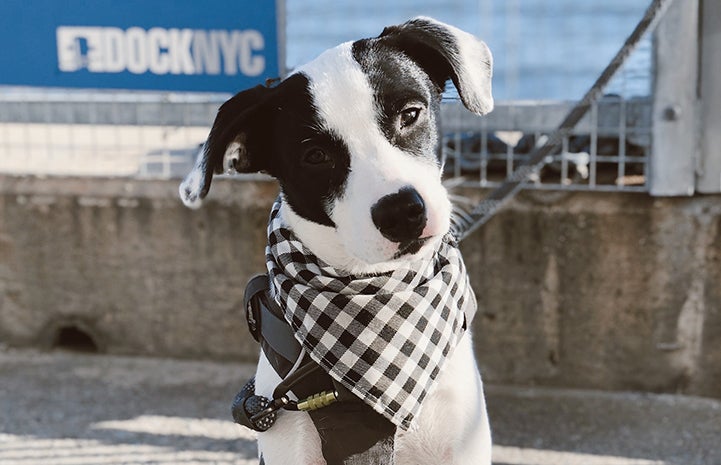 Jack Russell mix is just right
Porter, an adorable Jack Russell mix, turned out to be Mr. Right. Though he wasn't on the roster of pups James and Samantha were scheduled to see that day, they took one look at him and knew their search was over.
Porter had come to Best Friends from a partner shelter in Maryland, by way of the Best Friends Lifesaving Center in Atlanta. Safe to say that for a then seven-month old puppy, he already had experienced plenty of adventure and was ready to go to a permanent home. To get the couple's attention, all Porter had to do was snooze in his bed and look adorable. As inconspicuous as he seemed, Remson thinks Porter knew exactly what he was doing. "Porter is an easy dog to love. He put on all the charm."
The charm worked its magic. James says they went home that night and decided to name him Porter, after the pub in London where they met. Then they prepped to come back to Best Friends and take him home.
When adoption day came, they rushed to the center, and Samantha admits they were both a little nervous. "Would we be good pet parents? Would Porter like us? But as soon as we saw Porter prance out of the center in his new harness and leap up on us, we knew it would all be OK."
After months of working with James and Samantha, Remson was there when they took home their new best friend. He says watching them leave was bittersweet. "It was amazing that they finally found a dog they both thought would be a good fit, but it meant an end to our frequent interactions. I believe Samantha offered to make me lasagna, and I'm still holding her to it!"
They signed some paperwork, took a few photos and said some teary goodbyes. Then, like true New Yorkers, the new family walked the two miles home.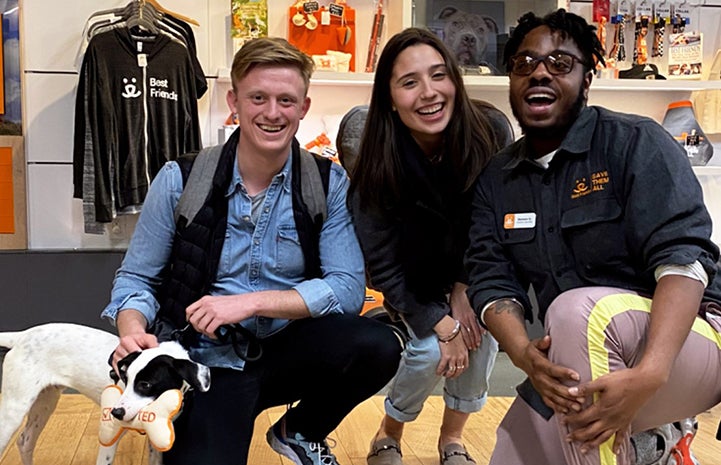 Never alone when together
Turns out Porter came to James and Samantha just in time. A few months after his adoption, COVID-19 threw daily life into a tailspin. Like so many others, James and Samantha are using this time to get in some quality fur-baby bonding.
"We feel incredibly lucky to have this additional time at home with Porter," says James. "He's keeping us laughing and smiling, and we're all keeping each other safe."
Thankfully, Porter has fully embraced both the active lifestyle and the snug NYC apartment. Oh, and the fact that he is absolutely adorable doesn't hurt either. "He always wants to be part of a cuddle or kiss, often leaping from his bed to wake us up in the morning," says Samantha.
By all accounts, Porter is always up for adventure, and yes, walking twice around the block counts as adventure these days. He's even taken to life in the city by becoming a sharp dresser who's often spotted wearing a classy checkered bandana, totally pulling off casual sophistication with a sporty vibe.
Though Porter loves going on runs with his new mom and dad, he looks forward to quality time on the couch as much as the rest of us. (Although admittedly, his taste in the cinematic arts is still developing. James and Samantha report that he often snores through TV shows.)
No matter how uncertain things are these days, James, Samantha and Porter never forget that they have each other. And they are making the most of their time together.
Find your perfect pet at a shelter near you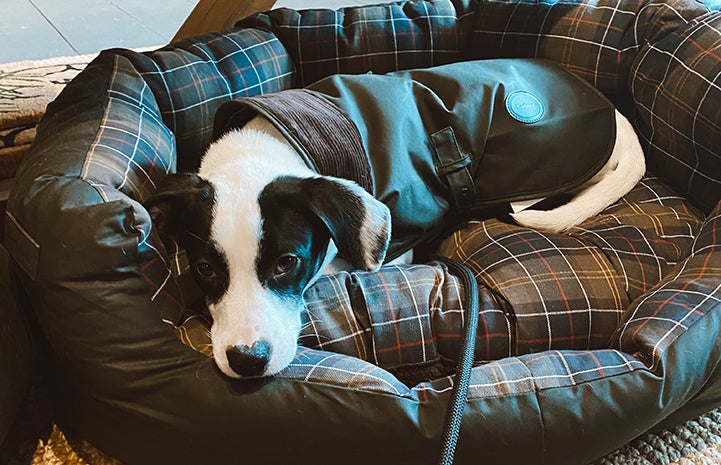 Best Friends in New York works collaboratively with city shelters, local animal welfare organizations and individuals to save the lives of pets in shelters in New York City and the surrounding tri-state area. As part of this work, Best Friends has a national lifesaving concept space and pet adoption center in SoHo, hosts adoption and fundraising events, and runs a foster program in partnership with Animal Care Centers of New York City. Together, we will Save Them All.
Photos courtesy of James Aitken