Lord & Taylor helps homeless pets
Image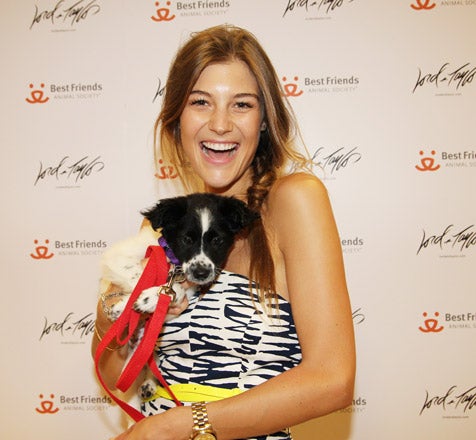 As part of their summer sandal sale, Lord & Taylor featured dogs and cats for adoption at their stores around the country.
By Denise LeBeau
On June 23, 2012, Lord & Taylor made the most of their summer sandal sale by featuring dogs and cats for adoption at 46 of their stores around the country. Teaming up with Best Friends, the department stores featured pets-in-waiting courtesy of local shelters and rescue groups that are part of the Best Friends No More Homeless Pets Network. Called Perfect Pairs, the event certainly lived up to its name. In total, 63 dogs and cats were adopted that day, and an additional 77 have pending adoptions.
A fun and worthwhile Lord & Taylor pet promo
The striking sign at Lord & Taylor's flagship store on Fifth Avenue in Manhattan was straight-forward: Perfect Pairs are ready to go home with you. The excitement on the second floor — where shoes, sandals, summer ensembles and (for the day) pets were available — was palpable. One smiling sales associate instructed people to "follow the barks" to the event. Dogs and cats from Animal Rescue Fund of the Hamptons, Inc. (ARF), including dogs rescued from puppy mills, puppies pulled from Southern kill shelters, and dogs from Puerto Rico, were featured.
"It's so wonderful that Lord & Taylor opened their store to promote homeless pets," shares Michele Forrester, director of operations for ARF. "From the photo shoot (for the print campaign) to the segment on CBS (with Best Friends' Jamie Lyn Rubin), Perfect Pairs has been a great opportunity for our message of adoption and finding our guys great homes."
First adoption of the day
It was love at first sight.
Though the event was to start at 1:00 p.m., the first adoption at the flagship store was underway by noon.
Alexa Punzalan and Adam Schaffner had already met Bentley and were filling out the final paperwork as the event officially kicked off. Bentley, an adorable small breed dog, had been at ARF since May, when the group rescued him from a shelter in South Carolina. The young couple spotted him while he was in his show crate. He started licking their hands through the kennel, and that was the beginning of a beautiful new friendship for a dog who just a few weeks ago was on death row.
Alexa and Adam wanted a smaller dog, who could fit into their apartment-dwelling lifestyle. They had been looking for the right companion animal for the last six months.
"I love Lord & Taylor," says Alexa. "Their customer service is the best. I get emails from them all the time, and when I saw there was going to be a whole selection of adoptable animals at the store, we made sure we were here."
A successful event to help animals
The day buzzed with activity. Best Friends and ARF had their staff and volunteers educating Lord & Taylor's clientele about animal welfare issues, as well as showcasing the dogs and cats for adoption.
What's more stylish than a happy family?
And there were also a number of stylish folks from the Lord & Taylor creative team — everyone from creative director Corinne Brohme, special events manager Brianne Planko, art director Man Sumarni, model Alex Knight, to copy director Charlene Zarterian — who brought the event together and came to see the happy unions.
What's more, Corinne and her daughter Peyton Lester added Sox, an irresistible puppy who stole some kisses and their hearts, to their family. Sox was one of the nine dogs and three cats who went home from ARF during the event.
Best Friends events
Keep up with the latest events from Best Friends.
Photos by Lia Chang