Love for unforgettable cat leads family to foster dozens of kittens
Since this family lost their beloved cat Dexter, they're honoring his memory by fostering many, many, many kittens
By Jill Williams
A couple years ago, my family lost an important best friend. A silly old cat named Dexter ― whom we had adopted when he was already 20 years old — was such an overwhelming presence in our cohesive little unit of humans and pets. And so, when he passed away, there was a gaping hole. My kiddos (the human variety) were seven and nine years old at the time, and though we were already owned by a pack of goofy dogs, there was just something about Dexter.
We felt that loss on such a grand level. Even the dogs appeared to feel it, especially our giant malamute, Flora, who had an especially close bond with Dexter. We shuffled around for days, wondering how we could honor this special friend's legacy. We knew him for only two years, but it had felt like a happy lifetime.
One day, my seven-year-old spotted a Best Friends poster in town. It said something along these lines: "Save a life. Foster some fuzz." The photo of the adorable bright-eyed kitten on the flyer brought on many questions. ("What is this? Can we do this? Mom, let's do this!") I explained that fostering was not adopting and that it would mean we'd get a whole bunch of crazy cute kittens but we would eventually have to give them back. I expected the conversation to end at that point. But instead my son begged me even more. "Please? We should do it for Dexter." And how could I say no to that?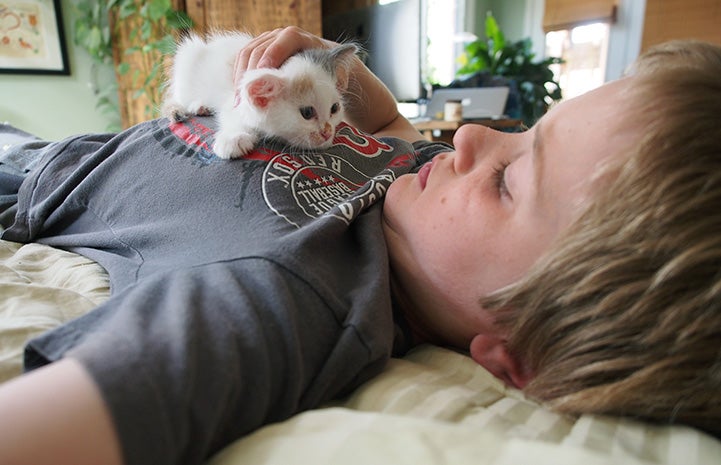 Just do it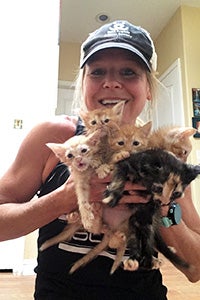 As a busy mom with a full-time job, I was a little hesitant to take on a new and important responsibility like fostering teeny kittens. We were already stretched pretty thin between school activities, sports and our other pets – at the time, three enormous husky mixes and a smaller gremlin-type terrier mix. What would they think of these itty-bitty critters with sharp little claws? (Spoiler alert: It turned out better than we could have imagined – which you've probably guessed already since you're reading this piece right now.)
After making the decision to go for it, we filled out some paperwork to get the ball rolling on becoming official foster parents. It wasn't a hard process. We talked with a Best Friends foster coordinator about what to expect, and once our questions about our other family members and our level of commitment were answered, we were ready to get started.
We were given our first litter of kittens almost immediately. That's not surprising, since shelters are overflowing with kittens, and while that used to happen just during "kitten season" (the summer months, when cats give birth in high numbers), litters of fluff balls are now appearing year-round. And, because kittens are at great risk of being killed in shelters, these innocent little beings are desperately in need of foster homes.
Admittedly, we were newbies at this fostering thing. We assembled the supplies provided by Best Friends — essentials like food, litter, beds, blankets and toys. And we secured the "kitten area" — a quiet space, safe from dogs and other cats, where we hoped the kittens would feel content. I do remember thinking: "Oh, my. What are we getting ourselves into?" But my kids had no hesitation. They were over the moon about having these little critters join our pack, even temporarily.
When the kittens arrived, we opened the carrier slowly and out popped a quartet of fuzzy adorableness: Iggy, Bowie, Glamour and Roxy. Around four weeks old, they were curious, wide-eyed, hungry and loud. In a flash, we were smitten.
We quickly settled into a groove – a new routine that wasn't at all difficult. In fact, it swiftly became a normal part of our overall day: Wake up, pet the kittens, feed the kittens, play with the kittens, clean up after the kittens, cuddle with the kittens. Rest and repeat. Each family member had a specific job, from who prepared the food to who filled the bowls. We had it down to a science.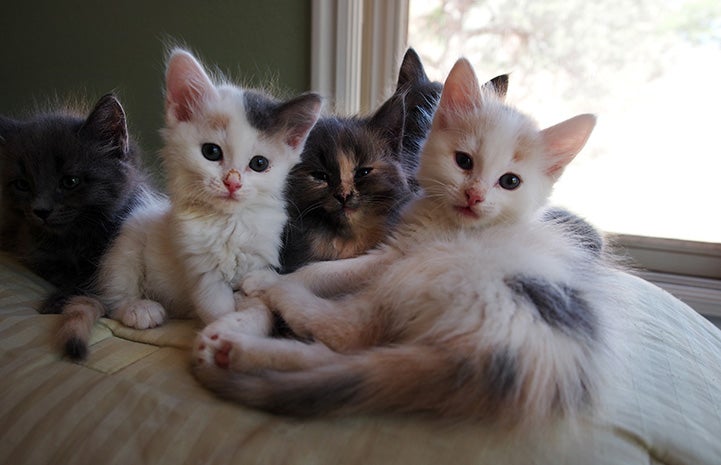 All in the family
If we thought the kittens' presence would positively affect the humans and only the humans, we were wrong. There were some eager bystanders just waiting for the chance to participate in this new family endeavor.
Initially, we kept the kittens separated from the rest of our animals, but within a few weeks, we started to see noses peeking under the door and kitten paws reaching out to the other side, trying to say hello to whoever might be out there. Maybe it was time to make tiny introductions.
We began with Flora, our lovable and patient mama-bear. As mentioned, Flora had a close-knit bond with Dexter, so we thought it only fitting to see how our fuzzy babies would do with this larger-than-life marshmallow. Despite the fact that each kitten was about the size of one of Flora's giant paws, they approached her straight on – sniffing and tiptoeing. Flora's face lit up with a wide smile. We continued the introductions slowly, increasing the time they spent together by a few minutes each day. By the end of a month, the kittens would run to greet Flora when their door swung open in the morning.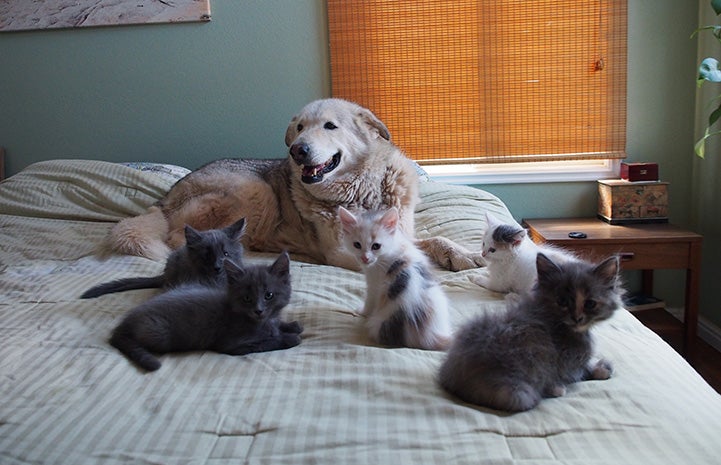 Considering that successful introduction and the kittens' overall increase in confidence, we decided to let our other dog, Rigby, have his turn. A little more intense than Flora, he's shy and sensitive, and sometimes gets a little spooked around new people, places and noises. So, we knew that this meet-and-greet had to be conducted a little differently. Half of the humans gathered with Rigby, assuring him that these new friends were harmless, and the other half closely supervised the kittens. The meeting started off with utter fearlessness and a complete lack of hesitation from the kittens. They made a beeline for Rigby, and he sniffed right back. Bowie, the extrovert of the kitten posse, went so far as to flop onto his back, to show his vulnerable belly for Rigby. We felt all the feels, as they say. We were proud, excited, giddy. It was just too much cuteness.
In that moment, I knew we had done it. We were foster successes.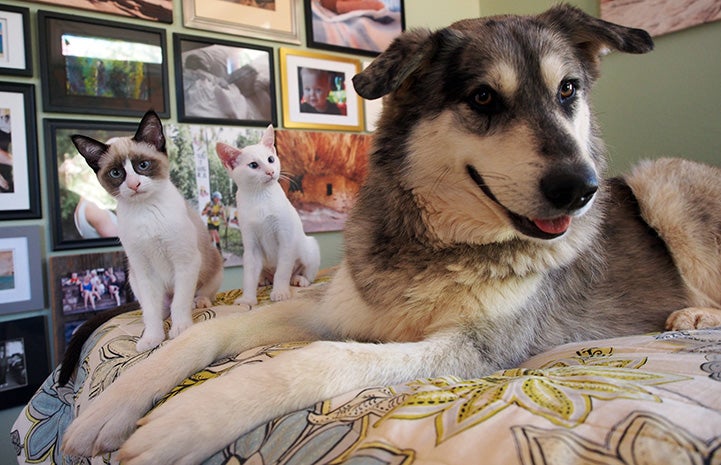 Zero to sixty
That first litter of kittens was the first of many to make their way through the Williams' household and then move on to loving homes. In fact, we've now fostered upward of 60 kittens – and counting. Kittens who arrive at our place are guaranteed to leave dog-tested, kid-friendly, cat-savvy and ready for just about anything.
Many people have asked us how we have time to foster kittens with so many other obligations. I can say that, for our family, fostering has been an exercise in bonding, a stress reliever (seriously, kittens are the best therapy) and an opportunity to save lives. I've witnessed my dogs sleeping soundly next to five kittens who are exhausted from chasing each other around all morning. I've caught my husband working with a kitten asleep in his pocket, and delicately maneuvering his laptop, mouse and papers so he won't disrupt the other fluff ball snoozing on his desk. And I'm guilty of taking the occasional 10-minute "kitten break" – let's call it a work perk – because there is nothing better to get you through a hectic day than a litter of purring kittens. Above all, I've watched my kids acquire valuable life tools like patience, responsibility, trust and compassion. Having had this opportunity multiple times is worth any minor inconveniences that may present themselves.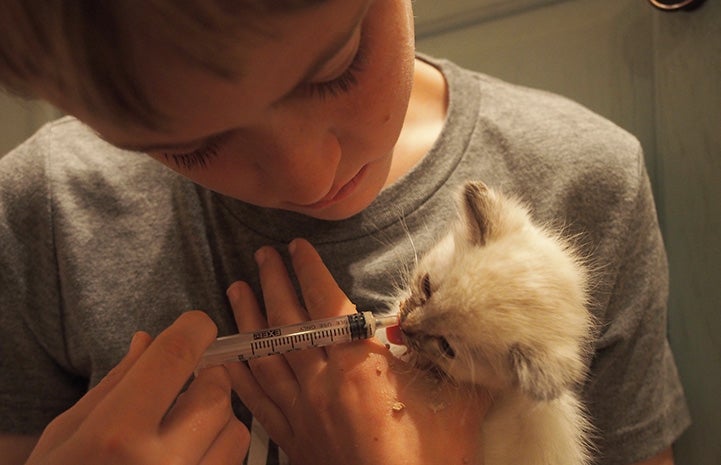 Giving them back
The other questions we get most often are "Aren't you going to keep them?" and "How do you give them back?" To be honest, this was the part of the fostering process that had me a little nervous in the beginning.
When we began this journey, we pledged to love and care for these tiny, vulnerable beings. We watch them hit key milestones – like reaching one pound in weight. We take them to vet appointments to get vaccinated and, eventually, spayed or neutered. We prepare for the day when they will find a permanent home. And then that day arrives.
Suddenly, countless conflicting feelings flood in. Sadness and joy. Apprehension and excitement. Doubt and certainty. But in the end, every time, the good feelings win. There is so much happiness in seeing "our kittens" find amazing forever families. When they move on, each a little success story, we keep in touch with many of the adopters. We get to watch the kittens as they grow up. Photos and stories are shared and they make all of us smile. Plus, there will always be more kittens to foster.
On behalf of the many baby felines who have come into our home and into our hearts, we say: Thank you, Dexter.
Start your own foster journey with a pet in need near you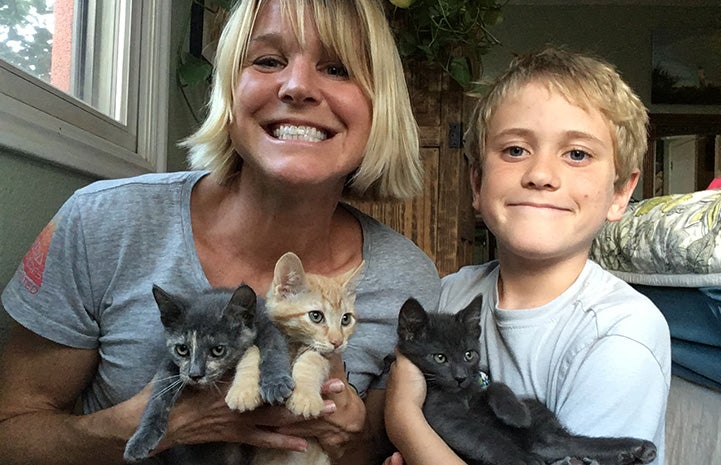 This article appeared in Best Friends magazine. You can subscribe to the magazine by becoming a Best Friends member.
Photos by Jill Williams