Lucas the happy-go-lucky Vicktory dog
Vicktory dog Lucas from the Michael Vick dog fighting bust has become a happy guy. This former fighting dog deserves all the joy that comes his way.
By Sandy Miller
From the moment Lucas the Vicktory dog arrived at Best Friends from the Michael Vick dog fighting bust, it was obvious he loves people. He not only wants to be around humans, he absolutely has to be around humans.
Happiness for a deserving dog
"He was probably one of the happiest of all of them," says Michelle Logan, a team leader at Dogtown. "He's just always been happy-go-lucky."
When Lucas sees a golf cart, car or tour bus coming around the bend, he gets up on his doghouse in the outdoor part of his enclosure so he can get a better view. Lucas loves everyone he meets, and he gets sad if he feels he's not getting his share of the attention.
Dogtown caregivers know just what to do when Lucas is feeling blue.
"All you have to do is pop him in a golf cart and take him for a spin," Michelle says.
Spending time as an office dog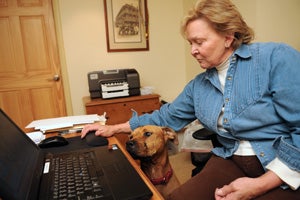 Just like the other Vicktory dogs, Lucas gets training and spends time at the dog park. But the folks at Best Friends knew Lucas would enjoy even more time with people, so two days a week, Lucas is an office dog, spending the day with executive assistant Brenda Escher and chief executive officer Gregory Castle. Not only does Lucas get lots of attention from them, he also gets plenty of oohs and aahs and pets from everyone who drops by.
A loving dog
"Lucas is an absolute love, from the wagging tail you'd best not get behind because it can knock you over, to the sloppy kisses he lavishes on everyone," says Brenda, who picks up Lucas in the morning and delivers him back to Dogtown on visiting days.
"Everyone should experience picking Lucas up from his run to take him on an outing to the office or just on a walk," she says. "There's nothing like that kind of reception — trust me!"
Check out Best Friends' pit bull terrier initiatives to learn more about how you can get involved.
Read more about some of the other Vicktory dogs.
Photos by Molly Wald