Maltese's "Good Morning America" gig lands her a home
Image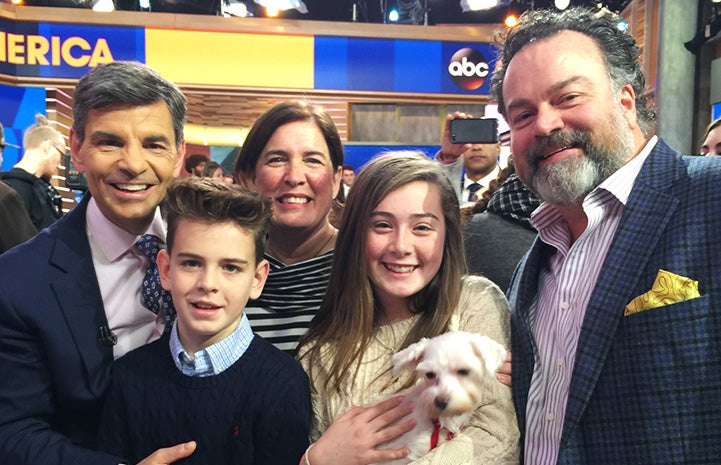 Maltese dog from Best Friends-New York featured on 'Good Morning America' captures hearts of a family watching the show's taping and they adopt her.
By Nicole Hamilton
When Julena Bingaman and her family woke up at 5:30 a.m. last January during a whirlwind vacation to New York City, she thought the highlight of the day would be seeing her favorite TV anchor, George Stephanopoulos, up close and personal for the first time. Little did she know George would be upstaged by a four-pound Maltese named Gracie, who would win the hearts of her entire family and cause them to change their travel plans just so they could bring her home.
"Who is going to adopt a dog today?"
Julena's affinity for George Stephanopoulos began in college when she was a political science major. Since then, she had hoped to someday meet him, and when her husband Tim announced he'd planned a weekend getaway for her and two of their kids, complete with tickets to Good Morning America, she was over the moon.
The family, including her son Wolfgang and daughter Mary, arrived at the show early and made their way to the front of the stage. Suddenly, Julena found herself face-to-face with the man of her dreams (besides her husband, of course). Dizzy with excitement from meeting and even chatting with with George, Julena settled in for the next segment, which was about pet safety and featured adoptable dogs from Best Friends‒New York. That's when she first saw Gracie.
As the segment came to a close, co-anchor Robin Roberts asked a big question that caused the audience to erupt in cheers: "Who is going to adopt a dog today?" Soon, Julena realized that they were cheering at her, and when she looked at her daughter Mary, she saw that her hand was raised. Mary showed what they were all feeling. They did want to adopt a dog that day.
Learn how Best Friends is saving lives in New York City
Doing what it takes to get a Maltese home
"OK, so we're really doing this," said Julena backstage as she sat with her family getting to know their new dog. They had recently been mourning the loss of their beloved dog Oliver, and were waiting for the right time to adopt again.
They never knew it would happen on vacation. But as soon as Mary saw Gracie, who had been surrendered to Animal Care and Control of NYC before coming to Best Friends, she thought that the dog would be perfect in their home. And as Gracie basked in the attention of her adoring fans and new family and readily accepted belly rubs and compliments about how adorable she is, it was very clear Mary made the right move.
Still, the team from Best Friends‒New York had some figuring out to do if the adoption was to happen. The Bingamans would need clearance from their hotel so Gracie could stay with them. Plus, Gracie would have to travel by plane with them back to Cincinnati, which meant she'd first have to have a special vet checkup.
"There were definitely some logistics to work out," says Kristi Adams, a Best Friends‒New York pet adoption and foster coordinator. "But Gracie is a doll, and the Bingamans are perfect for her. We were going to do what it took to make sure they became a family of five that day."
The team supplied the family with toys, food, bedding, a carrier, and arranged for Gracie to see a vet. They also got approval for her to stay with the family at the hotel and fly home with them.
The Best Friends Pet Adoption Center in NYC is open

Gracie loves her new home
Gracie was a model of grace and composure on the short flight back to Cincinnati. (She's a TV star, after all.) And she loves her new home. She often accompanies Julena to the monogram store she owns, and enjoys sitting on the big patio area at the Starbucks located next door ― sometimes proudly sporting her "I heart NY" puffy vest.
Today Gracie, now called Gracie George after the man who started it all, has monogrammed leashes, collars and carriers. And while she has five dog beds, she prefers to sleep besides Julena and Tim, and often doesn't want to leave Julena's side.
Julena likes to joke with her family and remind them that, had she not had such a huge crush on George Stephanopoulos, they would never have met the dog who helped them move on after losing Oliver.
"We love our Gracie George," says Julena. "She showed us that sometimes you have to trust and take a chance. It wasn't the most practical way to adopt a dog, but for us, it was a great way. We'll always remember that day."
Help Save Them All. Join Best Friends.
Photos courtesy of Julena Bingaman