Meet a foster volunteer whose determination helped save a tiny kitten's life
Paula Roy always has room in her home for foster kittens, including those who require critical care to thrive.
By Nicole Hamilton
When Paula Roy got the call that a trio of days-old kittens needed a foster home after arriving at Best Friends in Salt Lake City, she did what she's done for as long as she can remember. She readied the room designated for fostering neonatal kittens, and she headed to Best Friends to pick them up.
While she was preparing to welcome the kittens, Paula thought about the week ahead. She knew from experience that there would be moments of joy over the simplest things, like watching their eyes open and ears wiggle, not to mention plenty of nights with little sleep since they'd need to be fed every few hours.
[Kitten kits prepare the public to save lives]
There would likely be some difficult moments, too, especially given the fact that the recently born kittens, found abandoned with their umbilical cords still attached, were already struggling when they arrived at Best Friends from a Salt Lake City shelter.
In fact, even though the kitten care team did everything possible to keep them all alive, by the time Paula arrived to bring them home, one of the kittens had passed away. And the lives of the other two (named Pesto and Gravy) were hanging by a thread.
The next 24 hours would be critical. Paula would need to closely watch the kittens around the clock, feed them and keep them warm so they'd have a fighting chance to live.
When Gravy stopped eating and became colder to the touch just a couple of days after Paula brought him home, she knew he was fading, so she took him to back to Best Friends for immediate medical attention. Sadly, Gravy's liver was failing and he passed away.
There was only one thing left for Paula to do — return home, resolved to achieve success by giving Pesto a fighting chance at life.
Advocating for the tiniest pets in the shelter
Paula started fostering kittens with Best Friends a couple of years ago, bringing years of experience caring for neonatal kittens. For a number of those years, she fostered in Philadelphia.
[Adopter honors late mom and her cats by adopting two of her own]
A biologist, Paula sees her foster work as a chance to combine science and medicine with compassion and love. Over the years, she's never shied away from helping kittens with serious medical challenges or those who require a little additional TLC.
"Paula is one of our rock star fosters for sure," says Danielle Barnhart, Best Friends lifesaving outcomes coordinator in Salt Lake City. "She is always willing to take kittens in need and often will take large litters last minute and then keep some of the smaller or sicker kittens to foster long term."
The kitten care team takes great comfort in the fact that even kittens with the greatest medical needs are in great hands with Paula. "She gives them the best possible chance and is often able to nurse them to health," says Danielle.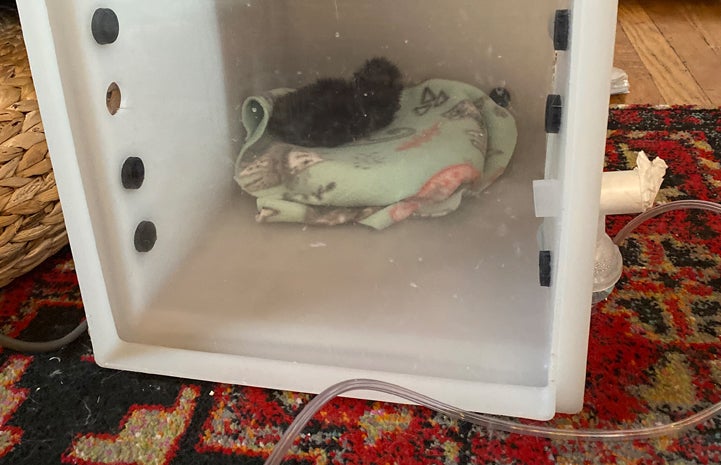 Determined to save a kitten's life
From day one, getting Pesto to eat was a challenge. This, coupled with his weight loss and inability to latch or breathe without his sinuses crackling, sent Paula back to Best Friends for a checkup. That's when the team discovered that Pesto's entire mouth was ulcerated. In order for him to get needed nutrients, they would have to bypass bottle-feeding and utilize a tube to deliver formula directly into his stomach.
"Because the cause of the ulcers was unknown and because his other siblings had passed due to congenital issues, we were very unsure that he would pull through," says Paula. She brought Pesto back home, knowing that this was the last resort, but still unwavering in her determination.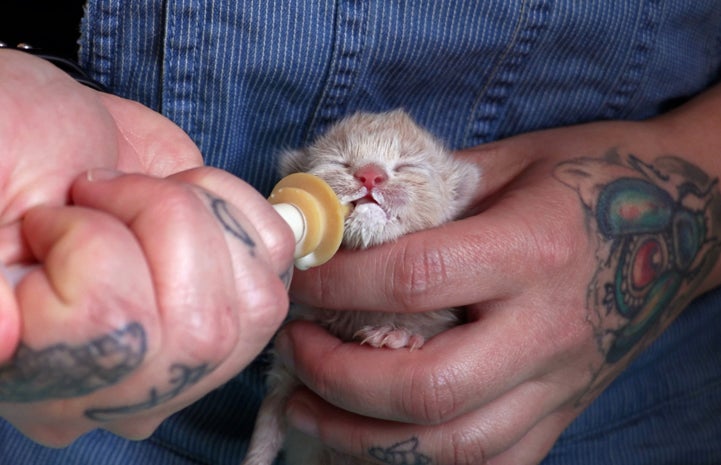 Little kitten turns a corner 
A few times every day, Paula gave Pesto food through his feeding tube. He also received three 30-minute sessions in a container she turned into a nebulizer or, as she calls it, a little kitten spa. "I pump a special saline solution into it to make a very humid environment," says Paula. "It helps break up the junk in their lungs."
The spa days and tube feeding sessions worked. Little by little Pesto started to get stronger. After about three weeks, he was able to transition from his feeding tube to wet food, which he happily gobbled up like the healthy kitten he had finally become.
Thanks to Paula's efforts, which included more than a few sleepless nights, Pesto no longer needed extra care. He was finally thriving and was getting closer by the minute to being big enough to be neutered and adopted.
Knowing this helped Paula when it was time for her to travel. And Pesto went to a new foster home, where he'd stay until he was adopted, which she knew wouldn't be long. And she was right. By the time she had returned to Salt Lake City, Pesto had found a loving home.
A lesson on hope
Today Paula can't help but to think about how much Pesto taught her, starting with the incredibly important skill that is tube-feeding. "It can be an absolutely terrifying experience at first, but now I can readily take kittens that need to be fed by tube and help them," says Paula. "They are the most vulnerable and Pesto prepared me to help them without pause."
Pesto also taught her about having hope. "We lose kittens each season. It's inevitable," she says. "They're so small and fragile and it's rough out there for them. Pesto was a last resort — a final-measures case where we threw everything at him and hoped that he would make it, because it's all there is left to do when they're so sick and fragile."
[5 acts of kindness from animal loving heroes]
As for fostering, Paula encourages everyone to give it a try, noting that you don't have to start by fostering pets with special needs, like Pesto. "It's so incredibly rewarding to help not only that one animal or litter, but then open space up for our shelters to take in more. As I've learned over the years, we need them as much as they need us."

Fancy a little feline house guest?
Shelters across the country are filled with kittens needing foster homes where they'll have the best chance at thriving until they're ready for loving homes.
Find foster opportunities near you
Read more
Big cheeked survivor kitty lands a new loving home
How shelter embed programs are saving pets lives
Photos courtesy of Paula Roy