Meet a volunteer who turns even the grumpiest cats into purr machines
Kyoko Bruguera uses patience and an understanding of cat behavior to help even the most challenging cats feel better and find homes.
By Nicole Hamilton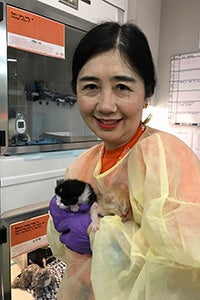 Kyoko Bruguera usually volunteers with cats and kittens at the Best Friends Lifesaving Center in New York City, but now that the coronavirus has made life anything but usual, she's switched gears. She's still helping pets, but now she's doing it from home as a foster volunteer.
Recently she fostered a cat named O'Malley, who came to Best Friends from the Town of Hempstead Animal Shelter. O'Malley didn't feel very confident when he first arrived and he showed it by acting grumpy around fellow cats and people.
To help O'Malley feel happier, Kyoko volunteered to foster him (when the center closed during the coronavirus pandemic). At Kyoko's place, O'Malley warmed up to her family right away and proved himself to be a very sweet and cuddly cat. Not too long after that he was adopted.
"I believe it was Kyoko's patience and understanding of cat behavior that allowed O'Malley to shine and find a forever home so quickly," says Diana Vogel, volunteer coordinator for Best Friends in New York City.
Most people at the center who work alongside Kyoko say she's quiet and perfectly content to let others have the spotlight. So people are surprised to learn that she's a big fan of heavy metal music and has been known to travel to other countries to see her favorite bands perform. "You will see me headbanging at concerts," she says.
It appears her cats, Bonic and Gemma, are quite the rockers themselves and Kyoko says the cats' favorite bands are AC/DC and Guns N' Roses. "They love to sleep on the top of the speakers," she says.
Read more about Kyoko, the rock star volunteer, in the following interview.
Walk us through the process of helping O'Malley go from a grumpy cat to a purr machine.
Most cats hate car rides, so when I picked him up I sat in the back of the car and practiced making eye contact until we arrived home. I learned from Jackson Galaxy to look and blink slowly at cats to help them relax. And this worked for O'Malley.
When we got home, I expected to him to hide when I put him in a room where he could be isolated from my cats and dog. But to my surprise, he showed affection immediately and wanted me to pet him. I took it slow and then I gave him an hour break to investigate the room by himself.
I think that slow introduction worked. O'Malley quickly became such an affectionate cat that he didn't want to leave my lap.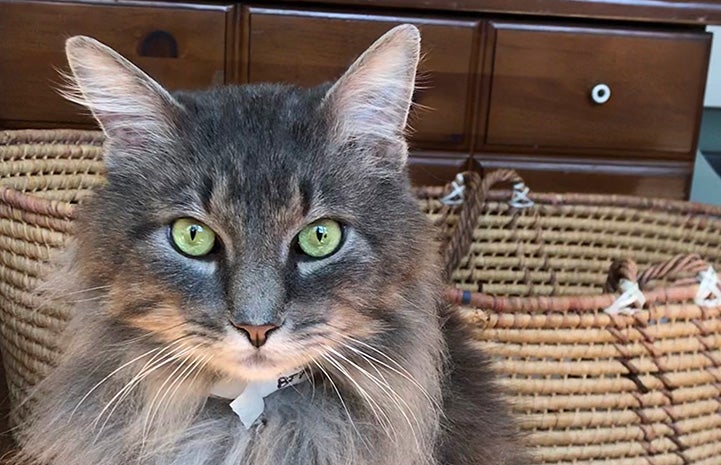 What advice do you have for people interested in fostering a cat like O'Malley?
I think O'Malley is a good example of misunderstood cat. If we humans try to communicate with cats using their language to first earn their trust, the rest of the work is easier. After working with him, he began giving me a gentle but firm warning if he didn't like something, instead of going to a level 10 in a second, like he did at first.
I would say to someone who wants to foster a cat like O'Malley: Be patient for a few days or a week. That's usually all it takes for cats to let their guards down and have happier lives.
Now that O'Malley has been adopted, are you fostering again?
Yes, I'm currently fostering three bottle-baby kittens. It's more work, but they are so cute. I don't mind the stay home order.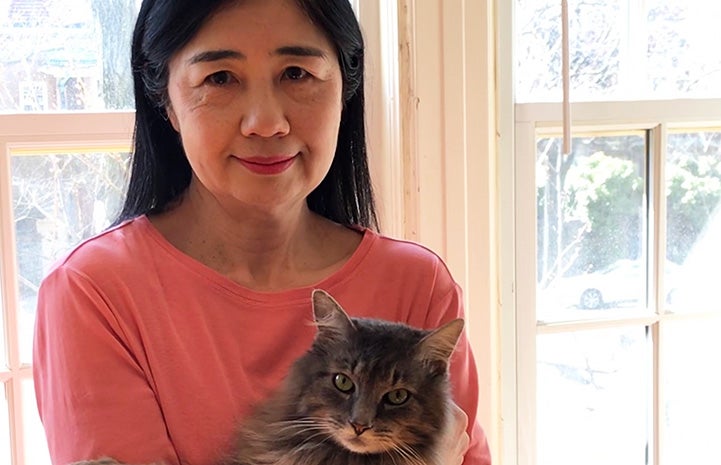 Since becoming a volunteer, what have you learned and has volunteering made you see anything differently?
Before becoming a volunteer, I thought that most pets in shelters were scared, depressed, unhappy or troubled because of all the negative images I'd seen. Now I know that, although it can take longer for some pets to come out their shells, many at the shelter are sweet, affectionate and happy.
I have also learned techniques to handle animals in various situations, such as helping stressed cats. I have seen pets who at first were too shy or not easy to interact with become sweethearts.
It's important to approach pets on their own terms and earn their trust. Then, the rest is much easier. Just like people, if you earn an animal's trust and respect, they return the same.
What are you most proud of in your volunteer work?
I'm really proud that I could help a young man who came to the center one day wanting to adopt a cat, but he also had a lot of concerns. I gave him some pros and cons of adopting a cat and helped him troubleshoot. After talking to him a few more times, he finally decided to adopt a cat and less than a year later, he came back to adopt another.
What does volunteering mean to you and why do you do it?
I volunteer because my pets give me so much happiness that I want to pay it forward by taking care of animals who are waiting for the forever home they deserve.
What has been your favorite volunteer moment?
My favorite moment is whenever I hear about a pet who had challenges at the center but is now enjoying life with a new family. I also love it when adopters come back to adopt another pet. New Yorkers have big hearts.
What about your own pets?
I lost my cat, Nina, last fall, but I still have two senior cats, Bonic and Gemma, and a senior dog named Desti. My cats have medical issues and they need extra support during feeding time. It's tough sometimes, but they are super affectionate and give me so much joy every day. I hope I can give them a happy, comfortable life for many more years.
My dog, Desti, loves to walk. He is tiny but still walks three hours a day. Desti and one of the cats sleep together side by side. I'm lucky everybody gets along well.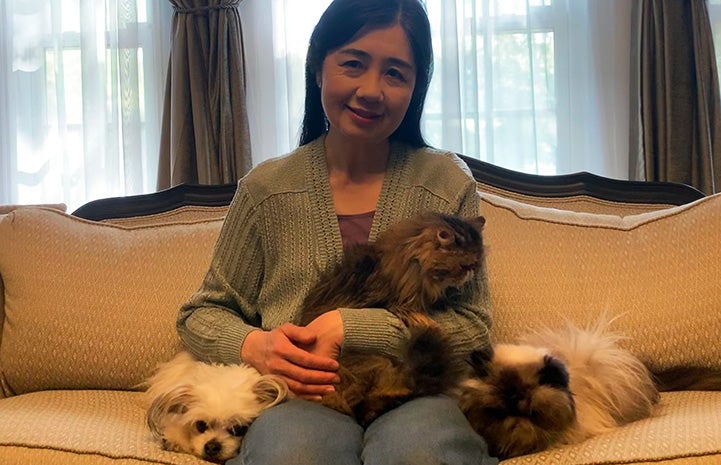 Besides volunteering for Best Friends, how else do you give back to your community?
I try to educate others about animals and shelters. Kids in my neighborhood love Desti, so I talk to them and their parents about how to approach dogs safely and being kind. This way, when they decide to adopt a pet one day they will know how to choose their best buddy.
What would you tell others thinking of volunteering?
Just take a leap and go for it. Unless you start, you don't know what you are missing.
Volunteer and help pets near you
Best Friends in New York works collaboratively with city shelters, local animal welfare organizations and individuals to save the lives of pets in shelters in New York City and the surrounding tri-state area. As part of this work, Best Friends has a national lifesaving concept space and pet adoption center in SoHo, hosts adoption and fundraising events, and runs a foster program in partnership with Animal Care Centers of New York City. Together, we will Save Them All.
Photos courtesy of Kyoko Bruguera