Mickey Rourke gives a parrot a second chance
Mickey Rourke adopts a lesser sulfur-crested cockatoo from Best Friends Animal Sanctuary. Read about his visit to adopt this parrot.
By Best Friends staff
Mickey Rourke knows the value of a second chance. He was one of the most lauded actors of his generation, but he dropped out of the film industry to be a boxer. In the ensuing years, his life fell into a tailspin of self-destruction.
He spent more than a decade striving to redeem himself and his acting career. It worked: His performance in "The Wrestler" brought stellar reviews, an Oscar nomination and a Golden Globe award for best actor.
Adopting a lesser sulfur-crested cockatoo
Now Rourke is paying that second chance forward to a troubled bird from Best Friends Animal Sanctuary. He recently adopted Sunny, a lesser sulfur-crested cockatoo.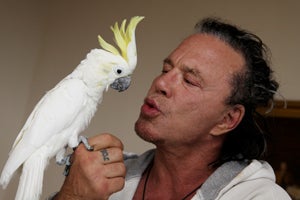 Mickey and Sunny
"We knew about Mickey's 'bad boy' reputation, but Sunny is kind of a bad boy too," says Steve Scheurich, (former) manager of the Parrot Garden at Best Friends.
Whatever bad-boy reputation he might have had, Rourke has also gained a reputation as a fervent animal lover. In his acceptance speech at the Golden Globes, he said, "I'd like to thank all my dogs, the ones who are here and the ones who aren't here anymore."
When Rourke's veterinarian, Dr. Lisa Newell, heard that he was interested in adopting a parrot, she recommended Best Friends. Parrot Garden caregiver Wendy Hatchel met with Rourke to see if he and Sunny were a match, and to make sure Rourke could provide a lifetime home.
Building a bond with a parrot
When Hatchel presented Sunny, Rourke offered his hand as a perch. Sunny promptly nipped him. "That's to be expected," Rourke said, unfazed by the nip.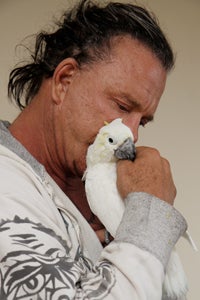 A match made in heaven
On the next try, and without instruction, Rourke placed his hand behind Sunny so the bird wouldn't feel threatened. Sunny stepped onto his hand. Soon, the bird was perched on Rourke's shoulder, preening his beard. "Sunny can be temperamental," Hatchel says. "He's one of those birds who will fly at you if he doesn't like you. For him to gravitate to Mickey like he did is really good."
During their meeting, Rourke introduced Hatchel to his dog, Jaws. Rourke told her that Jaws was so traumatized when he adopted him that it took six months before he could even touch him. Now, Rourke can smother Jaws in hugs.
"This is a person who has the patience and willingness to work with an animal other people might see as a lost cause," Hatchel says of Rourke. "But Mickey didn't see Jaws as a lost cause.... This was the kind of person we wanted to adopt Sunny."
"I cannot tell you how happy Mickey is," Dr. Newell reports. "He has texted me many times on how much he loves Sunny."
Find your parrot love match
Adopt or sponsor one of our wonderful parrots.