A million dollar opportunity
Image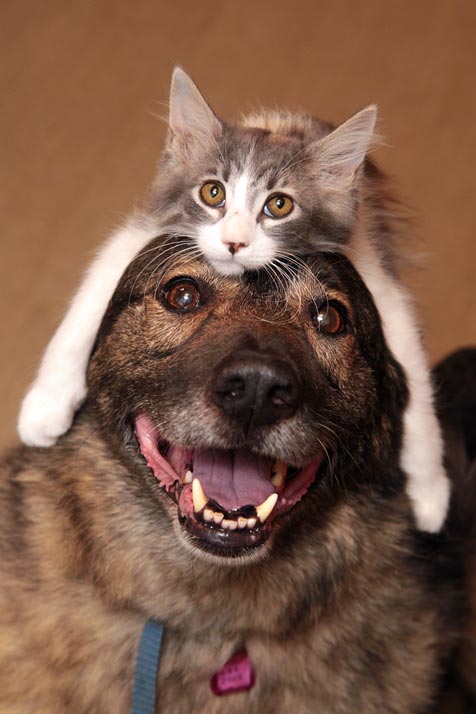 Generous donors to match up to $1 million in contributions. December 2, 2009
By Best Friends Animal Society
There are a million reasons to be joyful this holiday season.
Some very generous donors have offered to match donations to Best Friends Animal Society — dollar for dollar — up to $1 million.
This means that your gift to help the animals, no matter the amount, will be doubled until the $1 million goal is reached. For instance, your $25 donation will actually add up to $50 for the animals.
"These wonderful donors couldn't have stepped in at a better time, and I'm so glad that our members' generosity will be rewarded by having their gifts to the animals doubled," says Terri Shoemaker, annual fund manager at Best Friends.
It's good to know that during these tough economic times, people's generous donations to Best Friends will be doubled. Their donations will go twice as far to help care for the animals at Best Friends and toward achieving Best Friends' mission of No More Homeless Pets.
One of the ways in which Best Friends is working toward reaching the goal of No More Homeless Pets is through its four No More Homeless Pets campaigns. The goal of the campaigns is to end the killing of some 5 million animals a year in U.S. shelters. Here's a little more about the campaigns:
* Puppies Aren't Products: Best Friends holds peaceful demonstrations at pet stores that sell puppies from mills, building awareness about inhumane conditions in puppy mills and encouraging people to adopt rather than buy pets. The campaign also advocates for better legislation to combat puppy mills. Read more about the campaign here.
* Focus on Felines: The mission of the Focus on Felines campaign is to keep cats safe and out of shelters across the country. Best Friends partners with nonprofits and local governments to help achieve a day when there are No More Homeless Pets. Best Friends implements innovative trap/neuter/return and education programs to prevent ferals and strays — community cats – from entering shelters. The Focus on Felines Web community is a place for cat lovers to meet, share information and provide support and advice about TNR and other community cat topics. Read more about the campaign here.
* Pit Bulls: Saving America's Dog: Best Friends is working throughout the country to help pit bulls who are battling everything from a media-driven bad reputation to legislation designed to bring about their extinction. Best Friends hopes to end discrimination against all dogs. Dogs are individuals and should be treated as individuals. Read more about the campaign here.
* First Home Forever Home: This campaign focuses on helping people make and honor a lifetime commitment to their pets. Millions of companion animals die every year in crowded shelters because their families give them up for some reason. Through education, intervention and action, we provide guidance and resources to help people care for their pets and keep them as members of their families. Read more about the campaign here.
Make your donation twice as nice by going to https://www.bestfriends.org/donate/holiday.cfm?tc=WDMM09E.
Written by Sandy Miller
Photo by Sarah Ause
As part of Best Friends' 25th anniversary in 2009, our goal is to double our membership, so we can double our efforts to bring about a time when all companion animals have a forever home. What can you do to help? Give the Gift of a Best Friends membership to family and friends.