Moody cat? Maybe, but that's what his adopter loves about him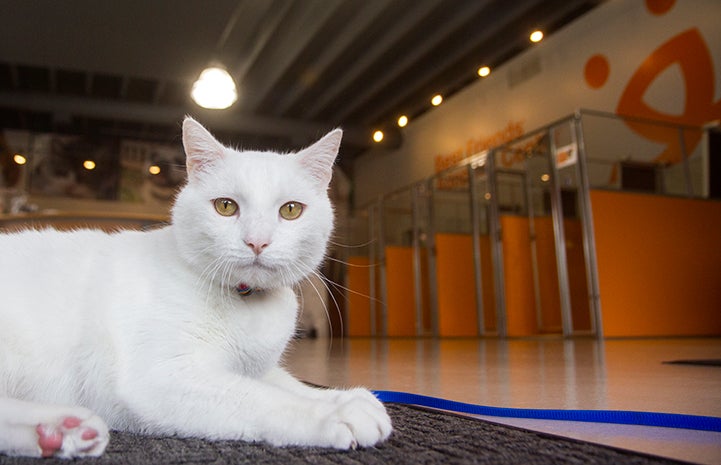 Headstrong cat with a bit of an attitude finds the perfect home where he can be himself and have his space.
By Nicole Hamilton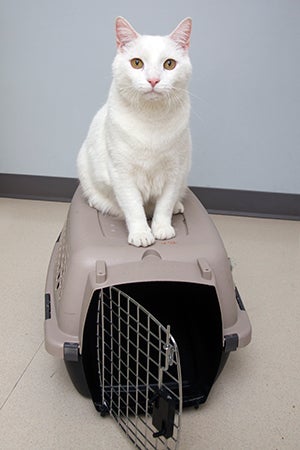 It's tough being handsome when you're a man who needs his freedom. Just ask Archer, a cat who held out for the perfect home longer than most at the Best Friends Pet Adoption Center in Salt Lake City. Thanks to his white coat and beautiful eyes, Archer easily won the heart of potential adopters, but would find himself back at the center once people discovered how much he prefers his own space instead of cuddles, and room to roam instead of laps.
"Archer is very intelligent. In some ways, he operates on another level," says Lawrence Nicolas, manager of adoptions and animal care for Best Friends–Utah. "He's a cool cat, but he's not for everybody."
Every time Archer came back (after adopter's hopes of having a sweet lap cat were dashed), it only strengthened the team's resolve to find him the right home. It would take a while for Archer to find his perfect home, but you know what they say: Good things come to those who wait.
Saving cats with difficult dispositions
In 2013, Archer came to the pet adoption center from a local municipal shelter. Temperamental cats like Archer sometimes have a more difficult time getting adopted, but the hope was that if he could have the time at the center to relax, it would help him connect with potential adopters.
From the day Archer arrived, the team at the pet adoption center gave Archer the space (literally and figuratively) to be himself.
"It was never a question of how we could change Archer so he could get adopted," says Lawrence. "It was about making sure we do the best job at finding him the right home with a person who understands and appreciates him."
And with a little patience and time, that's exactly what happened — but not before Archer made a lasting impression on everyone at the pet adoption center. "Archer became our mascot," says Lawrence. "He represents all the pets at the center who deserve as many chances as it takes — no matter what their personality may be — to find the forever home they deserve."
Learn how we're working toward a no-kill Utah

A cat's unique personality attracts the perfect adopter
A former professional cyclist, Addison Fuller had recently moved to Salt Lake City to be in the mountains where he once trained for races. After settling into his new town, he decided to adopt a cat, and started visiting the pet adoption center weekly in search of his new roommate.
When Addison visited the center, he'd make a point if stopping to see Archer. He liked the way Archer would stand upright, watching everyone curiously while his fellow cats relaxed around him. Then Addison had a realization: The cat he really wanted to adopt was Archer. That day, Archer left the pet adoption center for the home he'd waited for almost three years.
"He's a great cat for me," says Addison, who is busy starting a software company with his brother. "I don't need a cat who wants a lot of affection." Of course, as they say, no man is an island, Archer included. He's perfectly content hanging out with Addison on the couch, and even takes walks on a leash with Addison in the evenings. In fact, Archer's usually laid back and happy as long as he's not getting showered with affection.
"You have to do things on Archer's time, and for some people that could have been hard to accept," says Addison about the cat's past difficulties in getting an adoption to stick. "He's a great cat, but you have to let him do his own thing."
Together, we can Save Them All. Donate today.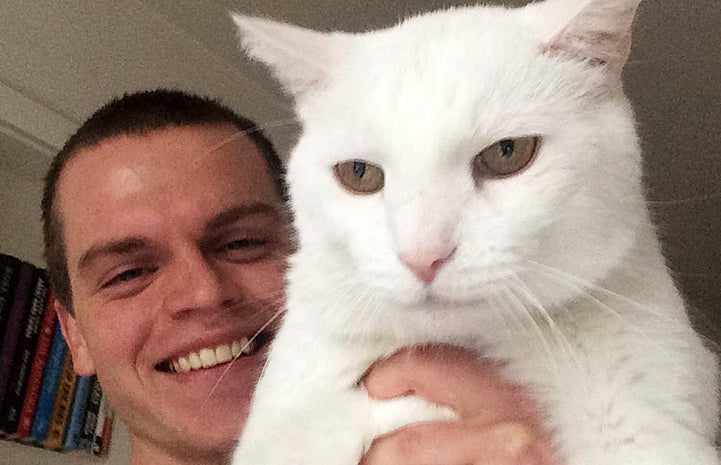 Photos by Sarah Ause Kichas and Addison Fuller