My story: An inspiring volunteer in Atlanta
Image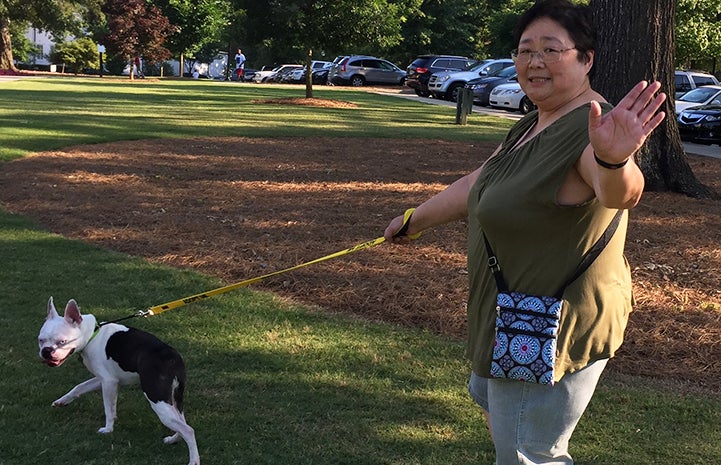 An inspiring volunteer at Best Friends-Atlanta Pet Adoption Center, Betty Geargeorua shares what motivates her to help homeless dogs and cats.
By Nicole Hamilton
Betty Geargeorua drove past Atlanta Pet Rescue & Adoption (which recently became Best Friends–Atlanta) on her way to and from work for a year without stopping. But she always thought about it, imagining what it would be like to volunteer with fellow animal lovers to help save pets. Finally, one day stopped the car, walked into APRA, signed up to volunteer and never looked back.
That was back in 2015. Today, Betty is a familiar face at the Best Friends–Atlanta Pet Adoption Center. "She does it all," says Amanda Blair, senior manager for Best Friends–Atlanta. "She volunteers at the center and at special events. She was a supporter of ours when we were APRA and has stayed with us through the transition to Best Friends. She just has a bright and wonderful personality and is always fun to be around."
"Volunteering means giving back and at Best Friends, and it means giving back to the dogs and cats who have given us so much," says Betty. "Their love is unconditional. They don't care what you look like or where you come from. They love you for you."
Learn more about what drives Betty to help Save Them All in Atlanta in the following Q&A interview.
Why did you decide to volunteer and what motivates you to continue?
When APRA became Best Friends–Atlanta, I, like many of my fellow volunteers, was very excited and enthusiastic about what this meant for a small organization like APRA. It meant that we would have the resources and ability to save even more animals and give them a safe haven until they find their forever homes with awesome families.
Best Friends has not disappointed, and I am so happy that we continue to do the work needed to Save Them All. The family atmosphere is maintained because so many of our former APRA volunteers like me also transitioned to Best Friends, and we are able to welcome many new and passionate volunteers to our wonderful adoption center.
Learn more about Best Friends–Atlanta
What inspires you most in your volunteer work?
The staff, because they do this every single day of their working lives. They work with the ones who need more care and attention than others, and love each and every one of the dogs, cats and other animals who pass through the adoption center. They are rock stars.
I'm also inspired by all the other volunteers who give their time, effort and love to these animals. Their passion and commitment is second to none.

Since becoming a Best Friends volunteer, what have you learned and is there anything you see differently now?
I have learned so much from the staff and other volunteers. Rescuing is not just about taking animals off the street. It is about giving them care and attention and helping rehabilitate them so they can be adopted into loving forever homes.
It is also not being judgmental when someone surrenders their pet to a shelter, because there can be many reasons why they are not able to care for their dog or cat anymore. At least they took that step to surrender their pet to a shelter or rescue organization so it has another chance to be adopted, rather than just abandoning it in the street to fend for itself. It is sad and unfortunate, though, that sometimes pets do end up at risk on the street or in shelters. This is why it is so very important for organizations like Best Friends to continue their efforts to help the county animal control shelters, who are always so full, to give these wonderful beings a second, third or even fourth chance at life.
In terms of your volunteer work for Best Friends, what are you most proud of?
That I stuck with it! I was always concerned that I would not be able to cope with the sad and sometimes terrible stories that accompany some of the dogs and cats we rescue. But while, yes, I have shed tears, I have also shed happy tears when a shy and misunderstood little one finally decides that it is safe and OK to sit on our laps for a cuddle and to trust humans again, or when a longtime resident finally finds a forever home.
Tell us about your favorite volunteer moment.
It is always when a longtime resident or one with behavioral challenges gets adopted by an awesome family.
Tell us something about you that we might not know.
I trained as a professional chef de patissier, and have traveled the world ― living in Hong Kong, Kuwait, Dubai, Bahrain, the UK and now the USA.
What are you doing when you're not volunteering with animals?
I work full-time Monday through Friday, so I spend most of my Saturdays and Sundays at the adoption center. When I am not with the animals, I spend my time with my wonderful, understanding husband of 36 years who more often than not, gets roped into helping me at off-site adoption events and never, ever complains when I decide to bring home a pet to foster!
Besides volunteering for Best Friends, how else do you "give back" to your community?
I also support Canine Assistants, a wonderful organization that trains and provides service dogs to those who need them.
Can you please tell us about your pets?
I have two dogs. Milo is a wonderful, mild mannered 10-year-old Labrador retriever and German pointer mix who we rescued when we were living in Raleigh, North Carolina. He is 110 pounds, but thinks he's a lap dog.
Sparky is our nine-year-old Jack Russell terrier. Sparky was abandoned at Beijing Airport for a month before authorities arranged with the Animal Control Centre at London Heathrow Airport to return her to the UK. Animal control contacted some of the quarantine kennels asking if any of them could take her for the mandatory six-month quarantine period (the law in the UK when an animal has no medical records) or she would be euthanized. The kennel where my then third dog (a Tibetan spaniel named Curly, who I rescued in Dubai) was boarding, took Sparky in, and basically the rest is history. She ended up with us.
Do you have a super power?
No, no super power. I am just me.
What does volunteering mean to you?
I volunteer because it is my way of doing what I can to love them right back. When I have had a tough week at work, my weekend time at the adoption center with the animals is my stress relief. After spending a few hours, whether cleaning out pens and crates, washing windows, doing laundry or just chilling with the dogs, I am ready to face the corporate world again.
What would you tell someone who's thinking about volunteering with Best Friends?
Just do it! Don't even hesitate. You will be so glad you did.
Photos courtesy of Best Friends–Atlanta and Betty Geargeorua