My story: Sanctuary volunteer Elisha Edge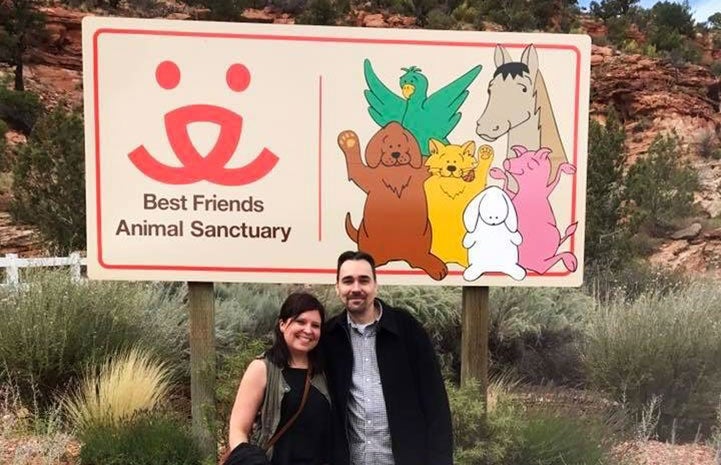 Best Friends volunteer Elisha Edge describes how adopting a senior schipperke mix inspired her to want to help other pets in need.
By Christelle L. Del Prete
For the people who've experienced it — those who have walked in its red dirt, taken in its majestic beauty and touched the lives of animals there — Best Friends Animal Sanctuary is much more than a place where animal lovers go to work and play. There's a certain magic in the air and in those unforgettable moments when someone makes a heartfelt connection with a rescued dog, cat, bird, bunny or barnyard animal.
The Sanctuary, in Kanab, Utah, is nestled between the sprawling red rocks of Grand Canyon, Bryce Canyon and Zion national parks. But above all, it is an animal lovers' paradise. People come from all over the country, and the world, to volunteer with the animals at Best Friends, and we've caught up with a few of them for a chance to share their stories and experiences from the heart.
Here, Elisha Edge of St. Louis, Missouri, tells us what she loved most about her time at Best Friends.
What does volunteering mean to you? Why do you do it?
We cannot take any more animals on ourselves, but there are still so many who need help. We enjoy volunteering at Best Friends, but also foster and volunteer at local rescue groups in our area.
The very first dog I adopted was the cutest, most terrified, deaf nine-year-old schipperke mix named Rosie. Despite being featured on the news, and being promoted at the shelter, Rosie was struggling to find a home because of her age. It was love at first sight, and I am always thankful for the person at the shelter who was in her corner, comforting her, and telling everyone who came about her. We lost Rosie unexpectedly, after having her only three-and-a-half years.
After that, I started volunteering at a shelter near me to help get my mind off of the grief and to give back in some way for her. Every time I comfort a scared shelter dog, or a senior dog, I think of Rosie. I'm doing it for them, but also for her.
In which animal areas did you volunteer at the Sanctuary?
We volunteered at Quincy House (in Cat World) in the mornings and in Dogtown in the afternoons.
What jobs did you do when you volunteered?
At Quincy House, we cleaned, socialized and walked the cats. In Dogtown, we spent time walking the dogs. We had fabulous weather while we were there, and the animals loved being outside!
What is your favorite volunteer job, and why?
As much as I love dogs, my favorite place to volunteer is Quincy House. I volunteer in Quincy House every time I visit Best Friends. I love that although the cats there have special needs, they mostly live like normal cats and continue to live happy lives, essentially overcoming their disability or illness.
Tell us about your favorite volunteer experience with Best Friends.
The sleepovers! We took a wonderful dog named Swing home twice and it was so much fun! He loved lounging on the couch and sleeping in bed with us.
Was there a favorite animal you met or worked with while volunteering?
Swing, for sure — he was so goofy and fun. I love big dogs who don't know they're big dogs. He loved to cuddle and give kisses, and warmed right up to me. Also, Elisha the cat from Quincy House. She was so sassy and even "hangry" at times. I loved walking with her outside.
What's the most rewarding part of volunteering?
I love knowing I did something small to make an animal happy, or contributed in a way to get them socialized to make them more adoptable.
What's the most difficult part?
Going home!
Plan your next trip to Best Friends
Photos courtesy of Elisha Edge