Neglected cat's transformation is completely amazing
Image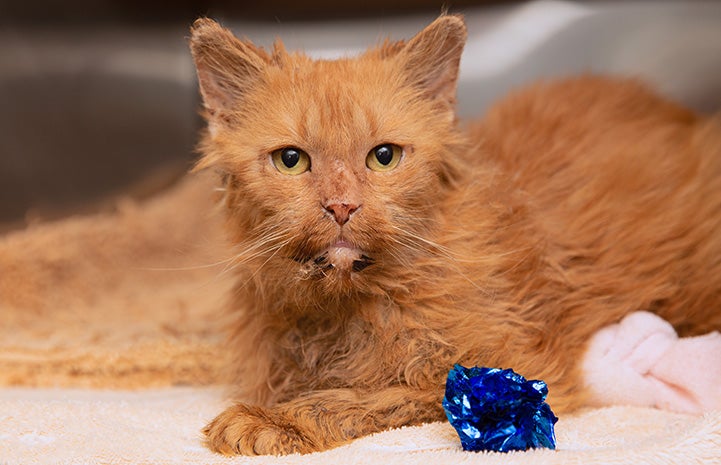 Neglected cat, with sarcoptic mange and dental disease, gets medical treatment and then love and care in a foster home. Her transformation is amazing.
By Amy Wolf
With her ginger fur, chartreuse eyes, adorable derpy tongue and sweet personality, it's no surprise that from the moment she arrived, Peaches was a favorite at the Best Friends Lifesaving Center. But the senior cat was also sick, had recently lost her home and was in desperate need of TLC and medical care. Despite it all, she just kept purring.
Peaches ended up at Los Angeles Animal Services with itchy, patchy fur and terrible dental disease. But her challenges were nothing new to those who would help her get better. The team at the Best Friends Lifesaving Center in L.A. recognized that Peaches was a "diamond in the rough" and knew that with proper treatment, a little time and rest, she would transform into the healthy and happy cat she was meant to be.
Peaches was in exactly the right place to get the help she'd gone without. Best Friends veterinarian Dr. Nicole Petschauer prescribed medication to treat her sarcoptic mange, along with antibiotics and baths to help soothe her skin.
A foster home for Peaches
Getting Peaches well again would take time. And a good part of what made her treatment so successful was that she got to go to a foster home. Like so many other homeless pets whose lives are transformed by the gift of time, tender care, and affection, Peaches is living proof of the importance of foster programs.
Samantha Bell, the center's cat behavior and enrichment lead, sees the impact of foster volunteers every day. "Shelters are especially scary for cats, who do not adjust easily to new environments," says Samantha. "Even the best shelter may have dogs barking all day, unfamiliar noises, cleaning products, doors slamming, etc. A foster home is always the best place for frightened or stressed cats to decompress while waiting for their forever homes."
For Peaches, the benefits from fostering were especially critical, says Samantha. "Being a senior cat, Peaches' immune system isn't as strong as a young adult cat. Luckily, she was able to heal from sarcoptic mange much faster in a stress-free foster home than she would have in a cage at a shelter. She got love and fresh air and sunshine — all helping her to feel happier and heal faster."
Total cat transformation
Once treatments began healing Peaches' skin, the veterinary team was able to address her teeth by giving her a thorough dental that included removing some teeth. Most likely, that helped the sweet cat feel much better than she had in a long time.
When she returned from her foster home, she looked like a different cat. Now, she had silky orange fur, her eyes were brighter and her tongue stuck out most of the time, thanks to the missing teeth. But she was finally feeling good, and it just made her even more sweet and cuddly.
Her treatment, coupled with a few weeks of rest and healing in a loving foster home, resulted in miraculous before-and-after "makeover" photos that sent a clear signal that Peaches was ready to be adopted. Shortly after the photos were posted online, a volunteer at Best Friends NKLA Pet Adoption Center (a fellow redhead herself), adopted her.
Donate and help save more pets like Peaches
Photos by Lori Fusaro and courtesy of Lauren Green