Neither canine lupus nor anxiety can get this dog down
Dog receives treatment for autoimmune disorder as well as anxiety at Best Friends.
By Christelle L. Del Prete
Her name is Destiny, but her future was uncertain when she came to Best Friends from a rescue group in California. The petite white-and-brown pit bull terrier mix was only four years old, but her health was extremely fragile. With the help of the vets at the Best Friends Animal Clinic, Destiny fought her way through her health crisis and today she's a survivor. But she had one more battle to win before she could be completely happy.
The biggest problem Destiny faced when she arrived at the Sanctuary back in December was that she had cancerous tumors. She had surgery to remove them and, luckily, they've stayed away. But Best Friends vets and caregivers noticed that she had another health issue brewing, and soon she was diagnosed with canine lupus.
Signs of lupus disease in dogs
Because Lupus is an autoimmune disease, it causes the immune system to attack not only harmful viruses and bacteria but also healthy cells. Symptoms, which can be mild to severe, also can include tiredness, joint pain or swelling and skin problems. In Destiny's case, dog autoimmune disease mainly affects her skin. She shows two of the signs of lupus disease in dogs, in that she gets a painful-looking rash on her nose which, along with the rest of her skin, burns really easily under the hot desert sun.
Since there's no cure for this autoimmune disorder in dogs, Destiny's caregivers and vets at the Best Friends Animal Clinic have worked out an effective dog lupus treatment. The key is prevention, and the most important thing is protecting her from sunburn. Destiny stays inside during the hottest parts of the day when the sun is strongest. Even when it's safer to go outside, she's fully prepared. She wears sunscreen, and she's even learned to wear a visor that protects her sensitive nose when she hits the trails with volunteers.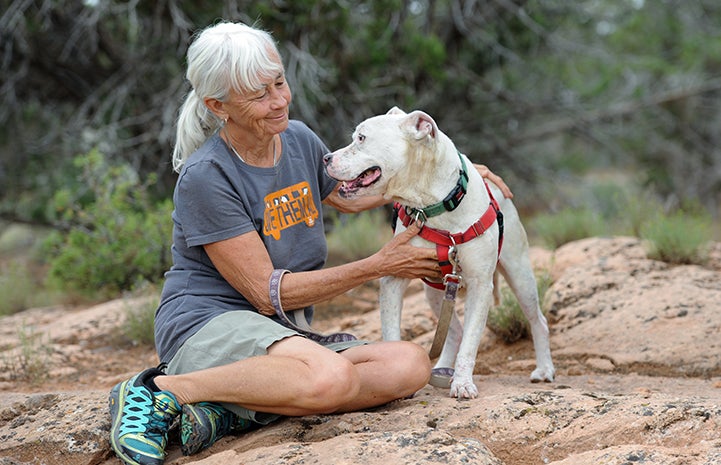 Sleepovers and anxiety don't mix
With these precautions, Destiny has been going strong physically for the past few months. But it also became clear that she needed some help with something else entirely — anxiety. Nervousness was preventing her from doing some of the things she loved.
As soon as she was healthy enough, Destiny got the green light for going on outings and sleepovers with Dogtown volunteers. Since she loved being with people, her caregivers thought she'd enjoy some one-on-one time in a more homelike environment. After all she'd been through, she certainly deserved some extra love and comfort.
Learn how you can host an overnight guest
But instead of finding comfort during her outings, Destiny's anxiety kicked in. Whenever she was in a new place she became a bundle of nerves. She didn't want to climb into cars or walk into unfamiliar buildings. While the anxiety didn't seem to have anything to do with the physical health issues she'd had to deal with, it was holding her back from doing some really fun things.
Office visits
Enter Deb Turner, the group coordinator for The Learning Experience at Best Friends who helps with internships and facilitates the volunteer experience for large groups visiting the Sanctuary. Deb thought if she could get Destiny comfortable with visiting her office, she could help her get over her fear. Then Destiny could have her turn at sleepovers and outings, and have a better chance of meeting someone who'll fall in love with her.
For the past two months, Deb has been picking up Destiny from Dogtown and taking her to the office. They've done this outing together about a dozen times. The first time, Deb had to help a reluctant Destiny climb into her vehicle, and then coax her into the office using treats. Although Destiny didn't really want to go inside, she found the treats irresistible and she agreed. But once she was in there, she started nervously looking around and was anxious to leave.
By the fourth visit, however, Destiny had caught on that these trips were kind of fun. She didn't hesitate at all that day. She jumped right up into Deb's car and then strolled calmly into the office. She got a little nervous when the cooling system came on, but she was becoming more comfortable and was soon learning to take things in stride.
Soon, Destiny began walking around the office to check things out and to say hi to Deb's officemates. A few visits ago, she discovered a squeaky toy and started playing and rolling around the floor with it.
The anxiety is all gone
These days, Destiny gets so excited when Deb comes to get her that she leaps right into the car. At the office, her anxiety is all gone. She goes up to people for petting and treats. "She is such a sweetheart and has improved so much it's unbelievable," Deb says.
So what does Destiny's future hold? The short-term plans are to increase the length of office visits from about 30-40 minutes to a few hours. Then she'll start getting out for some new and different outings that eventually will include sleepovers.
Though no one can predict the future, but for Destiny there's plenty of hope for good health and a forever home along life's road.
Help bring hope and healing to more animals like Destiny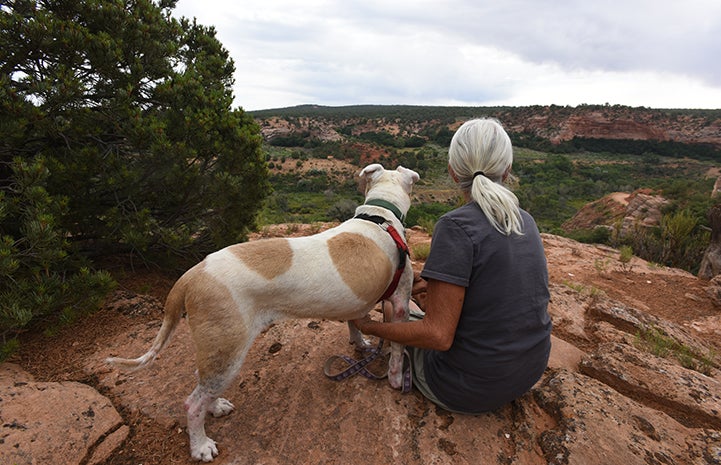 Photos by Molly Wald