Networking new homes
Best Friends helps down-on-their-luck dogs.
By Denise LeBeau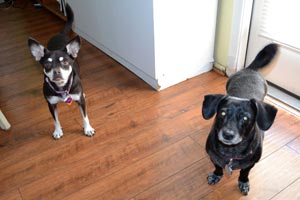 Ginger's favorite spot is on the bed, next to her canine sister, Penny. For the first time in the shy Chihuahua's life, she's with a caring forever family who love her on her own terms. Ginger was one of more than a dozen dogs in need of a safe place to go for extra TLC after their caregiver got in over his head with more dogs than he could care for. Best Friends was committed to helping the dogs with their many medical issues and lack of socialization, but they also suffered from a deep distrust of humans.
Stepping up
Lezlie Sage, No More Homeless Pets Network specialist, got the ball rolling to help the dogs, who had been living in the Nevada desert. The Best Friends No More Homeless Pets Network is a program that works with rescue organizations and municipal shelters across the country to end the killing of dogs and cats in our nation's shelters. To keep the dogs from entering the shelter system, Lezlie contacted partner organizations in the region to see if they could take a few. Best Friends took in many of the dogs, and then worked to place the others with appropriate groups.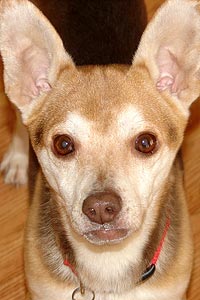 "These dogs really needed experienced rescuers, and the organizations that stepped up have done an excellent job addressing their needs," says Lezlie, who gathered bios and photos of the dogs before contacting groups that might be able to help.
Because Animals Matter (BAM) immediately agreed to take two of the dogs. "We were quite honored to be asked to participate in this rescue and only wish we could have been able to take more," says J. Schilling, vice president at BAM. "Although we realize we cannot always offer assistance, it is important to BAM to help in any situation where animals are in need and this situation seemed dire." In honor of BAM's Best Friends regional specialist, they named one of the dogs El Sage. Both El Sage and another dog, Fancy, are on the road to recovery through patience and much training. "After living a neglected life for so long, both dogs have trust issues and it's slow going being house-trained," says J.
Ginger snaps
Ginger, one of the shyest dogs from the case, found safe haven with Hearts Alive Village (HAV). While the group is just beginning the process of becoming a No More Homeless Pets Network partner, staff members greeted Ginger with open arms. Christy Stevens of HAV fostered Ginger in her home. "She was so unsocialized and timid, we let her learn from our pack of dogs how to be a dog," says Christy. Then, after her surgery for an umbilical hernia, the shy Chihuahua started to slowly open up.
Betty Campbell had been looking for a small companion dog for her senior canine, Penny. When she heard about Ginger's plight, she was on-board to adopt. "She wasn't very friendly at first. She wasn't interested in Penny or me," says Betty. But after a few weeks, the transformation was complete. "Ginger and Penny sleep on my bed all the time now."
Moving on from bleak lives can take a long time for shy dogs like El Sage, Fancy and Ginger. But thanks to caring people working together on their behalf, the harsh Nevada desert is, at long last, a finished chapter in their lives.
Get involved
Be a part of the good news by becoming a Best Friends member. You'll be helping our No More Homeless Pets Network partners, too.
Learn more about how Best Friends helps shelters and rescue groups across the country.
Photos by Christy Stevens and J. Schilling