New hardware helps puppy with broken legs play again
Image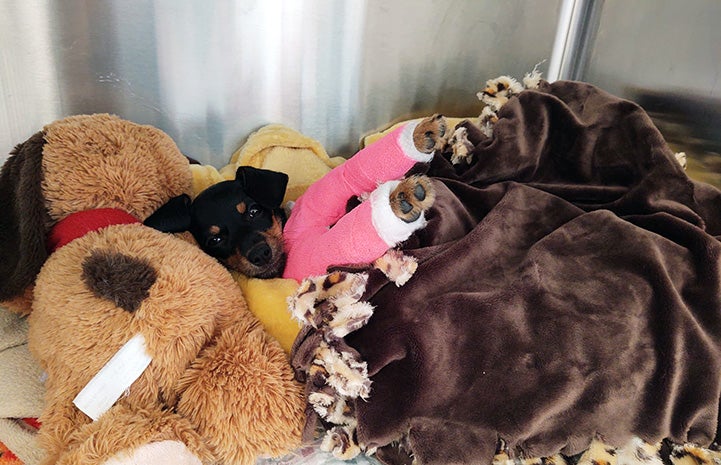 Maj. Houlihan came to Best Friends Animal Sanctuary with a pair of broken legs, but following surgery to put in metal plates, she's back to puppy antics
By Sarah Thornton
Maj. Margaret "Hot Lips" Houlihan — known to her friends as Margaret, Marge or Margo — has a name almost as big as her personality. This tiny black-and-tan puppy is only a few months old, but she's already been through a lot in her young life. When she arrived at Best Friends Animal Sanctuary with a pair of broken legs, she needed help — fast. To look at her today, though, you'd never be able to tell. She's a healthy, happy, thriving little puppy thanks to the help she's received from veterinarians and her foster families.
Getting a puppy back on her feet
No one is sure just how Maj. Houlihan ended up in such a rough state, but when she arrived at the Best Friends Animal Clinic, veterinary staff quickly made her as comfortable as possible. They set her front legs in a cast to keep them still and stable until she could travel to see a specialist in Las Vegas.
[Puppy with two broken front legs recovers, finds a little boy to love.]
Of course, she had plenty of soft blankets and stuffed toys to snuggle in, plus all the attention she could ever want. Who could resist those big puppy eyes? She couldn't move around much, but everything she needed was delivered to her. There was a lot of napping.
After a few days of the hot-pink cast, Maj. Houlihan was escorted to Las Vegas for surgery to insert metal plates in her front legs. After the successful surgery, she wasn't quite robo-puppy, but she was back on her feet and could start doing puppy things. With her new hardware, Maj. Houlihan moved into a foster home to continue her recovery.
For faster healing, veterinarians encourage activity for animals with plates — a good thing, because Maj. Houlihan was looking to make up for lost playtime. "If she were bedridden it would heal slower," says Heather Purdy, vet technician and one of Maj. Houlihan's foster parents. "Every now and then she seems to overdo it, but it's hard to tell. She plays, plays, plays and then she sleeps hard."
Back to puppy things
At Heather's house, Maj. Houlihan started making friends with the whole family. Without a care in the world despite what she had been through prior to moving in, she greeted everyone with the kind of enthusiasm only a puppy could muster. She played with kittens and some very patient and tolerant adult cats. But her favorite new friend was a six-year-old dog named Leda.
[15 quarantine foster pet stories]
Older but not any bigger, Leda was the perfect playmate and role model for Maj. Houlihan. Heather says that when she first came home, Maj. Houlihan would whine and bark when the human family members were out of sight. But with her new friend, she was quickly distracted from the momentary separation anxiety.
Maj. Houlihan and Leda will run across the floor together — little claws clicking the whole way — until it's time to collapse into a soft bed and recuperate. The only exception, Heather says, is when it's time for bed.
"When it's bedtime it's bedtime, and (Leda) has no patience whatsoever," says Heather. One time the older dog was resting comfortably under the covers and Maj. Houlihan tried to get her to come out and play. It only took a gentle correction from Leda for her to get the hint that it was time to sleep.
"She's a good, well-rounded puppy," Heather says. Maj. Houlihan is not shy with strangers and happily runs to greet new people and jumps up to say hi. I took her on a hike," says Heather, "and somebody had a 60 or 70-pound dog. After they had been on the hike a while, they played."
[Little dog was sick and shut down at the shelter, but his foster mom helped turn things around.]
It seems no matter who she meets, Maj. Houlihan is as charming as can be. The only thing she's not a fan of is taking a bath, says Heather. But what's a little bit of second-hand soaking between friends?
In a few more weeks, Maj. Houlihan will head back into the clinic to get spayed, have one of her screws removed, and finally be ready for adoption. With her bright personality and good manners, no one is expecting her to stick around for very long. But the endlessly happy little puppy will definitely leave a puppy-sized spot in the hearts of everyone who met her on the road to recovery.
Help more pets
You can help more pets just like Maj. Houlihan, as they get ready for the next chapter of their lives.
Read more:
Homeless dog gets her ultimate wish.
Giant polar bear of a dog inspires so many people to help him find a home.
Dog adventures on two continents after recovering from car accident.
Photos by Rani Piece, Heather Purdy and Molly Wald