New law in Maryland regarding pit bull terriers
Best Friends helps pass a new law in Maryland that reverses a bad ruling affecting pitbull dogs.
By Denise LeBeau
Best Friends joined thousands of pet lovers in celebration on April 8, when Maryland's Governor Martin O'Malley signed into law Senate Bill 247 (House Bill 73), giving a new lease on life to pit bull terriers in the state. The bill was an answer to a troublesome 2012 ruling by the state's Court of Appeals (in Tracey v. Solesky) that made landlords responsible for any damage done by their tenants' pit bull terriers. It was a travesty of justice that held the rental property owner more responsible than the pet's owner for a dog's behavior. Under the new breed-neutral law, liability for dog bites will now be based on the behavior of a dog and his or her owner.
United for change for pit bulls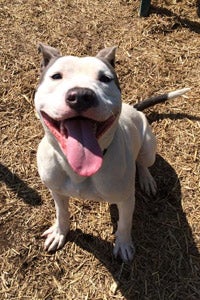 Best Friends' pit bull terrier initiatives work to enhance safety for people and pets around the country, and Maryland was an important victory. Best Friends hired a lobbyist to help pass legislation that would not only keep communities across the state safer, but would help save innocent dogs from dying in shelters. "One of the biggest issues with the Tracey v. Solesky ruling was that almost any dog (who's muscular and short-haired) could be described as a pit bull," says Mike Gisriel, Best Friends' contract lobbyist. "It had a chilling effect on the dogs and any dog owner trying to rent or lease a residence. Landlords were reluctant to rent to pit bull guardians, but every dog came under scrutiny."
Mike worked with Ledy VanKavage, Best Friends senior legislative attorney, whom he calls "the national quarterback" for establishing community safety legislation rather than breed-discriminatory legislation. He also worked with a "local quarterback," Tami Santelli of the Humane Society of the United States, who helped organize a coalition of local animal welfare agencies to overturn Tracey v. Solesky. The local rescue groups and shelters had a vested interest in getting SB 247 / HB 73 passed as quickly as possible. Because of Tracey v. Solesky, people with pit bull terriers were facing eviction or limited rental options, so more dogs were entering shelters, and there was a finite pool of folks able to adopt them.
The other important faction helping to get SB 247 / HB 73 passed were the rental property owners. They had a champion in Kathy Howard, who represented a coalition of landlords. "The fight to change the Solesky ruling was a great example of two groups of advocates who barely had any contact with each other, or had much knowledge of the other's issues, coming together to effectively change a terrible policy," says Kathy. "Within a few days of the ruling (in 2012), Mike and I were meeting with shelter folks and animal welfare organizations, learning about their concerns, learning about the myths around pit bulls. We found ourselves explaining the issues that landlords and their pet-loving tenants would be facing. The coalition stayed focused for two years to achieve the necessary legislative goal to address the Solesky problem."
Major boon for rescue groups
Baltimore Animal Rescue and Care Center (BARCS)  operates the city animal shelter, and sees SB 247 / HB 73 as imperative to helping save more lives. On any given day, about 90 percent of their canine population could be perceived as pit bull terriers. "As soon as the Solesky ruling was passed, we had a barrage of dogs surrendered," says Jen Brause, executive director of BARCS. "Fear spread among landlords. They were telling tenants to get rid of their dogs. We had families relinquishing their beloved pets with tearful goodbyes. It was tragic."
Jen speaks on behalf of many in the animal rescue world who are grateful to all of the groups coming together to help get this breed-neutral legislation passed. "This new (law) will impact thousands of dogs and the families who love them," she says.
Get involved to help pit bulls
Learn more about Best Friends' pit bull terrier initiatives and find out how you can get involved.
Additional information
Read more about pitbulls and pitbull myths.
Photos courtesy of BARCS