New life for rescued goat
Image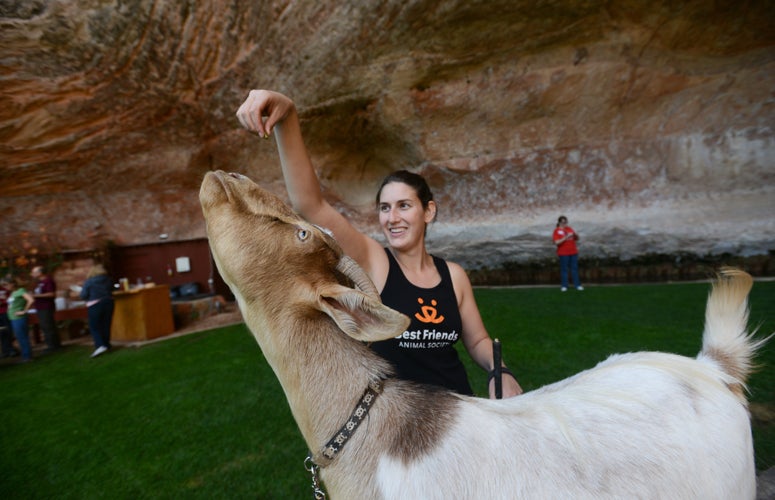 Rescued goat saved from feedlot shows his gregarious, outgoing and friendly personality and finds love at the Sanctuary.
By Christelle L. Del Prete
With his mythical name and the heart-shaped marking on his forehead, Cupid has a way of wooing everyone he meets — even people who have never befriended a goat before. And he's just as sweet on the inside as he is on the outside. To watch him eagerly approach every stranger he meets, you'd think he was raised in a loving family, but Cupid was actually rescued from certain death on a feedlot when he was just a kid.
Truly gregarious goat
Despite that grim early experience, Cupid has distinguished himself from the entire goat herd in Horse Haven at the Sanctuary. That's because he doesn't seem to have a shy bone in his body. He's truly gregarious.
Whenever he's in a new situation, he is curious about everything and can't wait to see if he can find something to play with or eat. To encourage his inquisitive nature, Cupid's caregiver, Rosalie Wind, takes him to events around the Sanctuary so he can do what he enjoys most — explore new places and make new friends. And wherever he goes, he seems to attract a crowd of admirers.
When the weather is warm Cupid attends gatherings at Angels Landing, a beautiful natural amphitheater located on the Sanctuary grounds. On a recent outing, he took a special interest in the people seated at the picnic tables there. He walked right up, introduced himself, and asked for a bite of lunch. When no one offered him a treat, Cupid trotted over to some nearby trees that border the broad, grassy area and stood up on his hind legs to eat some tender leaves.
More than just a goat with a pretty face
Beyond being friendly, Cupid has proven to be incredibly smart. In fact, he's so smart that Rosalie was able to clicker train him within a few months of his arrival at the Sanctuary. Rosalie also practices Parelli Natural Horsemanship training with Cupid. He has participated in an on-site clinic hosted by Ryan Rose (a four-star senior Parelli instructor). Rosalie says, "He did really well and learned lots of new signals and subtle cues that will help his overall savvy and his super adorableness."
Extremely agile and smart, Cupid learned to do the entire goat agility course in Horse Haven, and he especially enjoys the teeter totter. He's also leash-trained, and often goes on walks with volunteers. But Cupid's very favorite thing in the world is love and affection. He loves neck scratches, and, true to his name, he will sometimes give kisses. Cupid has come a long way from the beginning of his life in a feedlot. And since he's known nothing but love at Best Friends, it's no wonder that Valentine's Day is this sweet boy's favorite holiday.
Be a part of the magic by becoming a Best Friends member.
Adopt an equine friend.
Photos by Molly Wald