One tough baby kitten has mouth surgery
Image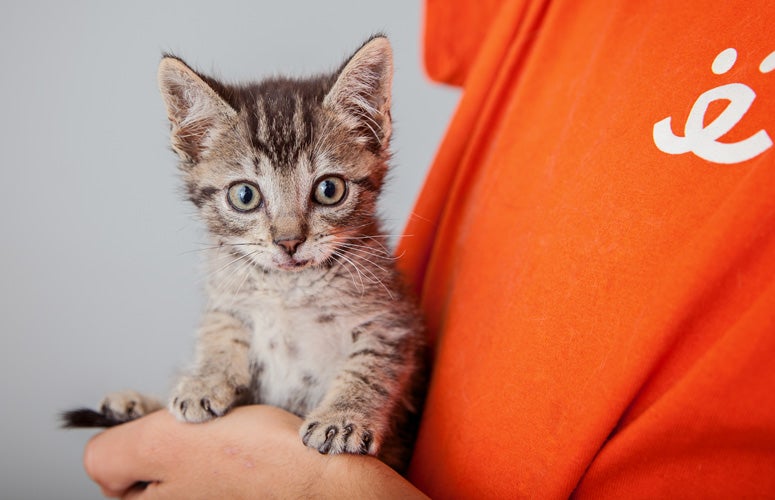 Injured four-week-old baby kitten, weighing less than a pound, has surgery at Best Friends Kitten Nursery for a mouth wound (hole in his chin).
By Kelli Harmon
Life's not easy when you're a baby kitten alone outdoors in the city. Zafar experienced that firsthand when he was born on the streets of Los Angeles and somehow separated from his mother and the rest of his litter at just four weeks old. Then, things got even worse when the little silver tabby was injured, leaving a gaping hole near his mouth. But he's a fighter, and he'd need that spirit to help him through, even after he finally made it to a safe place.
Baby kitten accepted into kitten nursery
The Best Friends Pet Adoption and Spay/Neuter Center in Los Angeles has a place set up for neonatal kittens like Zafar, and it became his safe haven. At the center, staff and volunteers care for dozens of tiny lives around the clock in the kitten nursery. It's a sad fact that kittens Zafar's age (even when healthy) are more at risk than any other type of pet in most shelters, including those in Los Angeles. When Zafar got to the center, he was one of more than 1,100 kittens to enter the nursery so far this year. Perhaps for the first time in his short life, he was safe.
While most kittens settle into the routine of feeding, cleaning and cuddling provided by staff and volunteers, Zafar was different. His mouth wound needed attention — and fast.
Surgery for newborn kitten with mouth wound
Soon Zafar was getting some love from Best Friends veterinarian Dr. Nicole Petschauer, who examined the kitten to determine what could be done to help him. Because Zafar was just four weeks old and weighed less than a pound, anesthesia and surgery would be risky.
The injury was too extensive to heal on its own, however, so Dr. Nicole decided surgery was necessary. She says, "We needed to put him under anesthesia to properly evaluate him and make sure there were no fractures to his jaw when he was injured." Dr. Nicole and the clinic staff proceeded with extra caution, and once the surgery was over, they waited and watched the tiny kitten as he woke up. That's when Zafar's fighting spirit showed again.
Successful repair of kitten's chin injury
"He's a little trouper," says Dr. Nicole. "He did better than expected during anesthesia and surgery." Best of all, she successfully repaired the hole in Zafar's chin. Luckily, there were no fractures, and when the teeny kitten woke up after surgery, he was sporting some fancy sutures that would help the wound heal. Once he was up and around again, clinic staff fitted him with a tiny e-collar (a cone-shaped collar that prevents him from scratching, so the surgery site can heal), and he was on his way back to the nursery to rest and recover.
In the weeks since his surgery, Zafar has been recuperating well and is a model patient. Dr. Nicole says, "He just took everything we did in stride and even with his e-collar on, he always had an upbeat attitude. We've all just fallen in love with that little guy." And as soon as he's big enough, Zafar will be ready for his next great adventure — a home of his own.
To bring hope and healing to more animals like Zafar, support our work.
Learn more about how Best Friends is working to make Los Angeles a no-kill city.
Photos by Lori Fusaro