Ori-pei goes from puppy mill breeder to volunteer favorite
Image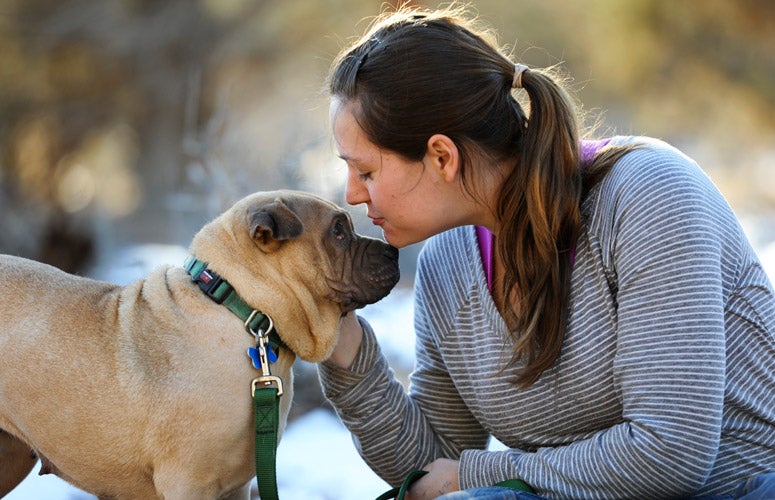 An ori-pei breeder dog and her puppies are rescued from a puppy mill and receive help. The ori-pei breed is created from crossing a shar-pei and pug.
By Christelle L. Del Prete
In July of 2012, Miss Missouri arrived at Best Friends Animal Sanctuary with four puppies in tow. Barnabus, Shimmer, Ripple and Pebble, then barely a week old, became known as the "wrinkle pups," because they had the classically wrinkly shar-pei skin. In fact, Miss Missouri and her pups were ori-peis, a "designer" breed created from crossing the shar-pei and the pug.
While the irresistibly cute pups got adopted very quickly, Miss Missouri stayed behind in Dogtown so that her caregivers, along with the Best Friends veterinary staff, could help her deal with both her physical and emotional issues. Because Miss Missouri had spent most of her life in a puppy mill in Missouri, giving birth to multiple litters, she received little or no socialization or veterinary care. She arrived at Best Friends with double cherry eye - a condition where a gland in one of a dog's three eyelids detaches and forms a red pocket. In addition, she suffered from the skin issues inherent to the shar-pei breed. She also needed to be spayed, as soon as her puppies were weaned, to prevent her from having any more litters.
Help for an ori-pei puppy mill breeder dog
But while her medical conditions provided enough of a challenge, Miss Missouri's social anxieties were every bit as important to treat. Like so many dogs who come from puppy mills or other situations (such as hoarding) in which they receive no life experience, she was understandably frightened and wary of people. Often, she would back away from strangers and "spooky" bark at them. But the caregivers at Dogtown have plenty of experience with dogs who have these fear issues and who lack essential life skills, such as how to accept loving touch or even to walk around outside. And, with patience and determination, Miss Missouri's caregivers helped her feel more comfortable around people. Within a short period of time, she began to show promise and to enjoy going for walks on the trails surrounding Dogtown.
Miss Missouri is now enjoying life at the Fairway, in the Dogtown Heights section of Dogtown. Her caregiver, Shauna Saling, is excited about the progress she has made. Miss Missouri knows how to "sit" when asked to, but, more importantly, she has gotten much better with being leashed, which means that she can regularly go for walks with volunteers.
Happier dog
Now, instead of barking and backing away from new people, Miss Missouri will walk up to strangers with a wagging tail and give them kisses. She has even gone into town on an outing with a volunteer, and she often goes outside of her octagon to meet the Sanctuary tour bus when it comes to Dogtown Heights bringing visitors. There have been great physical improvements too: Her skin and coat look much better, and the double cherry eye was surgically repaired.
Adoption specialist Marti Stoffel says that Miss Missouri "has come full circle from puppy mill breeder dog to a silly, fun volunteer favorite." Of course, the full damage done to dogs in puppy mill or hoarding situations can take years to overcome, so Miss Missouri's caregivers will continue to work with her as long as she lives at the Sanctuary, and, along with Marti, they will help her find a special person or family who is willing to continue that work.
To learn more about how Best Friends is helping dogs like Miss Missouri, read about our puppy mill initiatives.
Also, find out about Best Friends volunteer opportunities.
Photos by Molly Wald and Ann Hepworth