Out of darkness into the warm glow of home
Image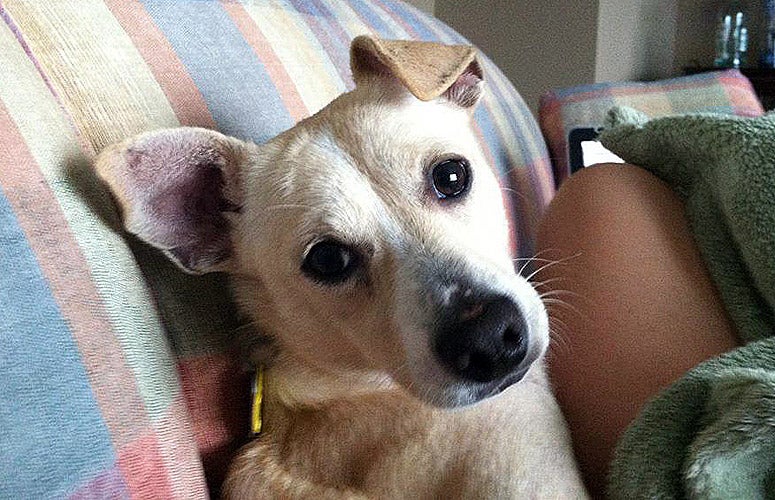 Collaboration saves lives of dogs trapped in hoarding situation.
By Denise LeBeau
Who knows how long Squidland had lived in darkness, without electricity or running indoor water. He lived without heat in the winter or air-conditioning in the hot southern Texas summer. He shared his filthy living situation with over 90 other dogs and the person responsible for the situation. It was just by chance that a local rescuer noticed that there was something odd about the dilapidated house and began the journey to help its neglected inhabitants.
Rolling towards rescue
When word came of the dire situation for dozens of neglected dogs with no place to go, Dori Jeurink, No More Homeless Pets Network specialist for the region, started the wheels of multiple-animal placement turning immediately. "When the local rescue contacted the town's animal control, they already knew there was some kind of problem, but didn't have the resources to address it," explains Dori. "When I saw the list of dogs that needed placement (dozens had already been placed), many of them were small dogs, so I thought there was a chance to get them safe haven by working on a transport to the Northeast, where we have many receiving groups lined up through our Best Friends' New York programs department. Having relationships with the groups makes such a difference. It was important that we all worked together, and we did. Thirty-four dogs were placed thanks to our No More Homeless Pets Network partners and other groups in the tri-state area and along the way."
Along with the dogs all finding groups to go to, Dori also shares a very important aspect of this case: "The person who created the situation will be monitored by local animal control. They will keep an eye on her to make sure things don't get out of hand. And, of course, we are always mindful when reaching out to other groups to not inundate them. If they can take one dog, that makes a real difference."
Last but not least
Greater Birmingham Humane Society (GBHS), a No More Homeless Pets Network partner in Alabama, received the email regarding the situation. Stacey Norwood of GBHS made sure they had resources available to take some of the dogs.
"The transport vehicle arrived early in the morning, and it was great that we were able to handpick the dogs we were best able to handle," shares Stacey. "We took Squidland, Mr. Sunglow, Mr. Johnny Bravo and Princess Nessy. We only took four, so we could adopt them out quickly."
Everyone but Squidland was scooped up right away. GBHS' kennel-free small dog room helped their personalities emerge quite fast. Squidland had demodectic mange, so he was in treatment longer and the last to be adopted.
Rob Hill and his fiancé adopted Squidland, now called Puff. "He immediately caught our attention because he was one of the older dogs there and had a certain vivacity about him," Rob explains. "There were a couple rough patches for everyone at first, with us adjusting to having a lively terrier mix at home. Now we couldn't even imagine not having Puff at our home and in our lives. He is truly one of the family and brings joy to nearly everyone he meets with his playful attitude, loving disposition, and floppy ears."
Being part of the bigger solution is something near and dear to GBHS. Rob explains, "If we have the resources to help others, we want to do that. It's not just about helping pets in the greater Birmingham area; we want to help out wherever we can, however we can."
Going to the dogs
One of the receiving groups in Perry, New York, Going to the Dogs, took Veronica. Melissa Henchen, part of the all-volunteer, foster-based organization shares why it was important for them to be involved: "Well, our number-one priority is working with our local shelter, which has a high intake rate. The more we learn about increasing adoptions and decreasing euthanasia, we know the importance that transport plays in seeing positive results."
Both Golden Star and Veronica were adopted - and their foster, Lindsay O'Reilly, held the silver-lining. Golden Star was adopted by Linday's mom, and Veronica (now Maggie) was adopted by her grandma.
Lindsay illustrates how these dogs are prime examples of the Cinderella stories that transport and working together create: "Golden star is an awesome addition to my mom's family. She is a great addition since my sister and I both moved out over the summer. Maggie is the center of my grandmother's world."
These types of collaborative endeavors are the building blocks to the 90,000 lives that Best Friends helped save in 2012.
Get involved
Adopt from, volunteer with, and foster for these great groups who lent a helping hand:
Animal Rescue Fund of the Hamptons
Greater Birmingham Humane Society
Tennessee Humane Animal League - Pet Placement Center
Click here to find out more about the No More Homeless Pets Network.
Photos courtesy of Greater Birmingham Humane Society and Going to the Dogs