Overcoming dog neurological problems
Seizures and circling, symptoms of his brain issue, don't stop Julius the dog from enjoying life.
By Christelle L. Del Prete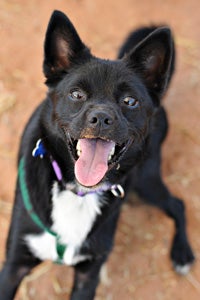 Neurological problems in dogs can take many forms, and some can be hard to see. That's not the case for Julius, an adorable little black terrier mix with a white patch on his chest.
Watch him dance in circles long enough and you might feel a little bit dizzy. But Julius can't help his circling movements any more than he can help his canine seizures. For Julius, these things are part of life, and he handles them as well as any dog could — with grace and resilience.
Symptoms of neurological disorders in dogs
In the past, however, it was difficult for Julius to enjoy his life. Now four years old, the sweet little dog came to Best Friends from a rescue group in Louisiana. Because the symptoms of neurological disorders in dogs were so serious in Julius and because he seemed fearful of people and guarded his food, the rescue group suspected that he had been abused.
Whether or not that was the case, one thing was clear: he was unhappy and needed help. His constant circling and occasional unsteadiness on his feet made it hard for Julius to befriend other dogs. Dogs didn't know how to read his body language or how to react if he accidently bumped into them. They would often ignore him or, worse, reject him.
Seizures take a toll
When Julius first arrived at Dogtown, he still wanted to guard his food and he was still having seizures every three to four weeks. That was too often, and so Best Friends veterinarians began working out a new medication protocol to help him. Due to his food-guarding behavior and until his medication started working better, it was better for Julius to stay in his own room without other dogs as roommates. The only trouble was that he really missed having canine companions.
Though Julius still went on plenty of walks with his caregivers and took trips to the dog park, he missed having dog friends.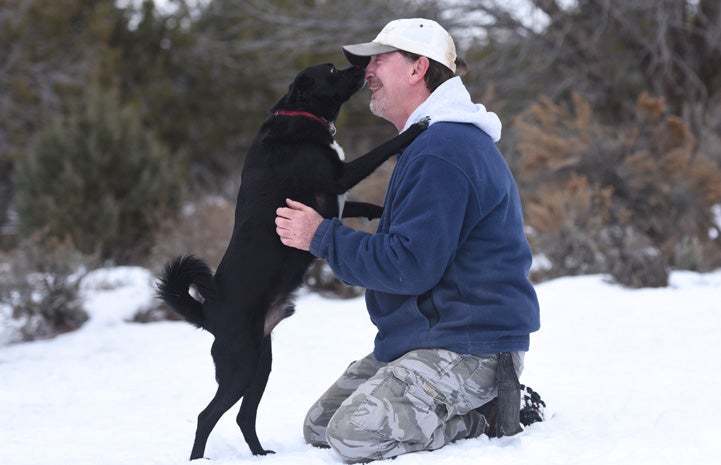 Enhancing everyday experiences
Soon, the Best Friends veterinary team landed on just the right mix of medication for Julius and added a new drug to his regimen. And Dogtown caregivers redoubled their efforts to enhance Julius' everyday experiences. "We really enjoy helping Julius, and we want to do anything we can to give him the quality of life he deserves," says Dogtown caregiver Tom Williams.
As Julius began having fewer seizures, his overall health and attitude began to improve. Dramatically. Julius became more aware of (and more interested in) his surroundings. His energy level rose and he eagerly awaited his walks. Instead of being mopey, Julius regained a spring in his step. He trotted on the trails that loop around Dogtown and hopped around the dog park. He seemed genuinely happy to be alive again.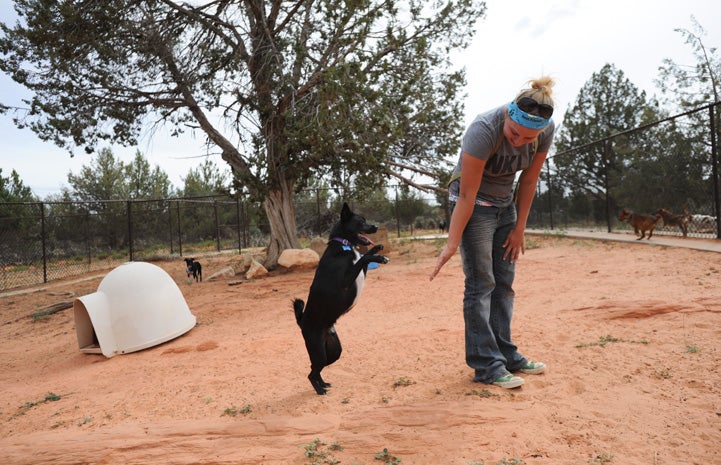 Finding a four-legged friend
That's when caregivers knew it was time for Julius to take a big step. It was time for him to find a four-legged friend. Though he still couldn't live with other dogs, there was no reason he couldn't play with the right one. "We needed a polite dog who could interact with Julius but not overwhelm him," Tom says.
Enter Clarisse, a five-year-old golden retriever mix. Clarisse doesn't care one bit that Julius's neurological disorder makes him socially awkward, or that sometimes he can barely stop circling long enough for her to give him a good long sniff. She also doesn't care that Julius occasionally veers off course to do a few circles when the two are chasing each other around during their weekly play dates.
A huge breakthrough
Now, when Julius sprints around in the soft sand with Clarisse, it's sometimes hard to tell that he's different, and what a huge breakthrough the simple act of playing with another dog is for him. Because, in those moments where he's running as fast as he can alongside his new friend, kicking up red sand with his heels, Julius is the picture of a normal, happy little dog.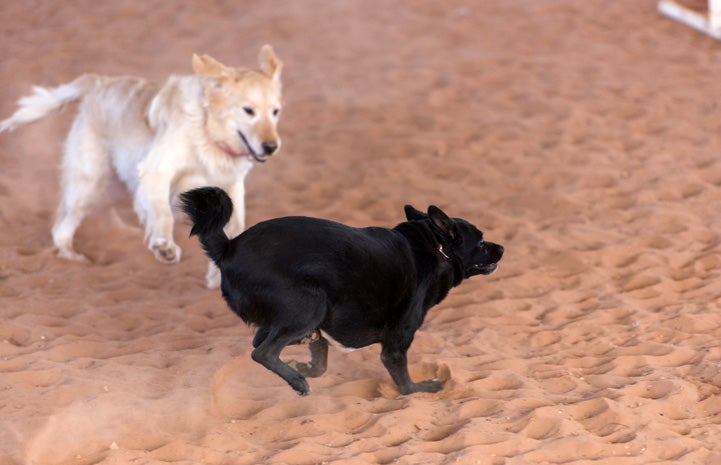 Help more dogs like Julius enjoy life again. Here's how:
Photos by Kurt Budde, Molly Wald and Ann Hepworth