Overriding Utah breed-discriminatory legislation
Best Friends Animal Society supports House Bill 97 to override existing breed-discriminatory legislation (BDL) in Utah.
By Denise LeBeau
Captain Cowpants, a registered therapy dog in Utah, has been volunteering to help teenagers in treatment for emotional difficulties for over two years. His guardian, Melissa Lipani, Best Friends new media coordinator, calculates that during that time he's served over 1,000 teenagers struggling with emotional troubles. Yet there are 10 municipalities in Utah that would prohibit Captain from helping their at-risk teens. Captain looks like a pit bull terrier, and those communities have breed-discriminatory legislation (BDL) that make it illegal, or restrict people's rights, to have a pit bull terrier. Best Friends is tackling the issue across the country by working to enact laws that prohibit BDL, and with the momentum gaining in Utah, the state is at the forefront of the effort.
Proactive legislation to override existing breed-discriminatory laws in Utah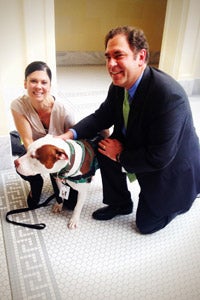 On February 10, 2014, Representative Brian King put forth House Bill 97 at the Capitol building in Salt Lake City to the members of the House Political Subdivisions Standing Committee. Best Friends' senior legislative attorney Ledy VanKavage helped draft the bill, and when it was time, many came out to support it, including Melissa and Captain Cowpants. The bill's title, "Limitation on Local Government Regulation of Animals," may sound innocuous, but it packs a serious punch. It would override existing breed-discriminatory legislation in Utah municipalities and prohibit any new BDL statewide.
Rep. King was reluctant to tie the hands of local municipalities, but beyond the restrictions on individual pet owners, it's been proved time and again that banning certain breeds doesn't work to keep communities safe from dangerous dogs. After learning more about the issue, Rep. King quickly discovered that the best way to identify dangerous dogs is by behavior, and to then work with their guardians. He says, "The way most cities and towns handle dangerous dog issues is on a dog-by-dog basis. They do that because they realize this is about property rights."
Laura Handzel, Best Friends legislative lawyer, who also testified on behalf of the bill, says, "BDL is about a slew of dogs, not just pit bulls. It also prohibits people from owning certain mixed breeds. HB 97 is about property rights and fiscal responsibility. This is America. You should be able to own whatever type of dog you want, and your tax dollars shouldn't go towards proving what type of dog someone owns." (Read more how costly BDL is to enforce.)
"Dogs of every breed can be dangerous. But the vast majority of dogs of any breed are not dangerous; they're just good dogs. They shouldn't be targeted or prohibited from being owned in any communities. The trend nationally is to find these ordinances are not good public policies," says Rep. King.
They're also unpopular with the public. According to a national survey conducted by Best Friends via Luntz Global, 84 percent of those polled felt the government should not dictate what kind of dog Americans can have.
Additional dogs' lives saved
If passed, HB 97 would also outlaw animal shelters from implementing policies prohibiting the adoption of dogs based on breed or appearance.
"As it stands now, shelters and rescues are missing the opportunity to adopt out dogs targeted by breed-discriminatory legislation to these 10 municipalities," says Melissa. "There are many more lives we could save if HB 97 were to pass. I wonder how many Captain Cowpants are out there who didn't have the chance to become a therapy dog and help people because of BDL."
After all the comments were heard, committee members voted 6-5, passing the bill out of committee. It will now advance to the House of Representatives.
Note 2/21/14: Yesterday House Bill 97 was voted favorably by the House (43 vs 28) and it's now on its way to the Senate.
Get involved to help animals
Find out if your community has BDL or other laws that negatively affect pets. Get involved and take action by signing up for alerts from Best Friends' Legislative Action Center.
For more ways you can help dogs, check out Best Friends' pit bull terrier initiatives.
Photos by Melissa Lipani