Paralyzed Chihuahua can outrun everyone in his tiny wheelchair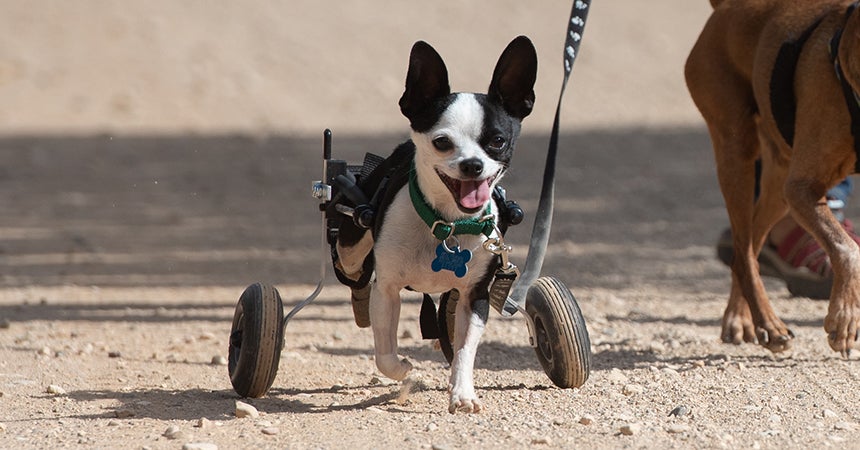 Paralyzed Chihuahua uses tiny wheelchair for mobility. Named after Robert Johnson, little dog appeared on Animal Planet's "Give a Dog a Home: Live!"
By Christelle L. Del Prete
Robert Johnson is named after one of the greatest blues singer-musicians of all time, and he can be a pretty vocal guy when he first meets you. But his "singing" — a froggy "Whoa, whoa, whoa" bark — isn't what he's best known for. Ever since a generous donor sent him a small dog wheelchair, Robert has been fast. Really fast. He also recently made his national television debut when he appeared on "Give a Dog a Home: Live!" on Animal Planet. This little guy loves the spotlight.
Robert gets rolling in a miniature dog mobility cart
The adorable Chihuahua came to the Sanctuary from a Best Friends Network partner shelter in Arizona. While no one knows exactly how Robert became paralyzed, he apparently suffered some previous trauma to his back. But one thing was clear: The active little guy needed some help getting moving again. While he could use his front legs to pull himself forward, that meant dragging his back legs on the ground. It wasn't good for his limbs and besides that, it slowed him down.
Robert has lots of energy, and a tiny dog mobility cart was just what he needed to get rolling. While the kindhearted woman who donated it wishes to remain anonymous, she says: "My primary motivation was to provide a specific, targeted donation. Giving is extra special when you know exactly who is being helped."
Small dog wheelchair is a life-changing gift
In no time at all, Robert Johnson got accustomed to the small dog cart and was speeding around the Sanctuary. Dara Merrifield, a Dogtown caregiver, says he's so fast during his walks that people, as well as his dog friends, have a hard time getting ahead of him. He may not have the smooth, bluesy singing voice of his namesake, but he sure knows how to move.
Help more dogs like Robert Johnson
To see more amazing adoptable dogs and cats from Best Friends Animal Sanctuary and our lifesaving centers around the country, tune into "Give a Dog a Home: Live!," Tuesdays and Thursdays at noon Eastern time on Animal Planet.
Photos by Molly Wald