Parrot with special needs goes home to the lap of luxury—literally
A yellow-headed Amazon parrot, with special needs (she has two legs that are splayed out), is adopted into the perfect loving, accommodating home.
By Christelle L. Del Prete
Wrapped in a fluffy towel and snuggling in her person's lap, Buttercup looks like she has always been well-loved, but the double yellow-headed Amazon parrot had a rough start in life. Though Buttercup has never let that tough beginning get her down, it has affected her physically to this day. It's also made her recent adoption even sweeter.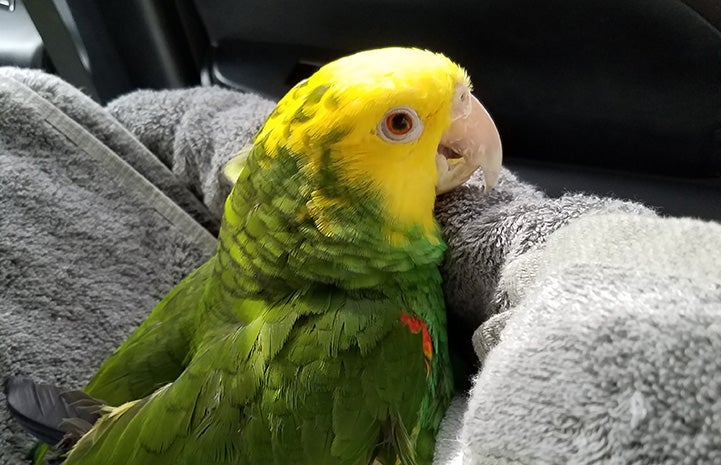 Accommodating a parrot with physical challenges
Buttercup arrived at the Sanctuary this past April because the person she'd lived with for the past 23 years was getting older and could no longer care for her. And Best Friends was just the place to help her with some special needs. A long time ago, the 30-year-old parrot injured two legs that were never treated. Although she healed before going to her previous home, her legs were splayed out and not working the way they should.
The only way Buttercup could perch was by using her beak to hang from the side of her enclosure and push the left side of her body up against the side of the cage. Since the toes on her foot move very little, getting around and steadying herself in one place was difficult. Finding a safe and comfortable sleeping position was challenging for Buttercup, too. And because she always had to be on guard against falling, sleep was never very restful.
Because of her physical challenges, Buttercup needed some special accommodations, so Parrot Garden was the perfect home between homes. To give Buttercup a break, her caregivers set up special softly-padded platform perches so that she could lie on her stomach. That finally gave her overworked beak and her tired legs some much-needed rest. The wide perches also gave her enough room to move around without the fear of falling. Finally, Buttercup could relax.

Buttercup learns about the joys of a lap
When Buttercup was as comfortable as possible in her enclosure, her caregivers had another idea. Although she hadn't been cuddled or even handled much in her life (and was a little nervous with people), the sweet parrot might like to sit in people's laps. It would give her another comfortable place to rest and also help her bond with people.
Parrot Garden caregivers began by gently picking her up in a towel and setting her in their laps. Buttercup was a little uncertain at first, but she soon settled down. Once she did, it didn't take her long to understand that being in someone's lap was pretty amazing. She began to enjoy head scratches and to relax enough to close her eyes and doze off.
In just a few months' time, Buttercup made a lot of progress and was more comfortable, happy and social than she had been in a long time. And though it was the perfect time for her to meet her new family, when it finally did happen, it was purely by chance.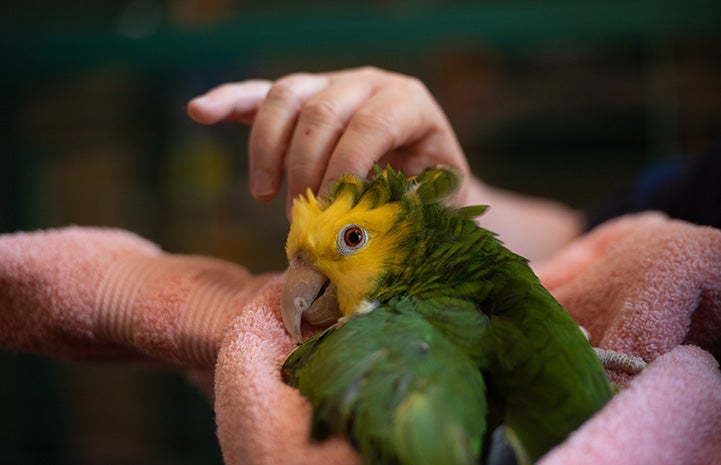 A soft spot for animals with special needs
Deborah Arndell and Sandy Reed were visiting the Sanctuary from New York. As animal lovers, they had taken in many cats and dogs over the years — many with special needs. Though they have a soft spot for pets needing a little extra care, they weren't looking to add to their family. In fact, Deborah says: "I convinced myself that (the Sanctuary) would be a safe place to visit, because all the animals here are so well-cared-for that we wouldn't be tempted to take any home."
When they decided to take the Parrot Garden tour, they never suspected they were about to fall in love with a parrot. They'd never had birds before and were merely curious about them. In an odd twist of timing (or serendipity), they nearly missed the tour that day, but made it at the last minute. "We almost had to skip it," Deborah said, "but we're glad we didn't." That's because it was the day they met Buttercup.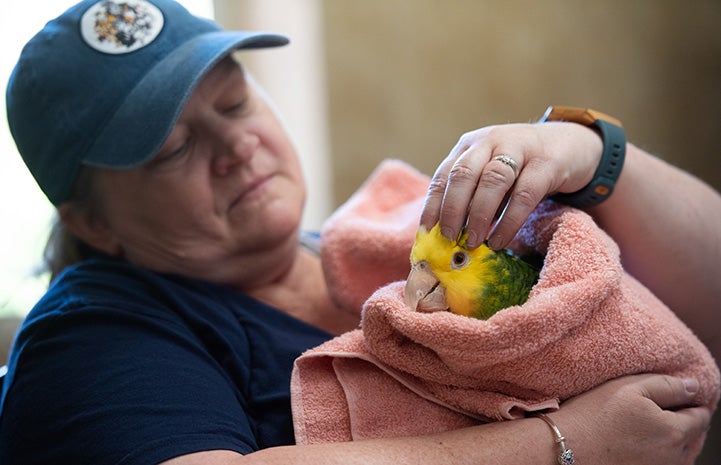 Preparing for life with Buttercup
After learning Buttercup's history, Deborah and Sandy returned to Parrot Garden every day that week to spend time talking and reading to Buttercup, and to take her outside to sit in their laps and enjoy the warm weather and sunshine.
Before their vacation ended, they spoke with caregivers about the ins and outs of Buttercup's daily care. They decided to go for it and bring the sweet bird home. But first, they had to return to New York to get everything ready for their new friend.
Deborah cleaned out her home office so that Buttercup would have her own space away from the cats. She and Sandy designed a special cage with ramps, platforms and ladders so Buttercup could get a full night's rest. They included a soft platform for Buttercup to land on in case she slips off her perch while sleeping, plus plenty of places for her to rest comfortably on soft fabrics and materials that she can easily grip. The women also gathered a library of books to read to Buttercup and a collection of DVDs and new toys to keep her entertained. Sandy, who works from home also says, "She'll be spending a lot of time in our laps."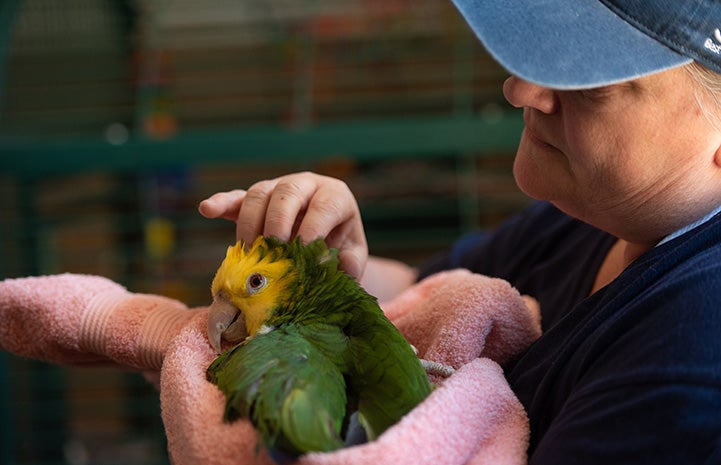 The phoenix
In early July, Deborah and Sandy flew across the country to pick up Buttercup and drive her back to her new home in New York. As she settled happily into her new life, Buttercup learned that she loves sugar snap peas, sweet corn and grapes. She also learned to fully spread out her wings when Deborah mimics flying with her own arms. She also says things such as "Hi buddy," "Who dat?," "Bye, Little," "Hello," "Buttercup" and "Butters." Sometimes she laughs, and she also loves getting head scratches from her people.
"When she is outside in the sun, she coos, occasionally focusing one eye straight up at the sky — perhaps wondering what it would be like to fly or maybe just grateful for this place on the ground where she is adored," Deborah says. "She loves attention so much that even my work calls spark a level of spinning, fluffing and vocalizations that leave the cats wondering what rare phoenix resides behind that special door."
The real wonder of it all is that Buttercup is now loved, adored and living a happily-ever-after fit for a phoenix — a mythical bird who was reborn into a whole new life.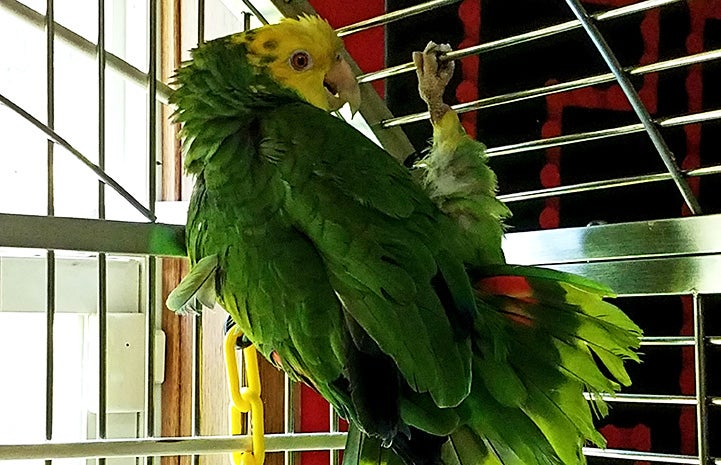 Photos by Molly Wald and courtesy of Deborah Arndell