The past and future for Cat Headquarters at Best Friends Animal Sanctuary
Image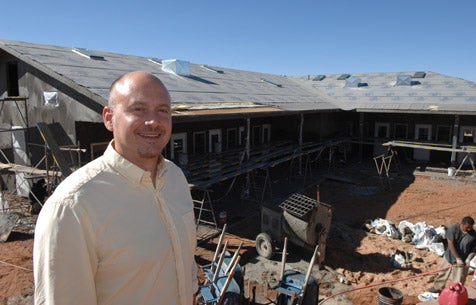 Construction begins on new state-of-the-art Cat Headquarters that will include single-cat rooms. Read about history of Cat Headquarters, too.
By David Dickson
Spring is a time of renewal. It's when leafless trees morph back into life and flowers blossom everywhere (keeping anti-allergy companies squarely in the black). At Best Friends, it's when many animals start feeling an extra zing of energy and acting years younger.
Something else has been going on with the warmer weather as well. Construction on the new Cat Headquarters building is cruising right along! That's sure to add to the springtime excitement as effectively as any freshly manicured baseball diamond.
History of Cat Headquarters buildings at Best Friends Animal Sanctuary
With the whole concept of renewal, it's also a fun chance to look back at the past. A new Cat Headquarters building certainly calls to mind plenty of history at Best Friends Animal Sanctuary. After all, this will be the fourth version of Cat Headquarters at the Sanctuary.
Wildcat Cabins from years ago.
The first Cat Headquarters, built in the 1980s, was a simple structure composed of 4 x 8 panel walls bolted together. This building also doubled as housing space for some of the original employees (founders) who started the Sanctuary. Visitors would drop by the Cat Headquarters building to do all they could for the cats at Best Friends. It didn't take long, though, before the space was too small for the work.
Soon, Cat Headquarters moved to a modular building that was brought in. The old headquarters was repurposed for something else, which is what ultimately happened to the second version of Cat Headquarters, which also became small for the growing operations. A third version – the current one – was built.
With every jump, the buildings have not only gotten bigger, but better. Each time, experience and strategies gained over the years have gone into the creation of the new buildings. The improvements have caused each version to become a little more helpful for the cats and a little more useful in facilitating volunteers. "The new Cat Headquarters," explains Best Friends Animal Care director Judah Battista, "is not even in the same league as the first one."
New state-of-the-art Cat Headquarters
This new version is indeed something of a giant leap forward. Thanks to the support and generosity of Best Friends members, such as Bob and Silvia Winegard, the new state-of-the-art Cat Headquarters will be much bigger in size and scope.
"During our visit to Best Friends, we were so inspired to see that this animal sanctuary was truly as good as it sounded," shared the Winegards. "We wanted to be involved in some way to support their mission. Being that we love cats, we were excited to hear about Best Friends' plans to build a dedicated Cat Headquarters. This was a perfect project for us to contribute to.
Best Friends founder John Fripp in front
of one of the original Cat World buildings.
"We hope that this new building will change the lives of many cats by giving shy and special-needs cats the space and attention that they need to become better adjusted, happier and more adoptable kitties. We are passionate about helping Best Friends give their animals the best quality of life possible until they find their forever homes."
The Winegards' contribution will go towards exactly what they are hoping for at Best Friends!
In the construction of the new Cat Headquarters building, volunteers have been kept in mind from top to bottom. Soon, it'll be easier than ever for volunteers to become even more deeply involved in helping the cats at Best Friends. "It lends itself to visitor education and visitor engagement," explains Judah.
Single-cat rooms
One exciting detail the new building will offer is something not currently available at the Sanctuary – namely, a space for cats who need a room all to themselves. There will be 20 different single-cat rooms in the building, half of which will be adjustable into double or triple units if larger areas are needed.
The strategy here is not necessarily to provide a long-term hideaway for cats who want to be by themselves. Rather, the single-cat rooms will allow caregivers, trainers and volunteers to work more closely with cats who need some extra attention, and to work with them in a stress-free environment. Ideally, the cats will then be able to move into other rooms. Everybody involved expects this setup will provide a fantastic opportunity to learn more about meeting the needs of certain types of cats.
Looking back at old Cat World.
"It's more than just what we'll be able to do for the cats we have here," says Judah, "but what we will be able to learn and share with others." No doubt, everybody is excited over the new digs!
Judah, perhaps, has a bit more reason than most for the excitement. He knows all too well how far things have come since the good ol' days with the original buildings. You see, he used to live in one of them! Judah is one of the founders at Best Friends. Back in the day, when the Sanctuary was brand new, Judah lived temporarily in a much more modest version of what has become the Kitty Motel building at Cat World.
He had a personal bed in one of the cat rooms that doubled as cat furniture during the day (Judah's belongings were stashed out of sight in the morning). "At least I could never be late for work," he jokes now. When asked how he'd mind spending a night in the new Cat Headquarters versus the old buildings, he had an easy reply: "It'd certainly be more spacious!"
A better world for the animals
Construction at the new Cat Headquarters building.
Resources to make this building a reality have come in from around the country. As one donor from a private family foundation shared, "The new Cat Headquarters is yet another example of the extraordinary commitment that Best Friends has to building a better world for the animals who share the earth with us. My family admires their focus on the future and their support for the community of organizations doing this good work on behalf of all of us."
The grand opening ceremony for the new Cat Headquarters is scheduled for August 12.
Read about Cat World at Best Friends Animal Sanctuary.
Photographs from Best Friends photographers