Patient pit bull terrier finally gets his happily-ever-after
Patient pit bull terrier finally finds his perfect family after a long wait and two hurricanes. Read about a sweet dog adoption.
By David Dickson
Being a good sport means, among other things, applauding the other team even when you don't win the day. When you do eventually blow the competition out of the water, it's okay to smile a smidge on the inside, though. Especially if, like Screech the pit bull terrier, your victory was a long time coming. Yes, Screech had been waiting quite a while for that magical day when somebody picked him.
Patient pit bull terrier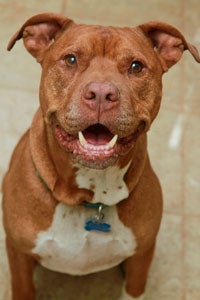 Screech
Screech came to Best Friends years ago from another shelter that had taken him in as a rescue following Hurricane Katrina. He'd been popular at the Sanctuary from the start. Volunteers took him on walks, sleepovers and other outings. He even had his own Facebook page. What he didn't have, sad to say, was much tolerance for living with other dogs. To that end, Screech was best suited for a family where he would be the only pet. And for many potential adopters, that was a deal-breaker. While the number of people who loved him grew larger each year, that special connection remained just out of reach.
That all changed when he met Randy and Christie Kyhn.
In search of a dog to adopt
Fate can be a funny thing. In an indirect way, it took another hurricane to bring Screech his happy ending.
As it turns out, Randy's son had to head to the East Coast as part of his work in helping to clean up after Hurricane Irene. He needed a dog sitter for several months, and Randy volunteered. Randy had a great time with his son's pit bull terrier. After his son returned to pick up his dog, and with Christie working out of town for another six months, Randy knew he couldn't go back to holding down the fort all by his lonesome again. He needed to adopt a dog of his own.
He and Christie got in touch with the adoption staff at the Sanctuary. They also spent time on the Best Friends website, creating a short list of dogs they wanted to meet. It was clear from the very beginning that Screech's odds were looking up this time around. "The first pick was Screech," Randy says. Yes, they had a full list of dogs to meet, but Screech was at the top of the list. More importantly, they set the rest of the list aside as soon as they met him.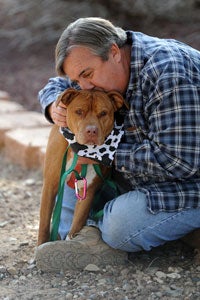 Happily ever after
"My wife instantly fell in love," Randy says. "We didn't want to see any other dogs." Randy was smitten, too. "He just seemed so lovable, and so mellow," Randy says. When they took Screech for an outing in town, Christie and Randy only felt more sure he was indeed the one. Screech's big day had come at last. When the time came to pick up Screech and take him home, he had quite the sendoff. "There must have been 20 people who showed up to say goodbye," Randy says.
Adopted pit bull terrier living the high life
At home in St. George, Utah, Screech is deliriously happy living as an only pet. "He's doing great," Randy explains. "He's made the king-sized bed his own." Randy and Screech spend a lot of one-on-one time together, going for walks around the river near their home and on car rides to visit friends in Southern Utah. At every step along the way, Screech soaks up affection like a sponge.
"He loves attention," Randy says. "You give that dog a minute of love and he'll give an hour back." Screech might have had to wait a little while for his chance at a game-winning goal, but he certainly delivered it in high style.
Sponsor a dog at the Sanctuary
Sometimes it can take a pooch a little longer to find a forever home. Maybe the dog has special requirements like Screech did, or maybe the animal faces other challenges. Consider helping out a canine living at Best Friends by choosing one to sponsor.