Paul Mitchell Schools future professionals volunteer at the Sanctuary
Paul Mitchell Schools students volunteer at the Sanctuary with the animals. They also hold a cut-a-thon to raise money for homeless pets.
By David Dickson
It's mighty inspiring what even a few like-minded people can accomplish when they work together for a cause. Consider, then, what's possible when a dedicated workforce of over 100 people arrive ready to roll up their sleeves and get to work. The largest volunteer group ever to visit Best Friends just left town, and what an impact for good they made while at the Sanctuary!
Paul Mitchell Schools future professionals volunteer at Sanctuary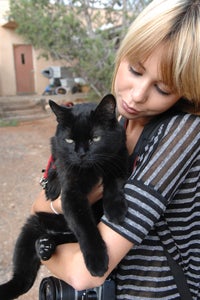 Students volunteered at various animal areas.
Two years ago, 14 students from the John Paul Pet Club, a volunteer group of animal lovers within the Paul Mitchell Schools, came to Best Friends for a single day of volunteering. They had such a fantastic experience that last year they decided to make it a five-day trip, and they opened it up to students in Paul Mitchell Schools across the country. An incredible 80 students, or future professionals as they're called in the schools, came to Best Friends. "After last year, word traveled back to the schools," explains Shawn Claybaugh, John Paul Pet director for Paul Mitchell Schools.
Volunteering, fundraising and donating
This year, a whopping 103 future professionals came to the Sanctuary from 12 different schools across America, all of them ready for another week of volunteering. They worked incredibly hard during the five days at Best Friends (more on that in a moment), yet the hard work actually began long before touching down on Sanctuary soil. The students participated in sales contests to earn their way on the trip to Best Friends. In addition, several schools also held fundraisers directly for Best Friends, bringing a cash donation of $1,423.70 along with them. If that wasn't enough, John Paul Pet, a division of Paul Mitchell, donated 80 cases of pet product to Best Friends at a value of over $11,000.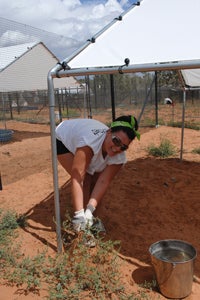 The hardworking students even pulled weeds!
Now for the volunteering. The students were given time for personal volunteering as well as volunteering as a group for large projects. For the group projects, they tackled a metric ton of weeding at Dogtown, which included work inside and outside of play areas, along trails and anywhere else it was needed. Then they helped update and deep clean a couple of buildings at Cat World — Jill's Diner and Kitty Motel respectively. The students power-washed outside and sanded down the wooden beds and shelves and repainted them. They also repainted tables, scrubbed the cattery frames, and repainted the frames as well.
Down at Riley's, a large covered arena at horses, they worked at cleaning and removing old flooring. Then they headed on up to parrots, where they stained a rather large gazebo that houses outdoor education classes at the Parrot Garden.
Every step of the way, these future professionals put their all into the projects. "They were really hardworking with smiles on their faces the whole time," says Best Friends staffer Danielle Hartill, manager of the Learning Experience.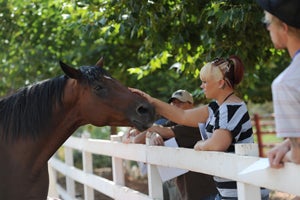 "It's been an amazing experience," says volunteer.
"It's been really great," says Shawn, "to relive the experience through their eyes."
Volunteers' experiences working with animals
And oh, what a time they've had! Here are a few brief comments from some of the many in attendance. Lazaro Paez, from Miami, says, "It's been an amazing experience. I'll definitely be coming back next year." Jason Dalton, also from Miami, adds, "You can't possibly not love this place for what it's doing." At the end of the week, Jason looked back on his time at the Sanctuary and said, "I took home with me motivation and happiness knowing that there is such a place as Best Friends to shelter all of our helpless creatures. I am thankful for all I have and all I have to give."
Lizzie McGee, another student, says one of her highlights was attending the Best Friends puppy preschool socialization class. "I think I learned more than the puppies did," she explains. "I am hoping to have a puppy someday soon, and everything that they were teaching made so much sense." Lizzie is already planning to return next year. "I have so much more of an appreciation for those who take in animals no matter what condition they are in," she adds. "I am so amazed by what they do."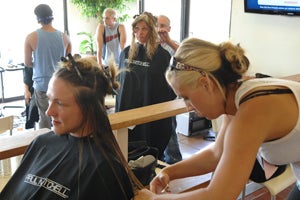 Cut-a-thon
Brennan Claybaugh, director of Education for Paul Mitchell Schools, points out that "many hairdressers are passionate about animals." They're also passionate about hair, obviously! A passion they had to put on the back burner a little bit while in town. "We tell them from the get-go," explains Brennan, "that you're going to work hard. You're going to get dirty." Still, that didn't stop some of them from showing up on day one with hair and makeup done exactly right. By day two, however, most of the makeup was gone, the hair was in a ponytail or some other functional style, and they kept right on working!
Cut-a-thon fundraiser
While in town, however, they did find one special way to combine their passion for animals with their passion for hair. They held a cut-a-thon fundraiser, where they offered haircuts at discounted rates. All proceeds from the cut-a-thon, a total of $867.75 (for a combined donation total of $2,291.45), went straight to Best Friends. Remember, this fundraiser was held in the evening after a long day of volunteering! They truly worked from morning til night.
There's been an interesting snowball effect from the past three trips from these students. More and more people have been hearing about Best Friends. Here's a little tip to the wise: If you want to get the word out about something, try to get your hairdresser excited. Talk about effective word of mouth! So many of these students from previous years have left inspired from their time at Best Friends. Now, as graduated working professionals, many of them tell people about Best Friends on a regular basis. "Now the word's spreading," explains Brennan.
John Paul Pet, Paul Mitchell Schools and Best Friends' relationship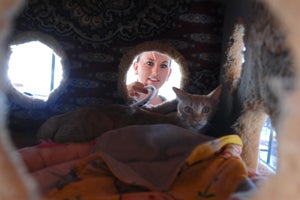 The relationship between John Paul Pet, Paul Mitchell Schools and Best Friends has only grown stronger over the years. In addition to the now-annual tradition of bringing so many volunteers from the various schools to the Sanctuary, John Paul Pet and Paul Mitchell Schools shows up at Best Friends events around the country, including Strut Your Mutt events and Super Adoptions. They donate pet product, they lend a hand wherever needed, they promote Best Friends on their own website (see Behind the Paw, a new program from John Paul Pet), and, well, they just help things go smoother whenever they show up! "They're amazing," says Best Friends corporate relations staffer Hillary Hutchens. "They are so helpful."
Come visit us!
Join us at the Sanctuary for one of the most memorable vacations of a lifetime. Get information on all our volunteer opportunities.
Support the animals
By giving to the animals, you are helping pets in need get the care they deserve. Your donations mean we can help even more animals, from coast to coast.
Photographs by Gary Kalpakoff