Photographer's paradise in Southern Utah
A volunteer trip to Best Friends Animal Sanctuary in Southern Utah is a pet photographer's dream vacation.
By Jennifer Hayes
Most people enjoy a relaxing vacation with friends in Hawaii. However, Cindy Hughes became restless during her 2013 island vacation. She longed to do something meaningful instead. So she convinced her travel companions that, for their next trip, they should volunteer with her at Best Friends Animal Sanctuary. The trio made the volunteer vacation arrangements before they left Hawaii.
The following November, Cindy, along with David Anderson and Louisa Marzialli, made the trip from Vancouver, British Columbia, to Kanab, Utah. Not only was their time at the Sanctuary fulfilling, as a pet photographer by trade, Cindy felt it was a dream opportunity. "I was like a kid in a candy store," she says. "There was always a photo op wherever I looked."
Story time for dogs at Best Friends Animal Sanctuary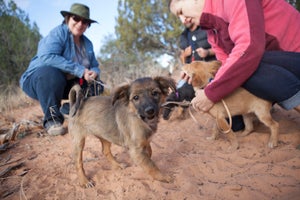 The trio visited the various animal care areas, but mainly worked in Dogtown, helping wherever they were needed. While volunteering at The Garden, one of the Dogtown areas, they were surprised to see a small pile of children's books in one building's common area. When they asked a caregiver what the books were for, they learned about story time for the dogs.
The volunteers laughed, but later in the day when the caregivers were busy and the dogs were all barking, David picked up "Muddy Paws" and began reading. The response left them dumbfounded. "He read, and all the dogs came to the front of their kennels, quieted down and listened," says Cindy. "It was just unbelievable."
Evening fun with animals on sleepovers
Of course, their fun with the animals didn't end with working hours. They hosted dogs on sleepovers every night. Six-month-old Porthos was pretty nervous about the experience at first. Cindy recalls how touching it was to see his armor fall away. By the next morning, he was a playful cuddle-bug.
On the flip side, Oggie knew the ropes. They were getting the ramp out to help the older dog get in the car, but Oggie couldn't wait. He ran over, jumped in and looked at them as if to say, "OK, let's go!"
Regardless of their experience level, all the dogs were willing participants as Cindy photographed them throughout each evening.
Picture perfect Southern Utah experience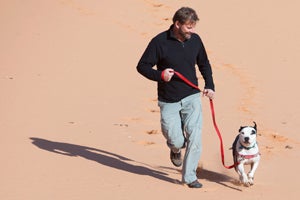 "Basically, it's like a pet photographer's dream to go (to Best Friends) because there are so many amazing animals to photograph and so many fun things going on all the time," says Cindy. "I was excited to get down there with my camera."
In fact, she was thrilled to get the opportunity to meet Molly Wald, Best Friends' Sanctuary photographer. Cindy took advantage of the situation to talk some shop and received tips on how to photograph a dog running toward the camera.
And Cindy had the opportunity to use her newfound knowledge when they took Kiki, a pit bull terrier mix, on an outing to Coral Pink Sand Dunes State Park. There, David and Kiwi ran back and forth, again and again, as Cindy practiced her new photography skill. Kiki was a fantastic model and Cindy got an extra bonus: That night, she discovered that Kiki was also a wonderful sleeping companion.
Among animal lovers
Cindy's trip was everything she imagined it would be, and more. It felt remarkable to be among so many others who care about animals as much as she does, and she's already scheduling a return trip this summer.
"Seeing so many people working toward the same goal was really inspiring," says Cindy. "Sometimes I think I'm the only one who's so crazy about animals. Being around other people who feel the same way was really powerful."
Learn more about volunteering at Best Friends.
Photos by Cindy Hughes of Muddy Love Pet Photography