Pint-size equines living large
When pranksters Maisy the donkey and Fury the miniature horse are adopted together, hilarity ensues.
By Sarah Thornton
When Sherrie Dock was looking to adopt a pony as a companion for her family and her pack of little dogs, she didn't expect that she'd be bringing home a pair of pint-size equines. But her search led her to Best Friends Animal Sanctuary and resulted in bringing Fury the miniature horse and Maisy the donkey into her life. And now the duo is living the good life — with plenty of love and lots of mischief.
Since her father and grandfather both worked on a ranch, Sherrie grew up around horses. Having a horse of her own at a very young age combined with a lifelong love of animals led her into the rescue world.
Sherrie started her own nonprofit rescue group for dogs in California. "That's what I had room for," says Sherrie, who along with her husband, Dana, eventually moved to Utah where they had even more space — enough to add a hooved friend (or two) to the family.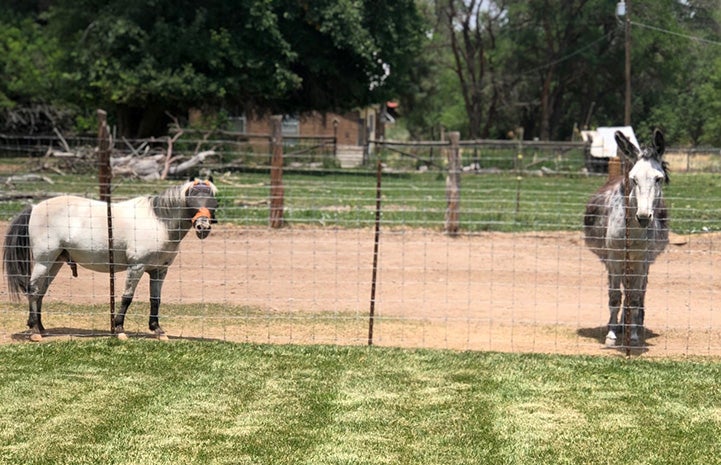 Adopting a mini horse and a donkey
"I wasn't going to ride," Sherrie says, "so I thought, well, someone little would be better as a pet." And as she went looking for a new family member, it turned out that the Sanctuary's Horse Haven area had a cute little miniature horse named Fury, who was ready for a home.
Fury had arrived at Best Friends with two other horses after their person could no longer care for them. One of them was another mini who was perfect ― feisty, adorable, knew how to give kisses and was almost immediately adopted. Fury would need another equine friend to keep him company once he went home.
Sherrie was more than happy to adopt both Fury and a friend, and someone suggested a donkey named Maisy, who had just arrived at the Sanctuary for health reasons. She had previously lived with wonderful people, but was overweight from constantly grazing on lush pasture and getting lots of treats from passers-by. Plus, she had problems with her feet. Maisy was quite a bit bigger than Fury, had similar dietary needs and had a sweet disposition. She would benefit from a quiet, relaxed life with a friend.
Maisy never had a four-legged friend before, but when the two moved into a pasture together a few weeks before going home, it was an easy introduction. And while the two new companions were getting to know each other at the Sanctuary, Sherrie was getting prepared for them back home.
Her husband, Dana, built a fence, they cleared out the pasture that had once been a garden, and they had a loafing shed built. Sherrie did some shopping: "I wrote down a list of what I needed and what they were eating and what their treats were," she says. "They have a good setup."
With everything ready, it was time to bring the two new family members home — and time for the antics to begin.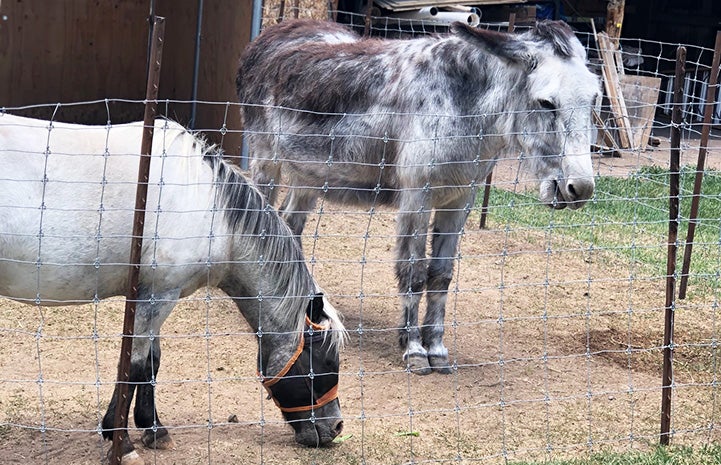 Wheelbarrow-tipping and playing favorites
Fury and Maisy wasted no time proving that they had personalities bigger than their little legs. Fury was so feisty that he earned himself the new name "Fireball." But his kisses were a sweet surprise for Sherrie who says, "I just melted. I had to take a video of it and put it on Facebook (to show) look what my pony does." And as for Maisy: "(She is) so stinkin' sweet. Oh my gosh, she's so sweet we love her so much."
When it comes to their new human family, the two definitely play favorites. Sherrie says the two minis love to mess with Dana. She recalls an especially funny scene with Fireball: "My husband was trying to put his fly mask on. It was hilarious," she says, laughing. "Fireball was like ― no I don't think so. He'd turn around, he'd turn his head, he'd let Dana put it on top of his ears and then he'd shake his head." When Dana finally was too flustered to continue, Sherrie took over and, of course, Fireball stood still and gave her not one bit of trouble.
It's not just Fireball, but Maisy also gets in on the pranks. Dana goes out every day to scoop the pasture, diligently making sure everything is clean and tidy. Maisy waits until Dana turns his back, and then she tips over the wheelbarrow. But for Sherrie, Maisy sticks her head right against Sherrie's chest for a good hug and snuggle.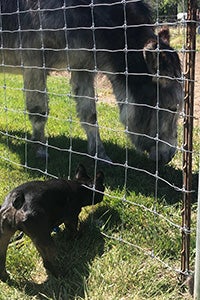 The two equines are also learning all about the smaller animal members of the family. One of Sherrie's dogs is a particularly brave French bulldog who is making friends with the two newcomers.
"She'll put her head down and her butt will be up and she'll be trying to play with them through the fence," Sherrie says, "One day she licked Fireball on the nose, and Fireball was all startled." But startled Fireball and curious Maisy will, nevertheless, stick their heads down and sniff at the tiny dog as she runs around and tries to play with them.
The two are earning themselves some fans, too. Because they live near a campground, people wandering by often spot the cute little duo and can't help but love them. "I told my husband we needed to get signs saying 'Maisy's the donkey and Fireball's the pony' so people would know their names."
Fireball and Maisy are settling in at their new home and each day they are bringing smiles to visitors and family members. They're getting more and more comfortable with each other and their new dog friends. And now that they're home, we're sure there are plenty of shenanigans yet to come.
Join Best Friends and keep the antics going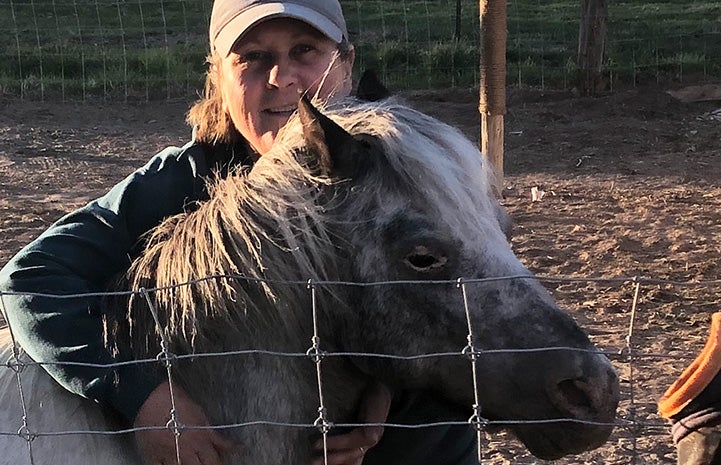 Photos courtesy of Sherrie Dock