Pit bull terrier and boy form strong connection
Pit bull is adopted by a family with a boy who has Asperger's syndrome, a form of autism. The boy and the dog have formed a very strong connection.
By Kelli Harmon
To some people, Roxy the dog might look intimidating. When the 50-pound, steely blue-gray pit bull terrier found herself homeless in a Los Angeles Animal Services shelter, she joined many, many other dogs who look a lot like her. But today she's one in a million — a priceless companion to a boy who needed her just as much as she needed a home.
A good dog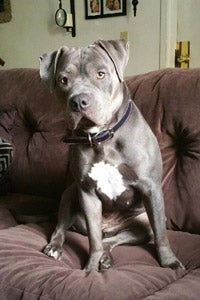 Roxy was probably confused as to why she was dropped off at the shelter one day. It's an understandably scary place for pets who have only known life in a home. Roxy knew things, too. She was house trained and knew how to sit and shake hands. If only someone would adopt her, she'd get to show off the skills someone had taken the time to teach her.
Best Friends staff spotted Roxy at the shelter and brought her to the Best Friends Pet Adoption and Spay/Neuter Center in Los Angeles. All pets at the center come from one of six Los Angeles city shelters, as part of Best Friends' goal to make Los Angeles a no-kill city by 2017. Thousands of pets die in L.A. city shelters each year and the moment Roxy entered the shelter, she could have become a statistic. Instead, she settled into her new digs at the center to wait for someone to choose her.
Boy and pit bull terrier meant for each other
Just two days after Roxy arrived at the center, a staff person came to take her out of her run and brought her into a small room where Amanda Granados and her 13-year-old son, Joey, were waiting. Roxy walked right past Amanda and climbed up into Joey's lap, nuzzling him as though the two were best friends who hadn't seen one another for years. "She was all over him," Amanda says. "Their connection was immediate."
Both Amanda and the Best Friends adoption specialist couldn't believe what they were seeing. Because Joey has Asperger's syndrome, a form of autism, it's difficult for him to accept or give back hugs and cuddles. But kids with Asperger's can sometimes develop close relationships with pets. It's one of the reasons Amanda thought about adopting a dog. When Joey reciprocated Roxy's single-minded affection, it was clear that the two were meant for each other.
Roxy was the only dog Amanda needed to meet that day. She filled out the paperwork, and Roxy was on her way home.
A dog's dream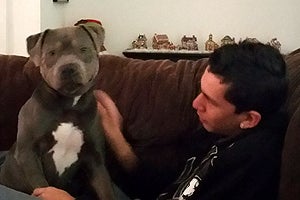 In the weeks since she arrived at Joey and Amanda's home, Roxy has been living a dog's dream. She quickly learned the ropes, showing off her skills and learning a few new cues. She's also changed at least one person's perception of pit bull terriers. Amanda says, "In general, I thought pit bulls were mean dogs. The news is always showing bad stories about them, you know?"
But the main goal for Roxy is to stick by Joey's side wherever he goes. She's a lap dog, she snores when she sleeps, she's polite when new people come over and she gets along with the family's other dog (who Joey never really connected with). Every night when Joey goes to bed, Roxy climbs in next to him and curls up until morning. In short, there's not a mean bone in her body. Amanda says, "She completely changed the way I think about pit bulls."
And Roxy has changed Joey's life, too. "He's more loving. He's not a very affectionate person, but he hugs her all the time and lets her kiss him. They're always together," Amanda says. "She's opened up his heart."
To help more animals like Roxy go from homeless to home, become a Best Friends member.
Photos by Lori Fusaro and Amanda Granados