Pit bull terrier mix from dogfighting bust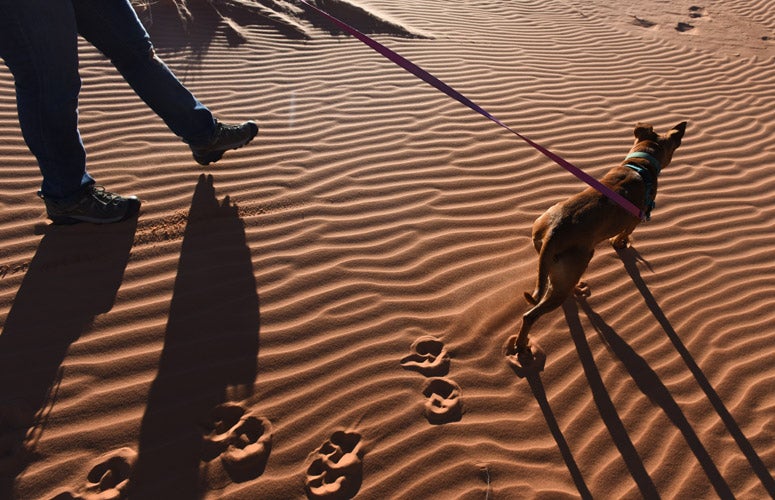 Despite her traumatic past in a dogfighting ring, pit bull terrier mix enjoys just being a dog. Read about her outing to the Coral Pink Sand Dunes.
By Christelle L. Del Prete
You can't help but be happy around Pretty Girl the dog. "When I work with her, and I'm having a bad day, she jumps in my lap and makes me laugh," Dogtown volunteer Amy Hook explains, as Pretty Girl plants a big wet kiss on her face. That's why Amy recently chose to take the little brown pit bull terrier mix on a special outing.
Outings are a treasured treat for Best Friends Animal Sanctuary dogs, who truly appreciate and enjoy one-on-one time with Dogtown caregivers, other Best Friends staff and volunteers like Amy. While it's just one of many ways of enriching the lives of the dogs at the Sanctuary, the dogs seem to understand that, amidst the rush of our busy lives, time may be the greatest gift of all.
Dog enjoys time at Coral Pink Sand Dunes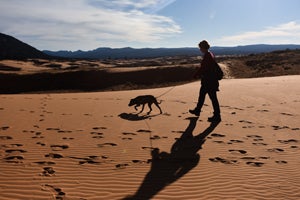 That's especially true around the holidays. Instead of donning a Christmas hat and posing with Santa, Pretty Girl got to spend a golden December afternoon just being a dog at Coral Pink Sand Dunes, a Utah state park located a few miles from the Sanctuary. From the time her feet hit the pinkish-beige sand, Pretty Girl was on a mission. The energetic girl seemed determined to walk for miles across the dunes under the afternoon sun.
But sand is as good to sniff as it is to walk in, and Pretty Girl soon stopped to take in the array of scents hidden in the crest of the dunes, and in the scraggly grasses along their edges. She even found herself a new "toy" — an abandoned glove that she carried around in her mouth like a prized possession.
Pit bull terrier mix from dogfighting bust
At two years old, Pretty Girl is full of energy and life. It's hard to believe she had such a traumatic past. Rescued from a dogfighting bust, she came to the Sanctuary back in August through a rescue group in New York. Dogtown caregiver Erin Schmitz says, "Pretty Girl is perfect, one of the most well-adjusted dogs from a fighting bust that I've ever seen." Amy adds, "It's amazing to me (for her) to have gone through that and to not have any emotional baggage we can see."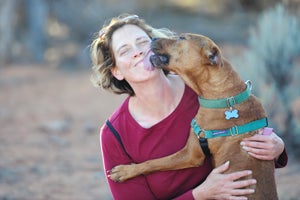 But Pretty Girl is not without her scars. Because she has babesia, a tick-borne illness that can spread to other dogs, she was emaciated and not feeling well at all when she came to Dogtown. Though she's being treated and is feeling much better now, she can't play with other dogs and will likely have to be adopted out as the only dog in a home. But that just makes the extra time she spends with people that much more important.
The next adventure for special dog
Sitting up on the peak of a dune with Amy, Pretty Girl exudes happiness and excitement. "Everything is like a ten for her, excitement-wise," Amy says. Even as the two climbed down from the dune and walked through the late afternoon streaks of sunlight back to the car, Pretty Girl was reveling in her adventure, already anticipating the next one.
Be a part of the magic by becoming a Best Friends member.
Learn more about Dogtown at Best Friends.
Photos by Molly Wald