Pit bull terrier service dog
Pit bull terrier, with a loving and calm demeanor, finds her calling as a therapy dog and then as an emotional support dog for a military veteran.
By Kelli Harmon
It's no secret that some of the best pets come from animal shelters. When Best Friends Animal Society staff members pulled a pretty, golden-colored pit bull terrier mix from a busy Los Angeles city shelter, no one knew she'd soon find her true calling – twice.
The sweet dog, named Chata by Best Friends Pet Adoption and Spay/Neuter Center staff, is like all the other pets to come through the center: She's special. Her incredibly sweet, loving and calm demeanor made her stand out to an adopter in search of a therapy dog to bring to school, where she works with special-needs children.
Pit bull terrier certified as a therapy dog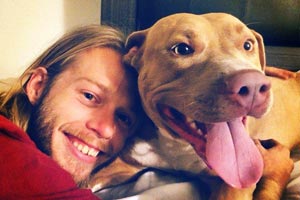 Chata went home with the adopter, got certified as a therapy dog and it looked as though she'd found her forever home. But then her adopter was transferred to a different school, one that did not allow pit bull terriers. Despite her gentle nature and special training, Chata wasn't welcome there.   
Her adopter faced a conundrum. Chata really thrived in her therapeutic role. Not allowed at the school, she would have to stay home alone all day, instead of being with someone and doing the service work she loved. Her adopter felt the best thing would be for Chata to go back to the Best Friends adoption center, where she could be matched up with someone who needed her.
Military veteran looking for an emotional support dog
Then, just a week after Chata came back to the adoption center, Joseph Stanberry, a military veteran, came in looking for an emotional support dog. Liz Pashley, Best Friends adoption specialist, immediately told him about Chata, but there was a problem. Joseph had his heart set on a Labrador retriever.
Having grown up with a Lab who'd been his best buddy for years, Joseph was understandably partial to the breed. So Liz introduced him to Lab mixes. "There were a couple he liked, but he couldn't find that one who really tugged at his heartstrings," Liz says. "So I mentioned Chata again." Joseph said, sure, he'd meet her.
When Chata entered the room where Joseph was waiting, as Liz recalls, "She immediately walked up to him, sat down and let him pet her." Joseph and his girlfriend met a few other dogs and talked it over. In the end, Joseph says, Chata was the one. "I just felt like I couldn't leave there without her."
Dog to be enrolled in training program for dogs and veterans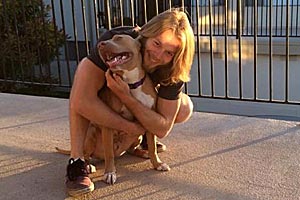 Joseph took his new dog home, complete with her service vest from her former adopter. He renamed her Summer and soon she'll be enrolled in a training program for dogs and veterans. But Summer is already at work just being herself. Joseph says, "She helps me with anxiety and depression. I'm also going to have her trained to help me hear (better), because I have a significant amount of hearing loss due to explosions and gunfire in the military."
Though he'll probably always have a soft spot for Labs, Joseph doesn't mind at all that Summer isn't one of them. She's already donned her vest and accompanied him to the grocery store and other public places, where, Joseph says, "She's very calm; she knows when she's working. When I stop, she sits at my feet."
And the reception Summer's received everywhere else has been a far cry from the reception at the school where her kind is not allowed. "When people see her, they all say she's beautiful and that I have a really nice dog," Joseph says. Above all, the smiles on Summer and Joseph's faces say it all. She's finally home.
Learn more about how Best Friends helps pets in Los Angeles.
Photos courtesy of Joseph Stanberry