Playing for keeps
Image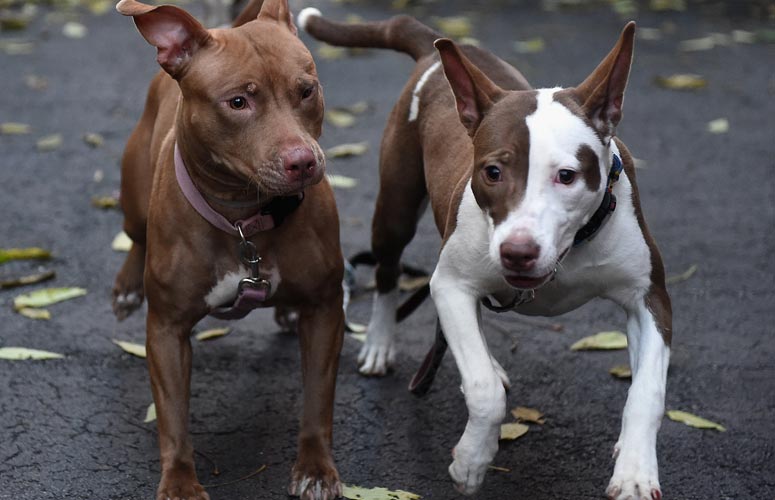 Play groups help New York shelter dogs thrive and find homes.
By  Denise LeBeau
Sindy, a dog who jumped at the kennel bars, showed her teeth and barked at other dogs walking by her kennel, was given the worst possible score on her evaluation at Animal Care & Control of NYC (AC&C of NYC). As a result, she was deemed unsuitable for adoption into a home with other dogs. Luckily, a new program was ramping up at the New York City shelter that might help Sindy, as well as many other dogs.
"Best Friends Animal Society is committed to helping AC&C of NYC become no-kill," says Judah Battista, Best Friends co-founder and director of local city programs. To that end, Best Friends provided funding for the organization Dogs Playing for Life (DPFL) to hold a nine-day training session to show shelter staff how to get dogs out playing. "These programs help dogs who are most stressed in shelters stay emotionally healthy, and also help them be the best they can be so they can soon find homes."
All in for play groups
Aimee Sadler, director of training and behavior for the Southampton Animal Shelter Foundation, founded DPFL with dogs like Sindy in mind. "I had been to the New York City shelters years ago," says Aimee. "I felt hopeless at that time to help. Since then I have worked with many municipal shelters, and play groups are a real 'game changer.'"
Aimee handled the training of staff and volunteers for the session, and there were some surprises. "We saw a marked improvement in long-term residents, especially in more socially acceptable behavior toward visitors," says Ellen Curtis, senior manager of programs at AC&C of NYC. "Play groups help some of our most at-risk charges — dogs who are fearful and stressed. (They) come out of play groups happier and calmer."
The teams at AC&C of NYC were totally behind getting the play groups off the ground. Aimee says all it took was making suggestions to modify and reconfigure the existing fenced-in play yards, and when she arrived at the shelter the following day, someone had already tackled the job.
"In addition to helping the dogs, bringing play groups into our organization has been a major morale-building experience," says Ellen. "And our staff rallied to run the groups (approximately 85 percent of the dogs are in them), so it's also been a catalyst to restructure our behavior department."
Positive partnerships
Sindy, the dog first thought unsuitable to be in a home with other dogs, instead turned out to be a play group superstar. She was so great with other dogs that she became the official training greeter, something that Ellen sees as one of the most important aspects of DPFL — allowing dogs to be seen for who they really are.
"We are so appreciative to Best Friends for supporting this lifesaving program," says Ellen. But it was Sindy, who went to her new home at the beginning of November, who was probably the most grateful.
"It is great to know that so many of the dogs are already receiving the benefits of play groups," says Judah. "This will help the dogs have an improved quality of life while they are cared for at AC&C of NYC, and we look forward to seeing the positive results of more lives saved as well."
Get involved
Be a part of the good news by becoming a Best Friends member.
Learn more about Best Friends-New York.
Photos courtesy of Animal Care & Control of NYC