Prison program betters the lives of dogs, inmates and veterans with PTSD
Paws For Life K9 Rescue prison program changes the lives of both dogs and inmates while helping veterans and first responders cope with PTSD.
By Nicole Hamilton
Visit the California State Prison in Lancaster, a maximum security facility located in Los Angeles County, and you're apt to find a few inmates with dogs alongside them. The faithful canine companions give them support and love while they serve out their sentences. They attend classes and work with their people during the day and sleep soundly next to them at night.
The dogs, part of the Paws for Life Canine K9 Rescue prison program, are also there to learn. The program pairs inmates with trainers to prepare homeless dogs to become certified service dogs to help people in need, including first responders and veterans with PTSD.
It's a great help for dogs from various area organizations such as Los Angeles Animal Services, Best Friends in Los Angeles and our NKLA Coalition partners.
They go through a rigorous 10-week training program that gives inmates the chance to make a difference and be a part of something they can be proud of. After completing the program, the dogs are adopted into homes where they'll support people who have dedicated their lives to protecting others.
[6 random acts of kindness towards animals]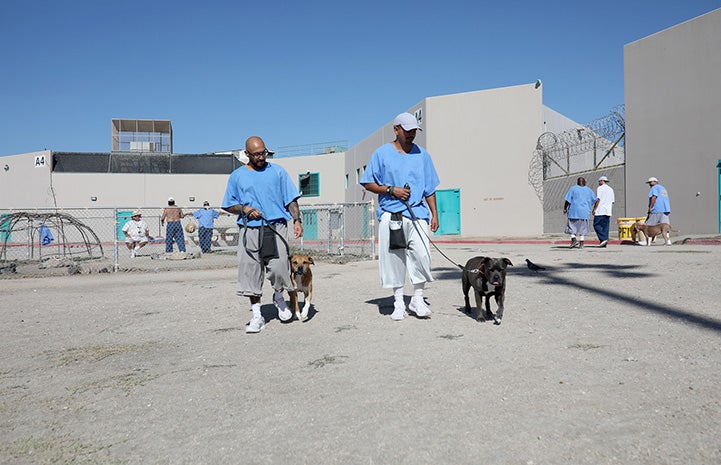 Inmates teaching dogs, dogs teaching inmates
Dogs were always a part Jensen Ramos' life. As a child, he often felt isolated and had a hard time making friends, but there was always a dog at home to connect with.
While serving a sentence at Lancaster, Jensen learned about the Paws for Life program and decided to apply. When he was accepted, he was excited but also worried that he wouldn't do a good enough job. The last thing he wanted to do was let anyone down ― not the Paws for Life team and certainly not the dogs he was tasked with helping.
"I didn't think it was possible for someone to trust a person who was incarcerated," says Jensen. "But they supported me 100%. It was difficult at first, but you've got to be strong. I didn't want to fail the dogs."
Aspen was the first dog trained by Jensen as part of the Paws for Life Prison program, or more specifically, its PTSD Service Dog Program. During her training, Aspen was Jensen's shadow. Together, they took part in sessions with a dog trainer, who taught Aspen the necessary skills to help veterans with post-traumatic stress disorder. Jensen helped train her, while he learned right alongside her.
Jensen says he found a kind of peace that he hadn't felt in a long time, simply because Aspen was there next to him. "Prison can be a very depressing place," he says. "But Aspen brought me so much comfort, despite her snoring and feeling the heat of her nose on my face."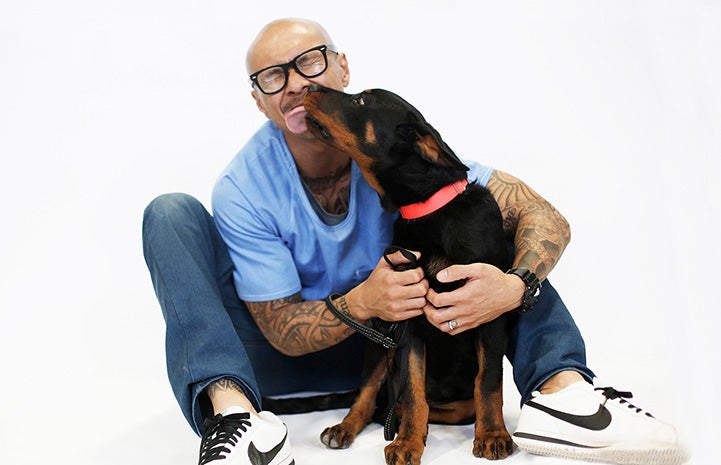 Help for a curious, athletic and intelligent dog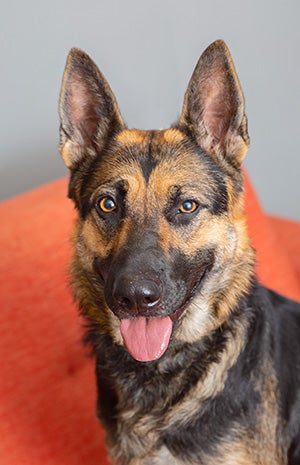 One of the first dogs from Best Friends to benefit from Paws for Life was a German shepherd named Koko. Intelligent, sensitive, loving, athletic and energetic: These were some of the words used by the Best Friends dog behavior team to describe Koko. But despite her many good traits, she struggled after losing her home and landing in a shelter.
At Best Friends, Koko could be very vocal, and sometimes she'd jump at a person entering her space. "Even in the play yards she had a hard time settling," says Janelle Metiva, a dog behavior specialist who spent a lot of time helping Koko. "It was difficult to get her to focus and she would spend most of her time running around the yard in circles."
When it was time for her to return to her kennel, she didn't want anyone to leave. "We had to employ many creative methods in order to get out and it was a struggle in the beginning," says Janelle. "She was too stressed to enjoy treats or toys. But we knew she had a sweet side because she would sometimes relax enough to cuddle when she was outside."
Some dedicated, loving volunteers helped Koko a great deal. "She became a favorite and they would take turns making sure that she got out for over an hour every day," says Janelle. "Thanks to them, she had plenty of quiet nature exploration and daily training."
Putting an energetic, curious dog to work
After all the time Koko spent with volunteers, it was apparent that what she really needed was a job, not to mention a place where she could exercise to her heart's content. And they knew just where she could do both: Paws For Life.
Not long after Koko was accepted into the Paws For Life prison program and began training in Lancaster, Janelle and other members of the dog behavior team paid her a visit. "It was an incredible and enlightening experience," says Janelle. "The men in the program were so enthusiastic about the work they were doing. The dogs clearly meant everything to them."
Equally incredible, says Janelle, was seeing Koko happy and thriving. "Working with the inmates at Lancaster was just what she needed."
Koko passed her Paws for Life training with flying colors and was adopted. Today, she's thriving in a home that includes two children and a senior Chihuahua, whom she adores.
[Dog goes from jumpy and mouthy to sweet and cuddly]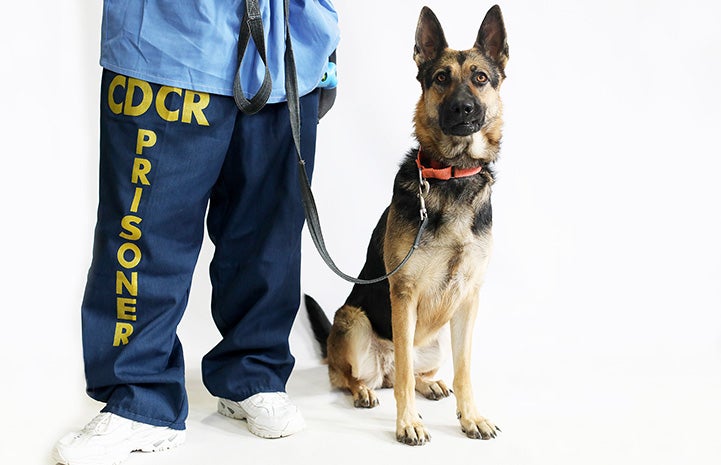 Give love, get love
Aspen, the dog taught by Jensen, is using skills he taught her to help the veteran who adopted her cope with PTSD.
"You know, for us guys, we can feel like we don't deserve forgiveness," says Jensen. "But then we give our dogs all the love in the world, and they give it back."
Today, Jensen (no longer an inmate) serves as a program leader and PTSD trainer for Paws for Life. "I've got the best seat in the house," he says. "Now I get to watch humans and dogs create something so beautiful."
On one hand, the program gives inmates tools to help them find work once they're released. On another level, it teaches many of them how to feel comfortable giving and receiving love as they help dogs needing a second chance learn how to assist people who have dedicated their lives to protecting others.
Help dogs where you live
Dogs can change lives. Lend a hand and help those that are at your local shelter.
Read more
Saving the lives of animals through community supported sheltering
Texas dog gets a lift to New York and a new life
Photos courtesy of Paws for Life and by Lori Fusaro