Prison program, foster home help a pit bull terrier put his fears aside and thrive
Neville was leash reactive and had separation anxiety until Best Friends and Paws for Life K9 Rescue came together to help him.
By Nicole Hamilton
Sometimes when you're fostering a pet, there's a moment when it becomes crystal clear that he's already home. For Jacqui Campos, that moment came when she pulled into her driveway and caught a glimpse of her foster dog, Neville, sitting in the big bay window waiting patiently for her to walk in the front door.
Seeing him so relaxed made her think of his journey — from a dog with separation anxiety to one perfectly content waiting for his person to come home. She also thought about all the people who helped him along the way, including the dog behavior team at Best Friends in Los Angeles. And she thought about trainers Anthony Martinez and Anthony Snead with Paws for Life K9 Rescue, a program that pairs inmates with trainers to prepare dogs like Neville for success once they've been adopted.
[Prison program betters the lives of dogs, inmates and veterans with PTSD]
Neville's big transformation wasn't the only reason Jacqui decided to adopt him. The three-year-old pit bull mix also happens to be gentle and curious. He gets her out for hikes before work and has managed to make her smile during a pandemic. As Jacqui puts it: "He lights up every room he walks in."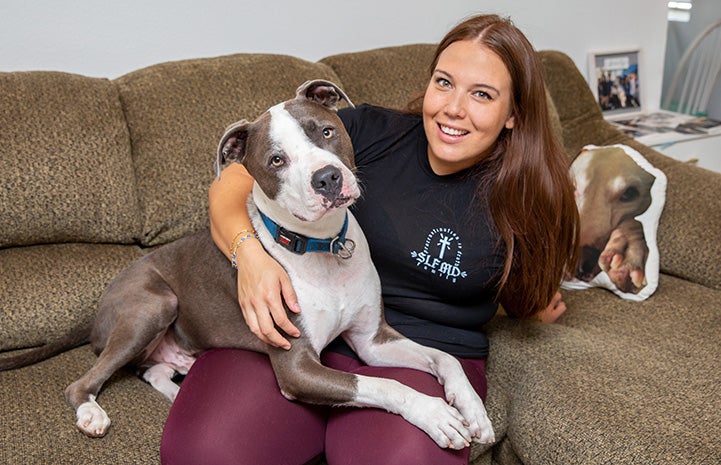 Collaboration key to helping leash reactive dog
When Neville came to Best Friends in Los Angeles from an L.A. city shelter, the dog behavior team observed that he could be selective about befriending other dogs. That coupled with his strength on the leash and his large size, was apt to intimidate some people and make it difficult for Neville to find a home, says Marissa Sunny, supervisor of lifesaving and care for Best Friends.
Neville is also known to be a talented escape artist who struggles with separation anxiety. "He has an extraordinary talent for breaking out of crates in record time," says Marissa. After plenty of training he went on to a home, only to be returned when the family found his separation anxiety too much to handle.
[Wanted: Old pit bull to love]
Once he was back at Best Friends, the team picked up where it left off; but after a while, the stress of kennel life started to weigh on him. That's when the team decided that a change of scenery, not to mention a fresh perspective from new trainers, would do Neville a world of good. So, they contacted Paws for Life K9 Rescue, which works to help dogs just like him.
"The collaboration between Best Friends and Paws for Life K9 Rescue is absolutely incredible," says Marissa. "They let us know when they have space for dogs to go through the program and then we discuss who would be the best candidates."
Some of the factors considered by Best Friends and Paws for Life K9 Rescue when they choose dogs for the program are how long they've been waiting for placement and what behaviors the dogs are struggling with. Since the dogs are paired with inmates for up to six weeks, they also take into consideration how well the dog will do in a prison environment.
The decision was unanimous: Neville would join the Paws for Life K9 Rescue program. And soon he was headed to a California state prison, where dog trainers Anthony Martinez and Anthony Snead would both play a pivotal role in helping him learn everything necessary to wait patiently for his person to come and take him home.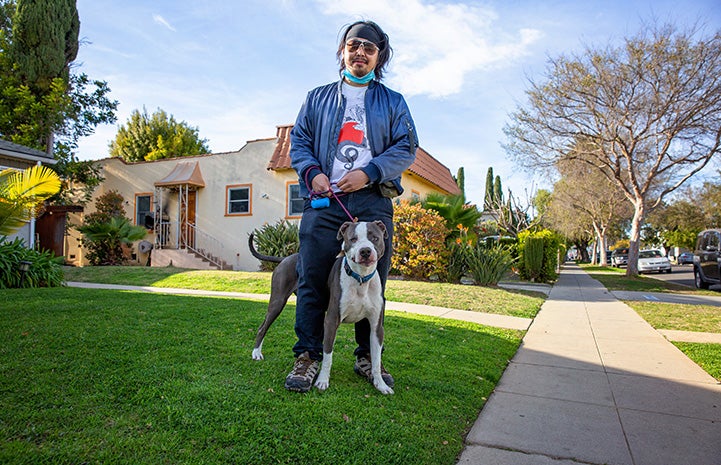 Training and companionship recipe for success
Anthony Martinez remembers his first impression of Neville. "He was very energetic, hypervigilant and curious. But he was also very reactive toward other dogs, pulled strongly on the leash and was very impatient."
The two Anthonys taught Neville how to remain calm when another dog, led on a leash by another trainer, got close to him. When he got too excited, they'd redirect his attention and when he did a good job, he was rewarded.
"We were very patient with him," says Anthony Snead. "It didn't take long for him to figure out what we were asking of him. He learned fast."
[Dog's two families make life complete]
It wasn't just the training that helped Neville. Since the dogs in the Paws for Life K9 Rescue program accompany inmates throughout their day, Neville was always by the side of one Anthony or the other, whether it was to a class or sleeping alongside one of them at night. This gave Neville a 24/7 opportunity to learn the skills he needed to thrive.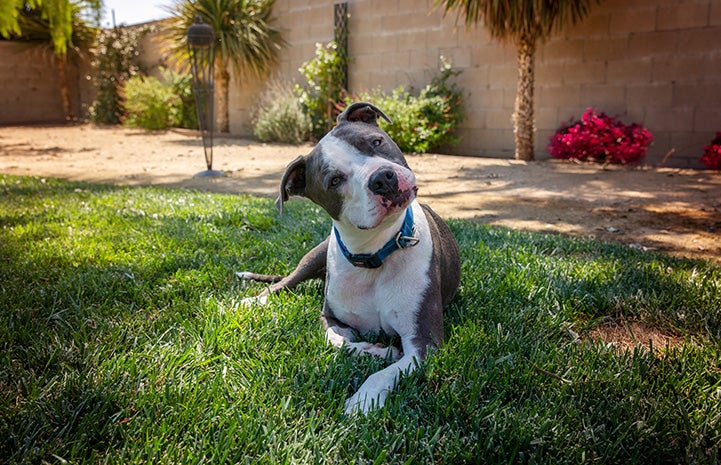 Foster mom brings out the best in dogs
About six weeks after walking into the prison for the first time, Neville graduated from the Paws for Life K9 Rescue program and returned to Best Friends. He was adopted quickly, but he came back after he chewed up some things while he was left alone.
Truth is, although Neville grew leaps and bounds in the Paws for Life K9 Rescue program, he was still a work in progress and was still honing his newfound skills in a home environment. This is where Jacqui Campos comes in.
By the time Jacqui began fostering with Best Friends, she already had plenty of experience helping dogs needing a little extra care and attention. In fact, she recently said goodbye to her beloved pit bull, who looked a lot like Neville, had degenerative myopathy and used a wheelchair late in life.
After fostering an energetic German shepherd named Lilac (who's now enjoying life in a great home), Jacqui wanted another chance to bring out the best in a dog,  so the team asked her if she'd like to foster Neville. She agreed, not quite sure what to expect, but hoping she could do the same for him as she had done for Lilac.
One thing to know about Jacqui is that she doesn't shy away from doing hard things, such as her nine-mile runs with Lilac and her love of Ironman competitions. This may be part of the reason why, after sitting down with Marissa and going over Neville's past challenges, she said to herself: "Yeah, I can deal with that."
Though Jacqui prepared herself for the worst, Neville surprised her. "He was actually very obedient when given the patience and guidance," she says.
Since Jacqui, a consultant, wasn't traveling during the pandemic, she was able to spend a good part of her days (and nights) with Neville. That extra time, just as it had at the prison, seemed to work wonders for him.
Simple solution to a complicated challenge
The longer Jacqui fostered Neville, the more she started to think about what the future held for him and for her, too. The time was fast approaching when she'd have to start traveling again, and Neville couldn't stay in a foster home forever.
Then one day she left to run an errand and decided to leave the blinds up. In the past, when she left Neville outside of his crate (he's not a fan), he went for the blinds, just as he had done in his previous home. Upon returning this time she saw Neville, cool as can be, perched in the big bay window with a grin on his face. All he ever wanted was to look out the window. "That's when I knew I couldn't bring my guy back," says Jacqui. "I had to adopt him."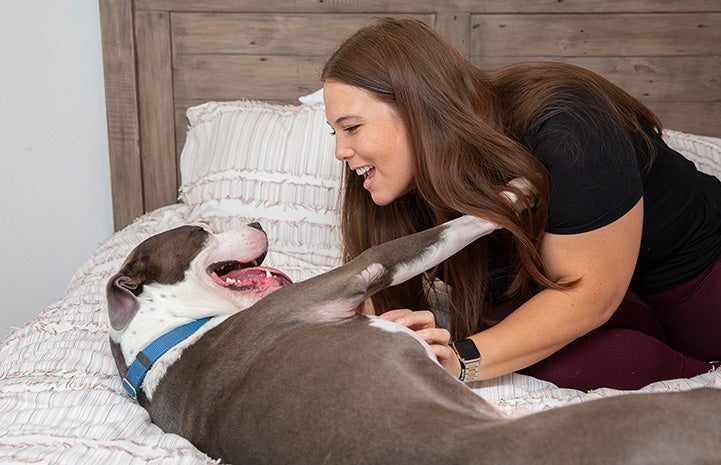 Give love, get love
These days, Jacqui doesn't see Neville as a dog with leash reactivity or separation anxiety. Instead, she sees a dog who is curious and loving, knows how to listen and fits in so well with her big Mexican family that she's convinced they prefer Neville over her.
Now he provides structure to her day, too. He motivates her to get out and on hikes every morning, which betters her physical and mental health. If she's sore after a workout or having a tough day, he'll sit by her side and comfort her. And when she talks to him, he tilts his head to one side and lifts his ear to let her know he's listening.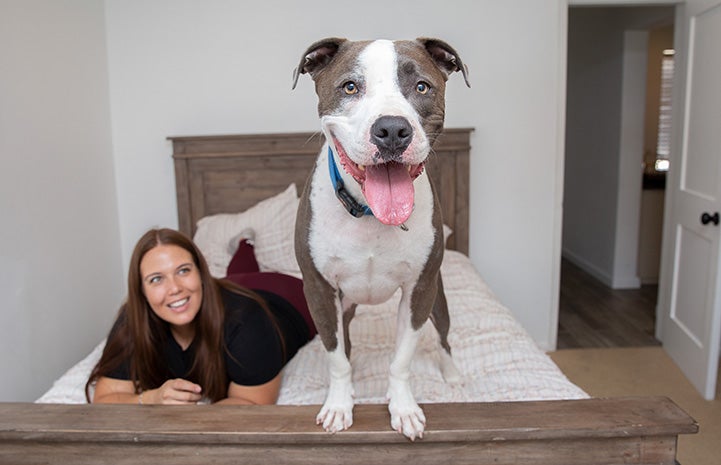 Helping one dog is motivation to help another
When Anthony Martinez hears that his hard work training Neville has brought joy to Jacqui, he's motivated to be a better dog trainer. "I want to be able to bring all the potential out of a dog so they can bring the best out of their adopter," he says.
News about Neville's new life has also reached Anthony Snead, who says: "I feel blessed to have met Neville and have the opportunity to train him. I miss and love him."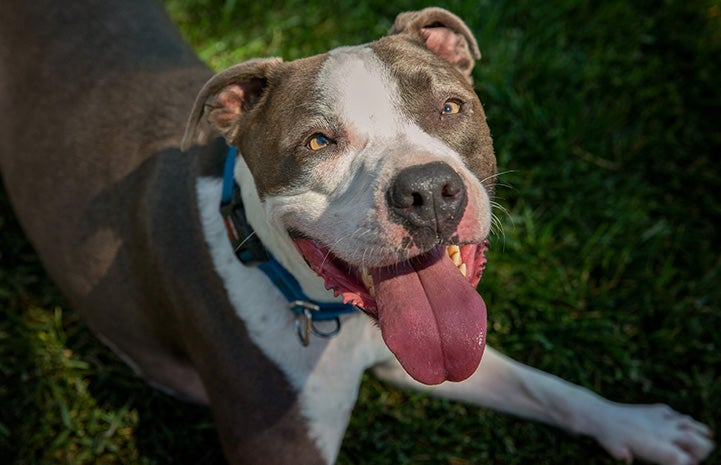 Help dogs put their best paw forward
Fostering not only gives dogs a break from the shelter, but it can also teach them new skills to help them live their best lives once they are adopted.
Read more
Book review: Three summer reads for dog lovers
Escape artist cat chooses home life over the great outdoors
6 stories to celebrate the dog days of summer
Photos by Lori Fusaro